Zone Of The Enders The 2nd Runner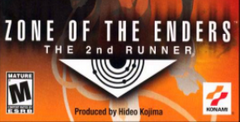 Click the "Install Game" button to initiate the file download and get compact download launcher. Locate the executable file in your local folder and begin the launcher to install your desired game.
We loved the first ZOE for its awesome visuals, inspired mech designs and excellent gameplay. But the game wasn't perfect--not by a stretch. When you weren't dishing out high-tech destruction in dense urban environments, there were a lot of, well...pointless errands to run. ZOE2 gets rid of the boring in-between bits from the last game and pumps up the adrenaline with much more combat. "True, there was a lot of flying around in ZOE," concedes Noriaki Okamura, Z0E2's director and planner. "We've cut that out of ZOE2. This time, the drama unfolds through a consecutive series of battles." Set two years after the events of the previous game, ZOE2 will wrap up the saga of Jehuty and Anubis. All these names got you confused? Not to worry. With graphics this extravagant, who's got time to worry about some Gundam meets Evangelion storyline anyhow?
Download Zone Of The Enders The 2nd Runner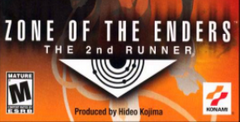 System requirements:
PC compatible
Operating systems: Windows 10/Windows 8/Windows 7/2000/Vista/WinXP
Game Reviews
ZOEs giant robot star, Jehuty, has nasty luck--in The 2nd Runner, a chump once again takes it for an explosive joyride through space. In this case, the finder/keeper is Dingo Egret (who's thankfully not a whiner like the first game's pilot, Leo), and the loser/weeper is again Nohman, a deranged dictator who has seized control of Mars.
Only your mech-combat skills can keep Jehuty out of Nohman's grubby, evil hands, so prepare for some serious fighting. These battles are fast and intense, with wave after wave of evil robots attacking, dozens at a time. Dingo and The Big J have plenty of ways to serve up enemies' just desserts--lasers, missiles, and a massive sword--yet the controls are pick-up-and-play simple.
Action is at the core of the game, and it makes for a sweet and chewy core, indeed. Blowing stuff up with your giant robot pal never gets old, thanks to a variety of available attacks and pitch-perfect difficulty level.
A compelling story provides further reason to keep playing. The pacing is tight--there's always a boss battle or an animated cut-scene just around the corner. Make yourself take a break, though, or you might finish the game in one sitting--no kidding. That's The 2nd Runner's fatal flaw: Although it has some extra missions (simple enemy kill-a-thons) and a two-player Versus mode, most gamers will be finished with ZOE2 when they finish the story. And the story is simply too short.
Playstation 2 Screenshots