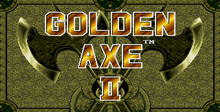 Genesis Cheats
Over 200 Magic Units
Get powered-up with this magic code for Golden Axe 2. Press and hold the A button when fighting the Boss on any stage. Do not let go of the button until you defeat the Boss and enter the bonus stage. Now release the A button, but do not hit any of the wizards or take any magic books. Wait until the next stage, and you will be able to use magic spells whenever you want.
Round Select
Now you can choose your starting level with this cool code! When the game starts, hold the A, B and C buttons and press START. Release the B and C buttons, but keep holding A. Go to the options screen and press B and C at the same time to enter it. Without releasing the A button, move the cursor down to Exit and press B with C again. Keep holding the A button, press B and C together to make your choice of one or two players and press again to choose a normal game. Select your character and without releasing the A button, hold UP on the directional pad and press B, C and START simultaneously. Select your round with the A and B buttons.
Credit Increase
Get to the title screen and move to "Options." Press A, B and C simultaneously and hold them to enter the options screen. Let go of A, but keep B and C pressed. Move down to "Exit" and press START. Choose a 1 or 2 player game by pressing START and then choose a normal game by pressing the A button. You will then see your credits on the lower right hand side have increased from 3 to 8!