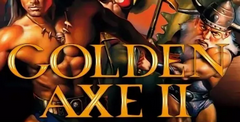 Justin Garcia CoolDuelist posted a comment: 13 years, 6 months ago

This game is the sequel to Golden Axe and is just like part one except for a slight change in graphics and the magic is used differently, instead of bottles it's books and instead of using them all at once, you can how many you want to use depending on how long you hold the button. The Plot is different too and so are the monsters. Very good game. This Game is Highly Recommended by me, JGCD!
Jorge posted a comment: 12 years ago

... nor some others in the site.

I think the links are not working.