Aaahh!!! Real Monsters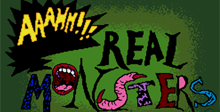 FIRST IMPRESSION
What the heck are those funny little guys? Trying to maneuver this band of monsters through these levels was tougher than I had anticipated. However, it has some creative ideas that help make this game work well.
BEST FEATURE
The characters in the game are really goofy looking and are entertaining to watch. The option to switch between the three characters and the use of triple moves are also cool.
WHAT'S MISSING
Well, for monsters, these guys aren't very scary. Maybe they could have been done in a more frightful manner. Three characters together made it tough to control at times, but it's not too bad.
WILL YOU LIKE IT?
The game has a fresh idea to it and was challenging to play. The monsters were pretty cool, each having a special triple move to get you through the rough spots. If you enjoy roaming adventure games, check this one out.
MANUFACTURER - Realtime Associates
DIFFICULTY - Variable
THEME - Adventure
NUMBER OF PLAYERS - 1
Download Aaahh!!! Real Monsters
Game Reviews
Manufacturer: Viacom New Media
Machine: Super NES
This is based on Nickelodeon's animated series of the same name about, well, real monsters. It's an Animaniacs-style game that lets you switch between controlling three different characters, each with their own different talents, as they try to overcome all obstacles.
Aaahh! If run-of-the-mill, platform-hopping adventures scare you, you'll be afraid of these monsters. Based on Nickelodeon's animated series, you control Ickis, Krumm and Oblina as they cram for their monster mid-term exam.
ProTip: Before you reach the junkyard dog in the first level, climb the cliff to the left to find a hidden room and power-ups.
Unfortunately, the levels aren't stimulating, and the visuals are barely passable with sometimes jumpy scrolling and lackluster backgrounds. The sound fares a bit better with cartoon-quality music and familiar monster noises.
Beginners will appreciate the game's simplicity and the easy-to-find hidden areas, but the stiff controls may frustrate some. If you enjoy the cartoon, these Monsters may pass as a rental.
Attention all monster maniacs be prepared to run, jump, and scare your way through Monster Academy. Released in August 1995, Ahhh! Real Monsters is an action packed children's video game based on Nickelodeon's cartoon series. In this arcade style, platform adventure, players try to pass the Monster Midterm Exam at Monster Academy as the characters Ichis, Oblina, and Krumm. Each character advances through various levels, including five bonus sections – beginning in the sewer and moving up into the human world. The game allows players the capability of switching between characters while using various special abilities to overcome obstacles, as well as, combine all three characters together to form a super-shock attack. The goal of the 8-megbit creation by Realtime Associates is that players locate all required items and all 25 levels be completed in order to pass the midterm exam. This fun-filled venture is compatible with Sega Mega Drive / Genesis and Super Nintendo gaming systems. The game does contain some language at points that may have come from the series on Nickelodeon.
Ickis, Oblina and Krumm are three of the monsters-in-training at the "Monster Academy". They are at the Academy to learn the art of scaring. This is not an easy task for them because they are adolescents, and therefore are prone to getting into all kinds of trouble. The headmaster of the Academy is the Gromble. The Gromble is determined to make all of his little monster charges into the most terrifying creatures of the night. The Gromble is helped along with this task by Snorch and Zimbo, who dole out the punishment at the Academy. Even though Ickis, Oblina and Krumm are always getting themselves into trouble, the three of them always survive their adventures by sticking together, and have a monsterously good time in the process.
Aaahh!! Real Monsters was an American animated television series about adolescent monsters in training, developed by Klasky-Csupo for Nickelodeon. The show ran for four seasons on Nickelodeon's main United States cable channel and was rerun on Nicktoons TV until 2006.
The show focuses on three monsters in particular (Ickis, Oblina and Krumm) who attend a school for monsters under a city dump and learn to frighten humans. Many of the episodes revolve around the monsters making it to the surface in order to perform "scares" as class assignments.
A video game based on the TV series was released for the Super NES and Sega Mega Drive/Genesis by Majesco in 1995. Ickis also appeared in Nicktoons Racing for the PlayStation, PC and Game Boy Advance (He was missing in the Game Boy Color version). The GBA version would end up being the last Real Monsters and Ren & Stimpy games.
Sega Genesis/Mega Drive Screenshots
SNES/Super Nintendo/Super Famicom Screenshots