Agatha Christie: Murder on the Orient Express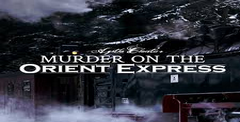 Click the "Install Game" button to initiate the free file download and get compact download launcher. Locate the executable file in your local folder and begin the launcher to install your desired game.
When you hear the name Agatha Christie, of course, you think about mystery novels. But some of them have been adapted into video games, and this one is based on one of the favorites. Agatha Christie: Murder on the Orient Express is based directly on the novel by the same name. Developers Awe Games and publisher Dreamcatcher put it in your hands to play the famous mystery and solve it with your own abilities. Are you ready for such a challenge?
About the game
The game is based in the novel by the same name Murder on the Orient Express. As such it features what could be her most prominent character: Hercule Poirot, the famous Belgian detective with an even more famous mustache. But here you won't be playing Poirot, but instead, you'll control a new original character and work together with the detective to solve the case.
Since it's one of her most renowned works we won't be discussing the plot here, but it's worth mentioning that it's not a completely faithful adaptation. The game takes some liberties to add the character you control. And of course, some changes had to be done to make this story more "playable".
The game takes place in a 3D environment, but it is a full-blown point and click adventure. If the term doesn't ring a bell to you it is actually pretty simple. You don't control your character's movement on itself, rather you just click on an item or spot you want to interact with and if available, an interaction begins.
Combining items and questioning people are the only things that will get you through in solving this mystery. You can pick up different clues from the environment in some cases you'll have to use them to interrogate people, or maybe combine a couple of items to get a neat tool that will help you progress.
That's pretty much it, sure, there are other tweaks and add-ons to the game style, but overall it tends to get a little on the repetitive side. It becomes boring after a while unless you're really digging the mystery. There are more than enough aids in the game to make you're you don't really get lost throughout your walkthrough, so there's no need to feel intimidated.
Less is more?
In most cases, less is indeed more, but in this one, a little more would make a big difference. When you go and compare this title to one of the Sam and Max games you'll quickly realize that this game is lacking in imagination. Even though it presents a more serious and darker theme, in the end, they are both mystery-solving point and click adventures. Narrative quality and environment design are the main things to keep in mind in point and click games, and this title could do better.
Review
This game is not for everybody, the main target would be Agatha Christie fans, and maybe they'll enjoy living the mystery. The mechanics are functional but not very entertaining, it is a bland experience that really wants to be intriguing.
Graphics and Visuals: The art and design are both pretty bland, it doesn't really stand out at any out as a marvel. The visual style is basic at much.

Gameplay: It can get pretty repetitive, but the mechanic it has are easy to control and simple to understand. They work great and the overall gameplay doesn't feel terrible at all.

Sound: This could very well be empty, as the voice acting is boring, the sounds are cheap and the soundtrack is pretty much filler music.
Download Agatha Christie: Murder on the Orient Express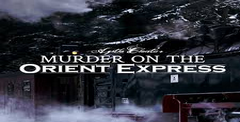 System requirements:
PC compatible
Operating systems: Windows 10/Windows 8/Windows 7/2000/Vista/WinXP
Game Reviews
Nobody seems to have informed The Adventure Company that adventure gaming is, by most accounts, pretty much a dead genre. Ploughing on regardless with Agatha Christie's tales, the majority of Murder On The Orient Express takes place upon the luxurious train itself, comprising of four carriages and the odd outdoors scene. Even if you haven't read the book or seen the film, the title makes it pretty obvious what happens. However, in a deviation from the original, you play as an extra character, tasked with uncovering the murderer instead of the moustachioed Poirot.
Within this limited environment, things are pretty detailed with a combination of static background graphics and a few moving objects just to remind us we are indeed in the 21st century, although the characters don't seem up to the same levels. Your task is to traverse the carriages, picking up clues, taking fingerprints and questioning suspects. Luckily, for once it's reasonably clear what most objects are for, so you'll spend less time randomly clicking on objects to combine together, although being an adventure game, this does still feature at points.
The dialogue is disappointing, being a case of exhausting the options rather than picking the right thing to say. Plus, with the limited setting, things soon start to feel repetitive. Throw in the normal adventure game niggles such as getting stuck and trying everything in your inventory before realising that you've just missed something and it soon becomes clear that while MOTOE may satisfy die-hard adventure game fans, it's probably arrived way too late for the rest of us. A bit like trains really.
Similar Games
Viewing games 1 to 6