Arkanoid: Doh it Again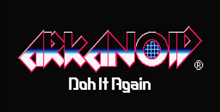 a game by
Taito
Genre:
Arcade Classics
Platform:
SNES
Editor Rating:

6.5

/

10

, based on

3

reviews
User Rating:

8.0

/

10

-

2

votes
Rate this game:
See also:
Arcade Games
Arkanoid: Doh it again is an arcade game and part of the long running Arkanoid series which spawned many clones as well as spin offs.
There is not much of a story behind the game, other than the fact that you are Vaus, a tiny space pod which has escaped after its mother ship, Arkanoid, was destroyed. You are now stuck in a very strange and twisted dimension, and you must try to find your way back.
The gameplay of Arkanoid could not be any simpler. You control Vaus, which sits at the bottom of the screen. You then launch a ball towards layers of colourful bricks in order to destroy them and any enemies that appear on the screen. The goal is to have the ball rebound by striking it repeatedly; failing to catch it will cause you to lose a life, but you can try as many times as you want since losing all lives will only make you restart the level, not the whole game. Arkanoid also has a password system that allows you to play from any level you want.
There are various power ups available throughout the game that increase the speed of the ball or the size of Vaus, but sometimes you may want to avoid these, as you can have only one power up active at a time. Some of the more useful power ups are the ones that allow you to shoot the bricks directly and the one that splits the ball in to many, wreaking havoc on the field.
One of the most interesting aspects is the inclusion of boss fights. Story wise (if you can call it that), you fight the same boss, only it becomes stronger. At first it is just a string of giant beads that coil and shoot you; the second version is just a Moai head which spawns smaller minions and also shoots you; the final version is a combination of the previous two and it also has the ability to swap the playing field and the controls.
There isn't much to say about Arkanoid's graphics, music or sounds since it is the kind of game where the gameplay matters the most. Still, the levels are very interesting and designed to be solved like a puzzle, instead of just smashing colourful bricks over and over.
In the end, it all boils down to its simplicity and potential for addiction. It is simply one of those games where you set out to play just a few rounds only to discover that you have been playing for over an hour.
Arkanoid: Doh it again features:
100 levels with different layouts
3 different types of boss fights that get gradually more difficult
Password system to continue whenever you want
Download Arkanoid: Doh it Again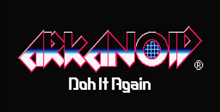 System requirements:
PC compatible
Operating systems: Windows 10/Windows 8/Windows 7/2000/Vista/WinXP
Pentium II (or equivalent) 266MHz (500MHz recommended), RAM: 64MB (128MB recommended), DirectX v8.0a or later must be installed
Game Reviews
In the 1997 release of the breakout video game also known as Arkanoid 3 or Arkanoid: Doh it Again, man a scout ship that is in search of a new planet for younger generations in habitat. However, Doh – an evil character – is causing havoc by scattering blocks throughout the solar system. Your goal is to destroy the blocks in order to reach the planets in hopes of seeking out one that is suitable for a colony. The object of the game is to clear the screen of formations of rectangular bricks. You can achieve this by bouncing a ball with a small paddle once to destroy a majority of the blocks. However, some require greater force and skill to destroy, and appear invincible, making it equally difficult to get the other blocks. After you have conquered all ten levels, then you must face three end level bosses - a giant centipede, Doh's head, and last, all of Doh's body -three times. In this single and multiplayer platform, developed by Taito, there are 99 levels designed for SNES gaming systems.
People say:
8
It's been over 10 years since the last Arkanoid ' game was released in the U.S. (for the NES, in August of 1987), but the classic brick-breaker is finally back, and it's better than it's ever been before. If you're unfamiliar with the game, Arkanoid is similar to the classic game Breakout, but in a futuristic setting with tons of options and gameplay enhancements to really beef up play. I've always been a huge fan of Arkanoid, and with 99 different stages in the One-player Mode (yes, 99!) as well as three different ways to play two-player (all of which are cool, although the Split-screen Head-to-head Mode takes the cake), Arkanoid: Doh It Again is easily a worthy sequel to its predecessor. There are Bosses on every 11 stages that are particularly cool (but tough to beat if you're not playing two-player co-op with a friend), and some of the new power-ups (taken straight from the arcade Arkanoid Returns) are sweet. Unfortunately, there's no special controller this time, which IMO is a necessity in a game like this, but you can use the Super NES Mouse if you want. Also, some of the background elements (particularly the things that swallow the ball and release it somewhere else) can get on your nerves after a while. All in all though, Arkanoid: Doh it Again is a must-own for any fan of the NES classic, and an overall great game.
8
Arkanoid is Arkanoid. You can rearrange the blocks all you want, but the gameplay's still the same. But put in cool Two-player Modes (competitive is fun, but cooperative is a blast) and a ton of levels, and you have yourself a reviewer who's rehooked on a classic formula. I wish I could've suggested to the developers to put in different Bosses other than the two you keep seeing over and over. Otherwise you can't go wrong with Doh It Again.
7
I've always been an Arkanoid fan, and this game reminds me why. There's just something really coot about crossing Pong with lasers and other weapons. The simplistic gameplay is a little repetitive, but you'll enjoy it if you're into this type of game. The Two-player Mode also adds a dose of variety to the game. The bottom line here is if you liked previous Arkanoids, this game will satisfy your craving. Other gamers may get bored quickly.
7
The classic Arkanoid and its sequels were some of my arcade favorites. So years later, is it still worth it? The "yes" comes from the Two-player Modes, especially split-screen Vs. Mode and cooperative play against the CPU. After going through the 99 levels, I would still play it...but only with someone else. The only downside are the same old Bosses and the dated sounds. Still, this offers good nostalgia in a relaxing and fun puzzle format.
SNES/Super Nintendo/Super Famicom Screenshots