Arkista's Ring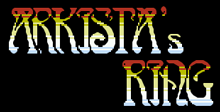 Click the "Install Game" button to initiate the free file download and get compact download launcher. Locate the executable file in your local folder and begin the launcher to install your desired game.
Manufacturer: AMERICAN SAMMY

Machine: Nintendo Entertainment

Sound/Music 5

Graphics 5
Playability 6
Overall 6
When a company with a name like "American Sammy" releases a game for the NES, it's bound to be interesting. Arkista's Ring fulfills this expectation nicely. It's a deceptively simple game that puts a few new twists on an old theme.
The adventure begins in the elves city of Arkista, whose residents have always lived in happiness and prosperity due to the presence of three magical items: a ring that perpetuates peace and harmony, an amulet of wealth and a mirror of protection. When these treasures are stolen in the night by a horde of nasty ninja, only one elf is brave enough to go after the ninja's evil leader, Shogun.
The path to the Shogun's Forbidden Castle is represented by 30 vertically scrolling areas. As in any other Legend of Zelda clone, the player must face many obstacles and battle a great number of unfriendly beasts before reaching the "big boss" character. Some of your opponents leave special weapons and power-up items behind when they are vanquished - that's nothing new, but at least it's a proven formula.
One of the most noticeable differences between Arkista's Ring and most adventure/quest games is that the main character is a female elf named Christine. To its credit, the game doesn't really make a big deal about this issue, except for the status screen, which helpfully lists Christine's vital statistics ("Sex: Female" - gee, thanks). The graphics are nothing to write home about, but there are a lot of different enemies to face and they're an extremely colorful bunch. I particularly liked the shambling, green barbarians and Grand Master Fang, a white-faced vampire.
Each of the different areas of the game features a locked exit door and a well. In order to proceed, you must defeat a certain number of enemies, after which the key to the next level will appear in the well. It's not the most brainteasing puzzle you'll ever solve, but at least it gives you a sense of direction and keeps you from mindlessly plowing through each screen at top speed.
Despite the limited graphics and simplistic game play, Arkista's Ring manages to work up a bit of atmosphere. In this form of entertainment, it's important to be able to lose yourself in the character; to get involved in the game and feel the excitement firsthand. Otherwise, you're just moving some stuff around on the screen, and the game becomes a $40 light show. The music is a big help here: it's not very sophisticated, but there are some cool tunes, and they make your adventure a bit more involving.
Be forewarned: if you're a fan of the latest sports titles or if serious, graphically superior action games like Contra or Strider are your bag, Arkista's Ring will probably bore you to tears. It's technically most suitable for the preteen set; if you're looking for a fun game for someone who fits that description, this could be the one. On the other hand, there are a lot of adults who find the majority of popular NES games to be too difficult, and for someone who might be intimidated by video games in general, it's nice to see a game that's playable.
Given half a chance, this game could become very popular with its (admittedly small) target audience. Unfortunately, with over 300 games now available for the NES, Arkista's Ring may never get the opportunity to prove itself.
Download Arkista's Ring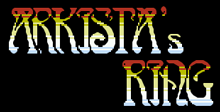 System requirements:
PC compatible
Operating systems: Windows 10/Windows 8/Windows 7/2000/Vista/WinXP
P-200, 32 MB RAM
NES/Famicom/Dendy Screenshots
See Also
Viewing games 1 to 7