Army Men: Sarge's Heroes 2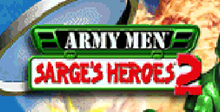 Army Men: Sarge's Heroes 2 is a third-person action game published and developed by The 3DO Company in 2000. The adventure was released for several systems: it was presented in the Nintendo 64, GBA and Playstation 1 and 2.
The company founded by Electronic Arts, also in charge of publishing very recognized releases like Warriors of Might and Magic and Uprising, not only made the first entry of this saga, but all the following ones. On the other hand, it also had to deal with the sudden success of the original game, which the developers admitted that they were surprised by.
The war continues
Army Men: Sarge's Heroes 2 takes up what happened in its predecessor. In this installment, Sarge must transition between the real world and the plastic world to save his platoon of soldiers, break the portals that connect these two universes and defeat General Plastro, the main enemy of the protagonist.
This title executes great changes in comparison to the first part. To begin with, the script was much more focused, so all the characters were given a background and an individual motivation to make them feel more human. Also, they took Sarge off the axis of the game and made Nikki, his companion, a playable character in some missions. Also, a lot of weapons and different themes were added to the levels so that this entry has its own personality and is not just an extension of the previous one.
A challenging game... For the right reasons?
Regarding the technical part, the difficulty increased quite a bit to the point where the main character can be killed immediately after starting the mission. This makes that in many cases the skill of the player goes to a second plane just to leave room for trial and error. Hand in hand with the above, the tank controls reappear in this sequel, but with some changes that instead of making them more friendly, they become harder to use.
The graphic part of the adventure remained almost intact in comparison to the previous game. Although they don't try to be realistic, the colors maintain a certain opacity to contrast with the intense green that the protagonist and his allies present. The overall atmosphere is reminiscent of Toy Story for PSX and with its very creative levels, like the one in a pinball machine, it encourages the player to explore the non-linear world that is presented at times. The music doesn't stand out, but it perfectly accompanies the idea of controlling a sergeant in the middle of a war, even if it is made of plastic.
The reception of the critics was somewhat negative. The main drawback was that the camera had unpredictable movements and the controls were difficult to use. Even with these details, Army Men: Sarge's Heroes 2 is a great and fun sequel to the classic and always deserves a chance to try it out.
Download Army Men: Sarge's Heroes 2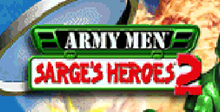 System requirements:
PC compatible
Operating systems: Windows 10/Windows 8/Windows 7/2000/Vista/WinXP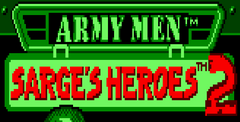 System requirements:
PC compatible
Operating systems: Windows 10/Windows 8/Windows 7/2000/Vista/WinXP
Nintendo 64/N64 Screenshots
GameBoy Color Screenshots
Similar Games
Viewing games 1 to 5