Assassin's Creed IV: Freedom Cry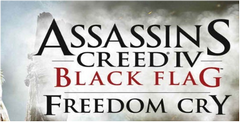 Click the "Install Game" button to initiate the free file download and get compact download launcher. Locate the executable file in your local folder and begin the launcher to install your desired game.
It's the early 1700s, the golden age of piracy is in full swing, and former slave and pirate-turned-assassin Adéwalé fights to liberate his fellow oppressed by combating a corrupt governor and his inhumane practices. Welcome to Assassin's Creed: Freedom Cry.
Story focused
Unlike many of the other Assassin's Creed games, this instalment became a standalone released on the PC after its initial release as a 5 hour DLC to Assassin's Creed IV: Black Flag. In contrast to Black Flag, this game does not offer an enormous map chock full of hundreds of collectables and discoverable areas. Instead, I was pleasantly surprised to find it offers a far more focused and concise story that tackles themes of racial injustice and what it means to be truly free. Liberating slaves and joining forces to fight against inequality and oppression made for a touching story grounded in realism.
Character Driven
Adéwalé is the beating heart of this game, his personal story is rich and engaging and although I couldn't personally identify with his struggles, how they were delivered made me truly care for his survival and success. The villainous, yet admittedly two-dimensional governor Pierre de Fayet, who seems to enjoy making people miserable for misery's sake, makes for a successful foil. I will admit, however, that his simple character made my desire to defeat him all the stronger as it was not marred by any "understandable cause" or redeeming qualities.
Liberating
The liberation of the slaves throughout the game is one of the most emotionally rewarding experiences. That being said, besides offering a few weapons, the game does not provide any further reward to the player for freeing the oppressed. While I had hoped for a mission where all those you had saved came to your aid in a climactic battle, it never came to pass. Although this was not the reason I helped them, it would have made for a more satisfying and sentimental ending. Outside of this, the missions did not stray far from the tried and tested Assassin's Creed formula of walk somewhere and assassinate people.
Traversal
While this game has its own rich and unique story, its game play does not deviate from that of Assassin's Creed 4: Black Flag. It takes all the progressive steps that Assassin's Creed 3 had made and runs with them in a way that shines.
What stands out most of all in this title is the freedom to move between the ocean and the land in a free-flowing and efficient way. The ability to jump onto a boat and sail off to wage war against the enemies' ships in exhilarating naval battles.
8
Ultimately, for a DLC turned standalone, this game is a success. Adéwalé is a great character who fights for a great cause that's easy to get behind. The story is so good that its briefness is almost a shame, but perhaps that is for the best. It left me wanting more and that is far better than overstaying its welcome.
Pros
Great story and main character
Handles sensitive topics respectfully
Compelling naval battles
Cons
Lack of mission diversity
Lacklustre villain
Could have been its own full title
Download Assassin's Creed IV: Freedom Cry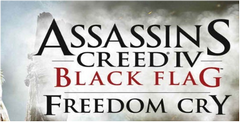 System requirements:
PC compatible
Operating systems: Windows 10/Windows 8/Windows 7/2000/Vista/WinXP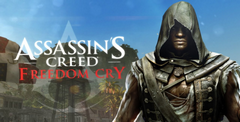 System requirements:
PC compatible
Operating systems: Windows 10/Windows 8/Windows 7/2000/Vista/WinXP
Game Reviews
People say:
8
In terms of size and scope, Freedom Cry is paltry compared to the main adventure of Black Flag. The need for sailing is minimized, and most of the action is contained on a single island. The melee combat remains a highlight, however, and former sidekick Adewale steps brilliantly into the lead role of his own unique adventure. This story of a freedman at the height of Caribbean slavery is easily the most poignant and powerful tale we've yet received from the series, and short as it is, the narrative does a tremendous job in making up for the smaller world. Enough so, in fact, that Assassin's Creed tans should check this out if they're even remotely intrigued.
Other Games by Ubisoft Quebec City Studio