Bill Walsh College Football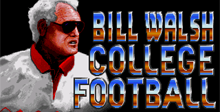 Click the "Install Game" button to initiate the file download and get compact download launcher. Locate the executable file in your local folder and begin the launcher to install your desired game.
Yes, you're experiencing déjà vu! Slam Bill Walsh College Football into your Genesis and you'll get the distinct feeling that you've played this game before. Know what? You probably have.
With a few exceptions, Electronic Arts' Bill Walsh College Football is much like any of the John Madden Football installments. You get advice from an expert (in this case, the legendary Stanford coach), you call plays, and you get a behind-the-line view of the game and passing windows at the top of the screen.
You'll especially love playing with EA's new four-player adapter. Using the 4-Way Play, four gamers can team up against the computer, go 3-on-1, or 2-on-2. When you team up, you'll have to communicate with your partner to make sure his receiver will go where your quarterback expects him to. Such teamwork adds a great new strategic element to the game.
The Old College Try
Bill Walsh College Football features 24 all-time great college teams, plus 24 top squads from the 1992 season, all competing for a national championship. Since Bill Walsh is not licensed by the NCAA, however, some team names are fictitious. (Here it's College Station, not Penn State.) Still, you'll be able to pick out your favorite players by their jersey colors and numbers, and the teams' strategies closely parallel their real-life counterparts -- Miami has a high-powered pass-oriented offense, while Alabama has its smothering defense.
ProTips:
On defense, stop passes with the Bump and Run. To knock the intended receiver off his pass route, have your DBs bump him at the line of scrimmage. Watch the zebras, though, they'll sometimes throw a flag.
High-step your way out of a tacklers' grasp by pressing C.
On the Triple Option, pitch the ball when your quarterback is about to be tackled and your tailback will have more room to roam.
Bill Walsh vs. John Madden
Walsh and Madden may be similar games, but Bill's got some advantages that the pros don't. Walsh's graphics are a little sharper, and the game play is smoother and more responsive. Walsh also puts you closer to the field, which makes the easy-to-control players larger than Madden's, but not as fast.
Thankfully, EA kept the sound effects and the crowd noise to a minimum. You still get all the grunts and hard hits, but none of the repetitive, mind-numbing soundtrack found on other football games.
Don't always run your offensive plays to the wide side of the field. The computer tends to compensate for this strategy.
The Walsh Report
Walsh himself offers some expert text advice, and you can check out position-by-position comparisons with the Team Matchups feature. This game also supplies you with plenty of team and game stats, but some might miss Madden's individual breakdown. There's even an improved instant replay feature in Bill Walsh that gives a reverse-angle view, so you can now see the replay from the defensive side.
Heisman Winner
Bill Walsh College Football does have its minor problems, but don't let that stop you from playing it. Electronic Arts has done it again -- this game's in the running for the Heisman!
Download Bill Walsh College Football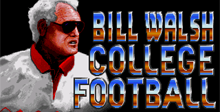 System requirements:
PC compatible
Operating systems: Windows 10/Windows 8/Windows 7/2000/Vista/WinXP
Game modes: Single game mode
Player controls:
Up, Down, Left, Right - Arrow keys
Start - Enter (Pause, Menu select, Skip intro, Inventory)
"A" Gamepad button - Ctrl (usually Jump or Change weapon)
"B" button - Space (Jump, Fire, Menu select)
"C" button - Left Shift (Item select)
Use the F12 key to toggle mouse capture / release when using the mouse as a controller.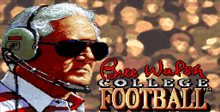 System requirements:
PC compatible
Operating systems: Windows 10/Windows 8/Windows 7/2000/Vista/WinXP
Pentium II (or equivalent) 266MHz (500MHz recommended), RAM: 64MB (128MB recommended), DirectX v8.0a or later must be installed
Game Reviews
First and Ten!
Alright all you football fanatics! So you think that you're hot stuff on the video gridiron, huh? Well, get a load of Bill Walsh College Football by Electronic Arts!
This game has everything that the demanding player could ask for! Taking its cue from Madden '93, you can select teams from among the best college teams of all time! The game's easy-to-use interface allows you to literally become a part of the game. Also of note is the new feature which allows you to fake out your opponents by not letting them know which play has been selected! Talk about your sneak attacks! For the look, feel, and intensity of the best that college football has to offer, check out Bill Walsh College Football by Electronic Arts. C'mon and win one for the Gipper!
Machine: SNES
Manufacturer: Electronic Arts/by High Score Prod.
When the Genesis Madden games began moving to SNES, you knew Bill Walsh College Football wouldn't be far behind. Walsh captures the spirit and excitement of college football like no other, so it's only fair that EA's letting SNES owners have a piece of the action.
Madden's designers did their homework when creating Bill Walsh, including rules such as the two-point conversion and the 24-second play clock as well as a whole new selection of plays exclusive to the college game. And if it's teams you want, it's teams you get - 24 top college teams of recent years and another two dozen from the past 20 years. However, since the cart isn't affiliated with the NCAA, instead of Notre Dame you get a squad from South Bend, the team's hometown. Each team is composed of individually rated players indicated by number instead of name, again because of the lack of a license.
The action is fast and furious, and the short college play clock keeps things moving.
The players, who move quickly and smoothly, also control very well - a crucial factor given the speed with which you must react to make or break a play. But the players are so small that they're almost indistinguishable in groups. This leads to some confusion and control problems, especially when a group of receivers and defenders goes for a reception or when you're running the ball up the middle through an amoeba-like pack of players.
One feature, though, that gives the SNES Bill Walsh the edge over the Genesis version is its use of Mode 7 technology. When an interception is made or a fumble recovered by the defense, the screen rotates 180 degrees so you're always moving up the screen. The smooth rotation also comes in handy during instant replays, where the L or R button allows you to swing the camera angle around for unlimited views of the action.
So why wait for fall and the kickoff of another college-football season? Bill Walsh College Football makes you feel like you're on campus... without all those boring classes to attend.
Get set for hot sports action with Bill Walsh College Football on the Sega CD. This title offers Madden-style game play, complete with the scaling field. This game has CD sounds and plenty of features that make this among the most playable of the CD games. Bill Walsh College Football looks great. It's pretty much like the cartridge version. If you are heavily into EA sports games, then I can see no reason why you won't like this one.
No one does sports like Electronic Arts.
It's good to see that EA Sports goes by that old saying, "If it ain't broke, don't fix it." Thankfully, they haven't tampered with an already top-notch game. With only a few exceptions, Bill Walsh College Football on the SNES plays just like the earlier, highly acclaimed Sega CD and Genesis versions. If you liked those, you'll almost surely like this new addition to the series.
Like the other versions, the SNES game features 24 of the highest-ranked college teams of all time, plus 24 of the top programs from the 1992 season. However, since the game isn't licensed by the NCAA, all the teams are fictitious, so you'll see teams like Los Angeles for UCLA and South Bend for Notre Dame. Using the Hudson Multitap, up to five gamers can butt heads, including five-versus-the-computer matchups. Passwords enable you to pick up where you left off.
ProTip: To avoid being tackled, press Button C, and you'll high-step out of a defender's grasp.
The computer opponents are pretty easy to beat, but the computer calls its offensive plays quickly, which might leave you scrambling to pick the right defense. The game supplies you with plenty of statis tics and, unlike the Genesis version, it also gives you individual defensive and offensive game stats to aid your play-calling.
Heisman Winner
The graphics are considerably better than those on the Genesis. The players are a little shaiper and more detailed, and it looks like there are more colors. As for sounds, you get all the grunts and hard hits minus the repetitive soundtrack found on many other games.
When running the Triple Option, pitch the ball just as your QB is about to be hit. This'll give your running back more room to run.
Best of all, this game uses Mode 7 rotation on punts and turnovers, a feature that's especially helpful during a fumble or interception, because you know instantly which way to run. You need that little assistance from the game, too, as the controls here are not as precise as they are on the Genesis. The players' movements seem choppy and unresponsive at times.
Bump and run on defense. Try to knock receivers off their pass routes, but don't be too flagrant or you'll draw a flag.
Bill Walsh College Football has a few minor flaws, but don't let that keep you from putting it at the top of the Heisman Trophy list. EA Sports has done it again.
Every year the same debate rages on in college football. Who's number one? Well, now you can have a say in that decision with Bill Walsh College Football.
Bill Walsh College Football features the top twenty-four college football teams from 1992 and twenty-four of the all-time teams since 1978. While no actual players are named and no official team logos used, colleges are listed by city and players identified by number, Mr. Walsh gives scouting reports for each team before a game. Compatible with EA Sports' 4 Way Play for multiplayer action, players can engage in two-on-one, two-on-two, three-on-one or even four versus the computer. Play modes include Exhibition, Playoffs and All-Time Playoffs. Sixty-eight classic college plays are available, including the triple option, student body, and wishbone. The innovative 360-degree replay system allows you watch any play from virtually any angle, ending any kind of dispute you and your friends may have over a questionable call.
Defenders can dive at the ball carrier, jump and raise hands to block kicks or intercept passes. Offense can have running backs dive, explode forward, spin and hurdle. Receivers can also dive for the ball and raise their hands. Other options and features include automatic or manual-pass catch mode, audibles, reverse angle replay, onside kicks, four weather conditions (fair, windy, rain and snow), three different quarter lengths (20, 40 and 60 minutes) and a hurry-up offense. Included in the Bill Walsh College Football package are forty-eight team cards, featuring the statistics and ratings of thirty-five players in a variety of categories.
Long-time San Francisco 49ers' coach Bill Walsh gets his own college football game.
Bill Walsh College Football features:
Features 48 college powerhouses to choose from
68 available plays
Call your own audibles anytime
360-degree instant replay system
Scouting reports from Bill Walsh
Get ready for some football, in Bill Walsh College Football, released in 1993 through 1994. In this 8-megabit cartridge featuring 25 college and historical teams, including the more prominent teams - Pitt '80, Texas '81, Florida '84, Brigham Young University Provo '84, and Notre Dame '88, enjoy the experience of college football like no other game, outside of Super Play Action Football. In this life-like sporting video game, you can expect the rules to be more complex and plays easier than the actual Professional game. Find yourself cheered on by the digital audience or be haunted by player catcalls. Developed by Electronic Arts and Visual Concepts, this single or multi-player game will challenge your skills and take you to new competitive levels as your school completes an eleven game season. Do you have what it takes to be a national champion? With sixty-eight classic plays on offense, a high tech 360-degree replay system, and scouting reports on every team from Bill Walsh – college and pro football legendary coach, you will hit the field with robust action-packed plays. This adrenaline driving game is compatible with SNES, Sega Mega Drive / Genesis, and Sega Mega CD platforms.
Sega Genesis/Mega Drive Screenshots
SNES/Super Nintendo/Super Famicom Screenshots
Other Games by Electronic Arts