Bloons TD 6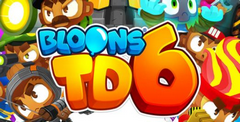 Click the "Install Game" button to initiate the free file download and get compact download launcher. Locate the executable file in your local folder and begin the launcher to install your desired game.
Tower defense games are fun ways to keep yourself occupied with testing new strategies, and Bloons TD 6 is a great example of doing it right. This colorful game is simple enough to pick up. "Creeps" are following a path, and you need to stop them without losing all your lives through the use of towers. You play a monkey that needs to defend the path. Although it mostly follows the rules of a standard tower defense game, Bloons TD 6 isn't afraid to be innovative. Helicopters and planes can be used to patrol the pathways, and you can even let them fly in formation or set the path you want them to patrol.
Super cute graphics
One of the best parts of the game is the graphics. The cute little animations are adorable to watch, and the bright colors and clean look are very pleasing to the eye. Bloons TD 6 is very similar in appearance to another tower defense game, Plants vs. Zombies, but with brighter colors and sillier characters.
Safe for all ages
If you've been looking for a game that will entertain an adult but also keep young kids entertained, Bloons TD 6 is a great option. The game is safe for all ages to play, but older children may enjoy the game more because it does require a sense of strategy to be able to win.
Kids will likely enjoy the silly antics of the monkeys, who have hilarious animations no matter what you do in the game. Kids will also find navigation and tower placement very easy, as there's nothing complex to how the game is assembled. If you have older children who are looking for a new game to try, this is an excellent choice.
Upgradable tower trees
Each of your towers in the game have their own upgrade trees. All the towers have unique attacks and multiple skill paths. That means you need to decide how you want the tower to be in the end, and you can only choose one main and one sub-stat to level.
This forces you to think ahead a little bit, and adds something to the sense of strategy. To spice things up, there are unique towers called Heroes which upgrade themselves. You'll have to choose in advance which hero you want to use in a match, because you can only use one per match. The benefit to heroes is not only that they offer unique stats, but they'll also upgrade themselves.
7
Bloons TD 6 is the 6th generation of this tower game, as the name implies. While it is fun to play and even hit the most popular charts on Steam, there is very little of it that is truly new and innovative. It's a great option to play with kids or if you like strategy games in general, but it won't make you rethink how the genre is played.
Pros:
Cute graphics
Appropriate for kids
Fun for all ages
Cons:
Fairly standard tower defense game
Download Bloons TD 6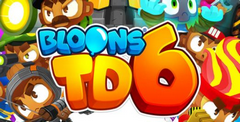 System requirements:
PC compatible
Operating systems: Windows 10/Windows 8/Windows 7/2000/Vista/WinXP
Game Reviews
Prepare for a delightful and addictive tower defense experience with Bloons TD 6. Developed by Ninja Kiwi, this vibrant and action-packed game brings the beloved Bloons franchise to new heights. Get ready to pop balloons, strategically place towers, and embark on an exciting journey in the world of Bloons TD 6.
Gameplay
Bloons TD 6 offers a robust and engaging tower defense gameplay that will keep you hooked for hours. Drawing inspiration from classic defense games like Plants vs. Zombies, Kingdom Rush, and Defense Grid, the game challenges players to strategically place different types of monkey towers to fend off waves of colorful balloons.
With a wide variety of towers, each with its unique abilities and upgrade paths, players have the freedom to develop their preferred strategies. From dart monkeys and bomb shooters to ninja monkeys and wizard monkeys, the options are plentiful. The game also introduces new hero units that add a dynamic element to the gameplay, further enhancing the strategic depth.
If you are looking for a game that works well with younger audiences or are yourself a player that does not game often, this is definitely one to try. It has a simple gameplay that has a pleasant problem-solving loop.
Visuals
The visuals in Bloons TD 6 are a delightful feast for the eyes. The vibrant and colorful art style, combined with smooth animations and attention to detail, create a visually appealing experience. The game's cartoony graphics bring the balloons and towers to life, making each level a joy to behold. This visual charm is reminiscent of other games like CastleStorm, Orcs Must Die! Unchained, and Dungeon Defenders, which all excel in creating visually appealing tower defense worlds.
Story
While Bloons TD 6 doesn't revolve around a deep narrative, it offers a lighthearted and humorous tone that adds flavor to the gameplay. Players are taken through different worlds, each with its unique theme, as they progress through the game. The cheerful and playful atmosphere provides a refreshing break from the intensity of tower defense battles. Although the focus of the game is primarily on gameplay rather than story, the charming world and amusing characters add an extra layer of enjoyment.
Bloons TD 6 is a tower defense gem that combines addictive gameplay, captivating visuals, and a charming world. Prepare to pop balloons, unleash powerful towers, and defend against waves of challenging enemies. Get ready for a bloon-popping adventure like no other.
Conclusion
Bloons TD 6 is a delightful and addictive tower defense game that offers a wealth of content and strategic depth. With its engaging gameplay, visually appealing graphics, and lighthearted tone, it stands out as one of the best in its genre.
8.5
Whether you're a seasoned tower defense enthusiast or new to the genre, Bloons TD 6 guarantees hours of fun and challenging gameplay.
Pros
Strategic and addictive tower defense gameplay
Visually appealing and vibrant graphics
Lighthearted atmosphere and amusing characters
Cons
Can become repetitive after extended play sessions
See Also
Viewing games 1 to 8