BMX XXX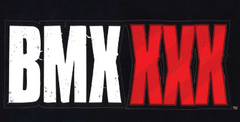 Click the "Install Game" button to initiate the free file download and get compact download launcher. Locate the executable file in your local folder and begin the launcher to install your desired game.
Sports games, believe it or not, are among the most popular games out there. Not only because they bring together both fans of sports and games, but because they also have a fanbase already established. FIFA Games are the most popular out there, but there Tony Hawk games were incredibly popular back in the day. BMX XXX is another mix of fan bases that brings together three different fan types into one game. Fans of extreme sports, fans of games, and fans of XXX content, all brought together into one game.
Does it sound ridiculous to you? Well, it's no surprise, it started as a joke among the developers, one that somehow ended up becoming a full game. So, let's get talking about this weird title.
About the game
Developers from the Dave Mirra BMX saga decided to make a different game with the same basic mechanics as Dave Mirra's. So, the game is pretty much the same title as Dave Mirra's BMX, except that the "objectives" and especially the rewards are different YOu choose a character and do some tricks and complete tracks in order to progress in the game.
Of course, the twist here is that many of the rewards for completing levels and unlockables are XXX content. Pictures of lightly-dressed to completely naked women were some of the rewards available in the game. There's also the undressing scenes, in this game, that's pretty much all there is to make it different from the previously mentioned BMX titles.
So, is it more of the same?
Long story short yes. The game is pretty much the same game we've seen before, only that it's modified to be XXX. When you compare this title to the greatness of Tony Hawk Pro Skater 2, you'll see in no time why one's much more successful than the other. Not only Tony Hawk Pro Skater is a game anyone can enjoy, but it's also much more fun. There are many times more unlockables, different tricks and challenging missions.
Review
BMX XXX feels pretty much like a mod for Dave Mirra Freestyle BMX, and that's exactly what this game is. Even Dave Mirra sued the company after this. The title itself is pretty dull and more of the same, sure, it's not terrible, but it's repetitive. Even though it could have a big audience, the theme itself also limits it very much. Not to mention the censorship the game had to face when released.
If it wasn't for the bold move of including so much XXX content into a sports game, it would have been just a forgotten title in no time. It's more like a cult game, rather than an actual good game. But cult games tend to be good, so this game doesn't qualify for that either.
Graphics and Visuals: The graphics are exactly the same as what we've seen in Dave Mirra Freestyle BMS. Not much to say, while the tricks and movements looked alright, none of them really feels natural. But that could also be because of the graphic limitations of the engine. The art department didn't do much worth mentioning here.

Gameplay: Most of the game sections have a "time limit" that runs out the more accidents you have. The missions do have a real timer, and you're limited by that. There are three different types of controller settings so you can choose the one you like the best. And then unlockables are actually fun to get. Some challenging missions and moments here and there. Add multiplayer there and the game is actually pretty interesting, but repetitive.

Sound: The soundtrack is exactly what you'd expect for this type of game. Full of punk, rock, and some pop licensed themes. They fit the game perfectly and go along really well. It would be much better if more songs were available but it's ok. There's voice acting is not worth mentioning, but the sound effects are nice enough.
Download BMX XXX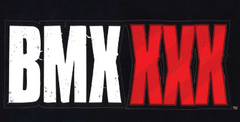 System requirements:
PC compatible
Operating systems: Windows 10/Windows 8/Windows 7/2000/Vista/WinXP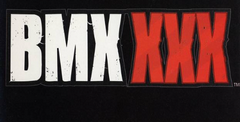 System requirements:
PC compatible
Operating systems: Windows 10/Windows 8/Windows 7/2000/Vista/WinXP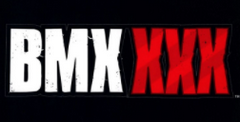 System requirements:
PC compatible
Operating systems: Windows 10/Windows 8/Windows 7/2000/Vista/WinXP
Game Reviews
If you think of the action-sports genre as a big, fat teat thats getting sucked dry by games like Tony Hawk and Dave Mirra, then it isnt hard to see why developer Z-Axis latest bike-fest is stacked with boobage. After all, where do you take a genre thats completely saturated with clones and sequels? Why, straight to the trailer park, of course.
Some of you may remember first seeing this game under the title Dave Mirra BMX XXX. Naw, youre not partying too hard that was the original title, but publisher Acclaim decided to ditch the Mirra license in order to make the naughtiest, most juvenile gaming experience possible. With a non-licensed product we can really push the envelope, says Alan Lewis, director of public relations at Acclaim.
According to him, this descent into the gutter is a natural, evolutionary step. Folks are looking for an entirely new experience. BMX XXX is raw, rowdy and real, boasts Lewis. Were introducing strippers, pimps, hookers, bums, drunks, monkeys, dogs all part of a cast of 50 whacked-out personalities.
To tell you the truth, were not sure if its whacked-out or just plain whack. Similar to Aggressive Inline and the soon-to-be released Tony Hawk 4, BMX XXX lets you explore its huge environments without the pressure of time limits. You progress through the game by talking to lowlifes who give you lowbrow objectives. Take the Probe Payback episode for instance, where you poke aliens in the ass with your bike to avenge an indignant Russian cosmonaut; in Rent-a-Bitch, you sacrifice a pimps poodle to satisfy a dirty, crapping dog on the loose. Those of you tired of free porn on the Internet can finally buy your kicks with BMX XXX's peepshows that feature live-action videos of real-life strippers. And yes, this game is rated Mature.
Throw in random profanities (the s word, the f word, etc.) and youve got a game so over-the-top, youll laugh at it purely out of embarassment for its creators. Do you really care that BMX XXX plays and controls just like the other Mirra games? Or that its got new flatland and recovery techniques? No, of course not. Whos got time for gameplay when there are tits to be had?
Extreme sports games have quickly moved from a niche market to a mainstream product thanks to games like Tony Hawk, Aggressive Inline and Dave Mirra Freestyle BMX. While I have played my share of these extreme games, they have never really grabbed hold of me. Under normal circumstances, I would never opt to review one of these titles. But these are not normal circumstances and on the surface, this is not your normal extreme game. The thought of naked chicks, sophomoric humor, smut, profanity and just downright nastiness was enough to convince me to give this genre another chance.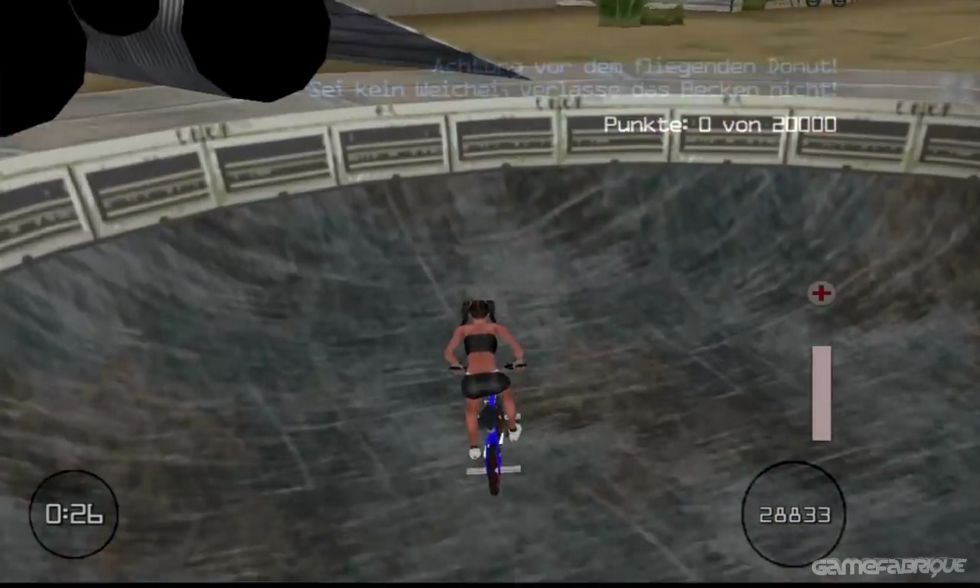 Let's get one thing out of the way right now (because I know what you are looking for) ' yes, this game contains everything as advertised, but don't get too excited yet. If you are after the swearing, sexual innuendo, and crude humor, you will be satisfied right out of the box. If you are after the naked chicks, you are going to have to work for it. Every piece of marketing material Acclaim has spit out shows a topless rider but don't think you can create her from the get go. You actually have to play the game and the more you play, the more smut you are rewarded with. This is also true of the stripper videos. Hey, nothing comes for free right?
Once you get past the aforementioned items, what you will find is a fully functional BMX game. All of the tricks, stunts, ramps, grinds and challenges associated with BMX games are accounted for. This game was originally supposed to be the next game in the Dave Mirra series so the game engine is not new. I think most people will be surprised (as I was) at the level of complexity and tricks the game allows. I was expecting the game to be nothing more than a few fetch challenges or timed races but what I found was that the game actually requires quite a bit of skill to move forward. Actually, it required too much skill in some cases, to the point where novices like myself will become increasingly frustrated because they cannot pull off a task required to move the game forward.
Fortunately, the game structure allows players to complete tasks in the order they are most comfortable with. There are main tasks, and there are sub tasks. I found the balance of tasks to be either too easy or too difficult ' there wasn't much middle ground. A seasoned extreme gamer may not have the problems I encountered but there were times I had to turn off the system and walk away to relieve some frustrations. Part of the fun is learning about these tasks from the people so I won't spoil any of them for you.
All is not well in XXX land though. For some reason, stopping your bike is a chore. I can't even count the number of times I went passed my intended stopping point all while jamming the brakes on. I fell off off more roofs, down stairwells and raced head on into traffic more times than I can count. Also, objectives are not always clearly defined. I met up with another NPC rider and he told me I needed to perform a specific trick. I had no idea what the trick was let alone how to perform it. It would have done wonders for me to actually show me an example of the trick, so I at least knew what I was supposed to be doing. Maybe cut scenes showing the challenger performing the trick and then you have to mimic?
If you are not a fan of extreme sports games and think BMX XXX is going to change your mind, you will be disappointed. This game follows the same path as traditional extreme sports titles; only it does it with a dirty mind. I was hoping they would dumb the game down for a person like me, who frankly suck at this type of game, to make it more accessible but that is just not the case. Also keep in mind, the naked factor in this game plays out like a typical date; the first date you get nothing, the second date you get a little teaser, the third date, you make it to second base and the fourth date you get a little action. You have to play through the game before you are rewarded with your homerun.
Playstation 2 Screenshots
See Also
Viewing games 1 to 10