Tony Hawk's Pro Skater 2X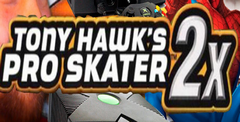 Click the "Install Game" button to initiate the free file download and get compact download launcher. Locate the executable file in your local folder and begin the launcher to install your desired game.
a game by
Activision
Platform:

XBox

Editor Rating:

9

/

10

, based on

1

review
User Rating:

10.0

/

10

-

3

votes
Rate this game:
See also:
Tony Hawk's Games
Overview
Tony Hawk's Pro Skater 2X is a high flying, trick laden, skateboarding game in a long and impressive franchise from the undisputed ruler of the skateboarding world. Tony Hawk has pioneered dozens of skateboarding moves and tricks over the many years. With the release of Tony Hawk's Pro Skater a few years back, he pioneered the skateboarding genre on the console with its tight controls, wicked tricks and combos, impressive graphics and addictive game play. His sequel, Tony Hawk's Pro Skater 2 pushed the game up a notch taking full advantage of the more powerful systems (namely the PS2 and Dreamcast). More tricks, levels that are more involved, more challenges and just more all around. Does Tony Hawk's Pro Skater 2X change the franchise again? Not really. But this is not Tony Hawk' Pro Skater '3'. This game is an upgrade for the Xbox. With the increased console power and increased data storage on media and console, this game gives you more but it is still Tony Hawk' Pro Skater 2. Just a lot bulkier.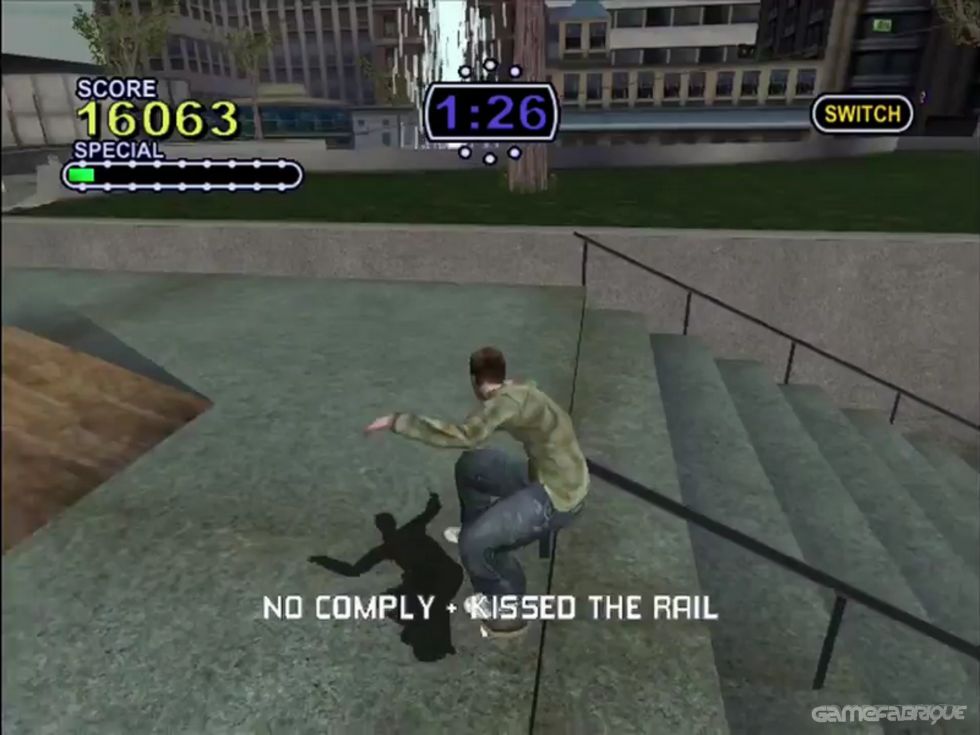 Gameplay, Controls, Interface
The Tony Hawk games made an impact on skateboarding controls. The simple four-button configuration (Ollie, Flip, Grab and Grind) with the triggers giving you spin, in conjunction with the directional joystick or pad made learning and playing Tony Hawk games a snap. This control scheme remains strong in Tony Hawk's Pro Skater 2X with the addition of Lip Tricks (using the Grind button). Performing insanely complex combos lies with the gamer' ability to press the right configuration of buttons and directions consecutively. Specials require more involved joystick directions and button combinations. In this version, a plethora of new tricks have been added and now you can assign tricks to certain motions. Adding new moves requires money, so challenges and level completions provide monetary compensation. You can shop for new tricks, new boards and better stats. Completing challenges and levels also opens a myriad of hidden boarders, levels, movies and even cheats. But it still boils down to performing trick combination after trick combination. Strange names like '360 Shove It,'? 'Stalefish,'? 'Benihana,' 'The Fandangle'? and the '540 Kickflip'? bring in big points, which bring in the big money.
Tony Hawk's Pro Skater 2X keeps the control and gameplay intact from its previous versions. Your available single player modes are Career Mode (where the cash lives!), Single Session (for the High Scores) and Free Skate (the no-pressure, no time limit, no-stoppin' fun zone). Levels are not just from Tony Hawk's Pro Skater 2 (10 levels) but there are special Tony Hawk's Pro Skater 2X levels (5 levels) and even the nostalgia of Tony Hawk's Pro Skater (9 levels). The Xbox version levels send you to a construction site and the New York subway to name a few. But don't overlook other levels like the Crane Drop, Hawaii, Venice Beach, Roswell and the fantastical Skate Heaven. The levels aren't large but they are involved, with objects, obstacles and obstructions all over the place. Look out for the taxicabs and subways!
The question here is 'How much'? This game takes the mammoth media size of a DVD and delivers three punches: Cheats/Movies/Hiddens, 3D Real-Time Skatepark Editor and Create-a-Skater/Edit Tricks. Cheats/Movies/Hiddens are the special options that give your skater the edge, your fingers a break or your eyebrows a workout. Cheats you can unlock are wire frame (very Techno), moon physics (literally defy gravity) or the infamous Big Head. There are movies for all thirteen skaters as well as some special movies like Bails that will make you cringe in pain. Hiddens are the hidden players, skateboards, and levels, standard for any Tony Hawk game.
The Skatepark Editor lets you take the reins of the game developer and try your hand at making a skate park. Choose and place a massive variety of objects and obstacles. Give your park a theme and play test your park. Want to see what the developers can cook up -- check out the pre-made parks (Pit of Death, complete with spikes). These pre-made parks can give you some hints on design but make sure you set aside some time. Park creation takes a while.
The neatest feature is Create-a-Skater that lets you create your own skater, right down to the shoes. Create as many skaters as you want and then take them through the levels. Bring friends over and let them create their own look-a-likes and then Multiplayer with your custom skaters. Then go in and edit your skater's trick set. This feature is the true definition of 'custom.'?
Multiplayer
Skateparks bring skaters together to compete and show off. Tony Hawk's Pro Skater 2X takes four skaters on one Xbox and throws them in any level they want and play various modes -- Graffiti (tags objects which other players can re-tag), Trick Attack (rake up points and rake your opponents face in the asphalt), H-O-R-S-E (monkey see, monkey do), Tag (don't get tagged!) and Free Skate (free for all!). Not crazy enough for you? Link another Xbox and crowd the level with eight players!
Graphics
Graphically, Tony Hawk's Pro Skater 2X cleans up in look with more shading and greater diversity of colors. Images are clean and crisp just as in past versions, using the powered up console of the Xbox minimally. Shadows and clean lines make images and obstacles distinct and detailed, just enough. Taxicabs and moving vehicles are still the rectangles on wheels but they are just object to grind on anyway. Some fun graphic areas are the see-through tubes of Skate Heaven and the disco lights of the London Club. The Xbox has the power to push the graphics envelope if Tony Hawk's Pro Skater 2X wished to. But the game has gone with the massive amount of additional features than the graphic improvement.
Audio
Sounds of grinding a skateboard, popping off a lip trick, wheels on the terrain and the groan of a crash are the basic sounds of any skateboard game. This game delivers these sounds as expected but nothing more. There are of course the included music tracks but use the Xbox's download music ability to port in your own tunes. Try boarding to Surf music. Very cool!
Bottom Line
Has the bar been raised to a new level with the release of Tony Hawk's Pro Skater 2X for the Xbox? No, not really. Same as before in controls, graphics and audio. More tricks, more levels and more hidden treasures. What distinguishes this version from others are the additional features such as Skatepark Editor and Create-a-Skater. If you have played Tony Hawk's Pro Skater before and now want one for the Xbox, pick this up. If you're waiting for the next generation of Tony Hawk's Pro Skater, wait for the next version. This game is Tony Hawk's Pro Skater 2 with some beefy extras thrown in.
Download Tony Hawk's Pro Skater 2X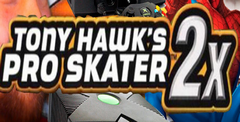 System requirements:
PC compatible
Operating systems: Windows 10/Windows 8/Windows 7/2000/Vista/WinXP
See Also
Viewing games 1 to 3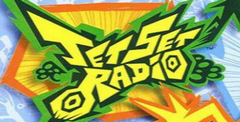 Jet Set Radio
At first gander, Sega's extraordinary-looking Jet Set Radio--due here this fall--may seem like a stylized take on Tony Hawk's Pro Skater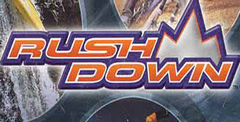 Rush Down
Electronic Arts expands on its extreme sports line with Rush Down, a racing game featuring mountain biking, snowboarding and kayaking.