Bone: Out from Boneville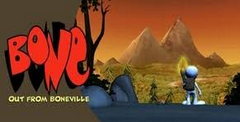 Platform:

PC

User Rating:

8.0

/

10

-

1

vote
Rate this game:
I No Matter how abused genres and licences may be, the talent behind them never goes away. Such, we hope, is the case with the Freelance Police developers now at TellTale games, and their newfound mascot Fone Bone - the famed (in certain circles) comic book creation of one Jeff Smith. Now we'd never heard of this little chap, so we gave Dan Connors (CEO of the TellTale enclave) a poke to find out more.
It's the story of three cousins from a place called Boneville, who find themselves lost in a mysterious valley brimming with fantasy elements and humour," says Connors of his good-natured. mouse-driven adventure. Fone Bone is the story's main protagonist. He has a good heart and a sense of responsibility to his friends and family. Nonetheless, he comes into this new land, finds himself in over his head and has to figure out his place. Seeing as it becomes apparent that Fone is initially armed with only a well-thumbed copy of Moby Dick for support, you can tell that the game is going to be a little eccentric. As you would expect of a tale about a skeletal moomin family, there's some fairly odd and subversive humour going on here - even if it will never match the same brand of anarchy as Sam & Max. The plan is for Fone Bone's bizarre world to move beyond the strict confines of the point and clickers of old. while still having all the puzzles, dialogue and basic action elements that adventure fans know and love.
Working on Star Wars throughout the years I learned to appreciate a deep licence, and I think Bone has some similar qualities, says Connors, elaborating on what makes Bone such ripe territory for a game. But seeing as we're called TellTale, we are also very interested ;in the storytelling. Jeff Smith has managed to craft a story that has an ageless appeal to it, and stories like that are few and far between. Due for independent digital distribution, the self-publishing of Sone could provide fresh legs for the ever-endangered (yet doggedly persistent) adventuring genre. We like it, and not just because of Bone's cute nubbin nose.
Download Bone: Out from Boneville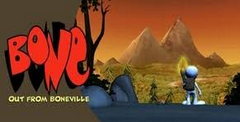 System requirements:
PC compatible
Operating systems: Windows 10/Windows 8/Windows 7/2000/Vista/WinXP