Breath of Fire 2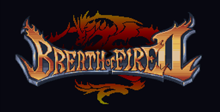 Click the "Install Game" button to initiate the file download and get compact download launcher. Locate the executable file in your local folder and begin the launcher to install your desired game.
a game by
Capcom
Genres:
Action, Adventure/RPG
Platforms:
SNES, GBA
Editor Rating:

7.4

/

10

, based on

4

reviews
User Rating:

7.5

/

10

-

4

votes
Rate this game:
See also:
Breath of Fire Games
Capcom is preparing the sequel to hot RPG which has just been released here by Square. The lead character this time is a boy Ryu, also of the clan of the White Dragon who was orphaned long With his partner Bosh, they'll set out for adventure!
Download Breath of Fire 2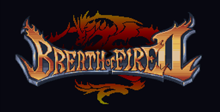 System requirements:
PC compatible
Operating systems: Windows 10/Windows 8/Windows 7/2000/Vista/WinXP
Pentium II (or equivalent) 266MHz (500MHz recommended), RAM: 64MB (128MB recommended), DirectX v8.0a or later must be installed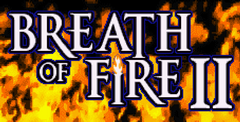 System requirements:
PC compatible
Operating systems: Windows 10/Windows 8/Windows 7/2000/Vista/WinXP
Game Reviews
Although not renowned for RPGs, Capcom has done an awesome job with Breath of Fire II. This long, absorbing game offers plenty of story turns, intense battles, and intriguing characters.
A Bigger, Better Fire
Bigger and longer than the original, Breath II takes place hundreds of years after the first game with descendants of the initial characters. There are also cameo appearances by fighters from the first game (Karn and Bo), and one even joins your party -- the snake sorceress, Bleu!
Anyone who played the first game will take to this one immediately; it retains the overhead battle scenes and traveling scenes. The controls are very good and simple to master. However, you can attack your own party members (something you'll need to do if any of them are turned into zombies), so take extra care when selecting your targets in a fight.
ProTip: Use the Fire and Devil Shamans for Katt and the Water and Holy Shamans for Jean.
The menu-driven play mechanics are a little different. In addition to the usual statistics, such as strength and stamina, there are two new items. The first is the Monster meter, represented by a little green critter at the top of the character-menu screen. He alerts you to monsters in the area by frantically jumping around.
Look for shamans in the dungeons and castles. If you collect enough, you can give your characters new looks and super abilities.
The other is the Dragon's Tear -- an insignia that appears when talking to people. Depending on the colors it displays, you catch emotional undercurrents and even tell if someone is lying or not.
Epic Storytelling
The story is long and complex with side jour -- where some the characters must confront demons from their past in order to proceed. While some of these episodes are cliché (like Rand's), some are touching, too (like Nina's). Yet with all the tangents, the story never loses focus, especially when the epic draws to a close. In addition to the usual scheme of character powers emerging after experience points are acquired, there are six rough wizards -- shamans -- who can bestow super powers. If you can find them, any two in combination can give you lethal attacks, depending on the character.
Use Spar, the grass man, to lead the party through the woods.
Drink from all pools of water. All hit and magic points will be restored.
You start with two characters, but a total of nine will join your party. You can travel with only four at a time, but that gives you an opportunity to cycle in fresh characters and build their abilities.
Breath of Fire II is more difficult than the original, especially at the beginning. Make sure you rack up abilities and hit points before taking long travels -- especially when going alone. The same holds true when you near the end of the game, where you battle every dozen steps or so.
Great Look, Sounds
Breath excels with great graphics and sounds. Graphically, there are very few cinematic scenes (fewer than in the first one), but some of the battle scenes provide nice visuals that range from disgusting enemies to incredibly powerful spells. The characters are given great detail from Nina's flapping bird wings to Bleu's slithering snake tail.
Use Jean's swimming abilities to cross rivers and hop uphills.
The music is also pleasant, and one of the best things about it is that it changes throughout the game (the battle and traveling music take different tones about halfway through the game). The sound effects provide a plethora of crashes and zings, usually heard during battle.
Breath of Fun
Even though it drags at times, Breath of Fire II never loses its momentum. This, excellent, very time-consuming journey will keep the most demanding RPG fan satisfied.
In castles, let Nina lead the way. If you exit a room that has a drop, Nina will keep the others from falling.
In areas with obstructions, use either Rand or Katt to clear the way.
Breath of Fire II is a console role playing game developed and published by Capcom in 1994. The game was licensed to Laguna for the European market and was published in 1996. The game is a sequel to Breath of Fire I and was later on released for the Game Boy Advance. The game was also ported on Nintendo's Virtual Console Wii in 2007 in North America.
The story is set 500 years after the original Breath of Fire, and focuses on an orphan named Ryu Bateson, whose family suddenly disappeared long time ago. His friend is falsely accused of crime and therefore the main character embarks on a journey to clear his name and to find out what happened to his lost family.
The game features two-dimensional character sprites and environments, players viewing the game from a top-down perspective. They can move the characters in four different directions across the map, including in towns and dungeons. The playable characters can interact with non-playable characters on the map and have to battle enemies to advance through the game.
The game brings in a redesigned text-based menu, compared to the first installment, which featured an icon-based menu. There is also a new Monster Meter indicating the chance of meeting monsters in a given area on the map. Players can't choose their own path, they will have to follow a pre-set route dictated by the story and therefore encounter many enemies along the way. The player can't advance if the opponent is not defeated.
New characters come along with Ryu as the game progresses, but only four may be in a party at a given time, just like in the previous installment. Each character has their unique Personal Action that can be performed outside a battle. This allows players to access areas, destroy objects, move around the game easier or avoid traps.
The game features a new town-building option, which allows the player to populate their village with special characters found in the game. Characters have their own jobs and can be invited to live in houses. The game features six different Shamans, each of them having an elemental alignment. Up to two may be used in the same time. If Ryu joins a Shaman, he will become stronger and will have access to more information within a battle.
8
The original version for the Super Nintendo Entertainment System was popular and scored good feedback on the internet. No less than 623 users on GameSpot rated the game with 8.6, while five critics were a bit harsher and offered the game a rating of 7.9 out of 10.
Ryu is back. In this exciting sequel to the first action adventure role-playing game Ryu joins his friend Bow in the selection for the ranger's guild. During which time the two participate in various battles, Bow is set up to look like a bandit and goes into seclusion. His friend Ryu then goes on a mission to restore his friend's good name. While on his journey, Ryu joins with some old friends. Go through another journey with Ryu and his followers as they set out to destroy the evil priest Evan who is looking for world domination. Battle your way through various levels fighting demons. This 1995 Capcom release in North America received a rating for all ages. Battle your way through a game filled with action packed levels. This game is compatible with Super Nintendo Entertainment Systems and Game Boy Advanced virtual consoles.
SNES/Super Nintendo/Super Famicom Screenshots