Bruce Jenner's World Class Decathlon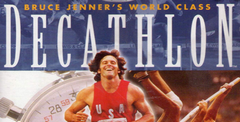 a game by
Dallas Multimedia
Platform:

PC

User Rating:

7.0

/

10

-

2

votes
Rate this game:
See also:
Olympic Games
Maggie Philbin (Phwoar!), Fizz-Bombs, deliberately infesting your feet with verrucas to bunk off swimming at school, playing football in the park with jumpers for goalposts, eight young lads crowding round a Commodore 64 to play Summer Games from US Gold - all enduring images from my childhood days. And mark my words, we'll not see their like again, apart from perhaps one of them. The last one. You see, in a fit of timing that would make Bob Monkhouse blush, Interactive Magic are in training to release a multi-player Decathlon game into the world ready for the forthcoming Olympics, and have associated themselves with one of this country's best-loved sporting heroes. That's right, Matthew Le Tissier's World Gass Decathlon is about to hit your screens. Hmmm, what? Oh, sorry. Er, Daley Thompson's World Gass Decathlon is about to hit your screens. Heh, my apologies there, folks.
Brains over brawn
Anyone that grew up with an 8-bit computer in the bedroom will no doubt remember the Daley Thompson games of old - stick-waggling, keyboardpounding, tension-packed affairs that proved a boon for both the finger-plaster and joystick manufacturing industries alike. The development company responsible for the game, Holy Mackerel! Media, are hoping to try and rekindle that self-same-spirit of intense participation, while introducing the often-neglected strategy element of the gruelling athletic events at the same time. Now that doesn't mean we're going to see the world's first hex-based sports sim. No sir. You don't only have to worry about performing well in each of the ten events, but you also have to concentrate on keeping your customisable character fit and healthy throughout the whole tournament (healthy? Wassat mean?). Should you take a third attempt at the discus or save some of your dwindling energy reserves for the upcoming 110-metre hurdles? Was that last effort of yours at the pole vault enough to win the heat or should you gamble on another jump and risk losing in the shot put?
Each game starts with you assigning points to your athlete's different skills. Do you want a strong thrower or would you like more overall fitness? This way, you can tailor each athlete to match your own strengths and weaknesses. And then there's the career aspect to consider. When you complete a full Decathlon, your athlete is awarded bonus points to be added to his current values, so you can constantly improve your scores, times and distances until you eventually become good enough to take on any of the 25 historic opponents that are waiting for you. These include such Olympiad luminaries as Bruce Genna, Dan O'Brien and the eponymous Daley himself. Each of these opponents have had their real-life ratings accurately mapped into the game, ensuring that each provides a unique and different challenge. Which basically means that Daley will thrash you in absolutely everything except the discus, in which he's crap (allegedly).
Aiming for accuracy
Apart from on the field, Daley also appears throughout the game in short fmv bursts, offering advice on each event and laughing when your shot put lands on your foot. These sequences were all filmed using the traditional blue-screen technology in Leicester, the home of QBroadcasting who were responsible for BBC's Heart Of The Country, Bandai's Mighty Morphin' Power Ranger adverts and Gloria Hunniford's Options. Quite a pedigree (Ahem - Ed.). He was also on hand throughout the game's design process (as was Bruce Genna, America's own Decathlon star) to ensure that the programmers were able to make all of the internal workings of the events as accurate as possible.
As well as internal accuracy. Holy Mackerel! have joined forces with Dallas Multimedia Inc to produce some stunningly accurate graphics (not so surprising a merger when you consider both companies are based in the same office). While relatively unknown in this country, DMA Inc have enjoyed considerable (and award-winning) US success providing animations and computer imagery for all manner of advertising companies, pr firms and tv comedy shows. This means we are treated to fully-rendered human figures that run. jump, vault and. er. javel as accurately as the real things.
The real joy of the game though is that it supports multiple human players, currently planned for three or four on the one machine with tentative plans for a networking upgrade release later on. Back come the days of huddling round the monitor with your mates, nudging each other off the keyboard at a crucial moment in each race, covering each other's eyes a nanosecond before they lob the javelin and 'accidentally' knocking the power lead out of the back just as your athlete slides into last place with no hope of recovery. Ahh. bliss.
Download Bruce Jenner's World Class Decathlon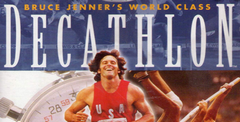 System requirements:
PC compatible
Operating systems: Windows 10/Windows 8/Windows 7/2000/Vista/WinXP
Similar Games
Viewing games 1 to 9