C.I.T.Y. 2000: London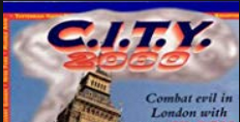 Click the "Install Game" button to initiate the file download and get compact download launcher. Locate the executable file in your local folder and begin the launcher to install your desired game.
London in the year 2000 looks remarkably like London in 1994 - why, there's the 98 bus! 1 guess digitising the future is something they're still working on, but the game has to be more exciting than boarding a 98 bus. Doesn't it?
You are Daring, Jon Daring. Your task to defeat your sworn enemy, Stanislav Rooter (crazy name, crazy guy). Rooter's modest ambition is to take over London and render its inhabitants powerless. Do London's inhabitants actually have any power? Anyway, Britain's best secret agents have failed to stop Rooter and his dastardly plans, so the only person in the entire world who can do this is top American agent, Jon Daring. This is an American game. Did you guess?
It's also another of those games which says: Yes, we have the CD technology, but what the hell do we do with it? The designers have tried to merge an adventure game with a guide to London, the resulting mutant being neither one thing nor t'other (as we say oop north.)
Want to recreate the fun of a tube journey from Heathrow to Kensington tube station? Want to point out to the Yankee programmers that there isn't in fact a Kensington tube station, unless they've renamed it South Kensington? And maybe they've also changed the spelling of Carnaby Street to Carneby Street, and Madame Tussaud's to Madam Tussaud's.
The program boasts over 450 illustrated locations, but about 400 are shots of traffic-filled London streets. Give me a goblin's dungeon any day if the alternative is the Euston Road. The plot has you plodding round these not-very-mean streets as one contact leads you to search for another. The only exciting moment was crossing the top of Bolsover Street, home of the mightiest pc mag in the known universe, but sadly you can't turn down the street and call in for a cuppa.
Icons across the foot of the screen control the game. These include the usual load and save, with a massive four save games being built into the program. A hand icon allows you to get things, although you can't drop them so your inventory builds up to excessive levels. Do you really want to keep the note telling you of your first London rendezvous after you've used it? Some locations contain video footage. A riveting sequence shows Jon Daring disappearing into a photo booth and drawing the curtains. Did someone really think it would liven up an adventure to have the player spend several seconds staring at curtains?
You do at least get to go inside the Tower of London, various museums and Madame Tussaud's, amongst others. In the last of these 1 picked up a coded note from a contact and, having been given a decoder earlier in the game what else would I try to do but use the decoder on it? A snotty voice tells me: 'You have no complex messages to decode'. Er... what's this I've just been given and have in my inventory? 'This is a coded message.' Well I have an uncoded message: if you want a cd adventure try Return To Zork or Sam And Max. If you want to visit London and have an adventure, buy a Cheap-day return and visit the Isle Of Dogs. Anything but this.
Download C.I.T.Y. 2000: London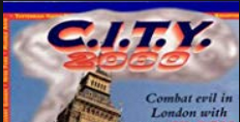 System requirements:
PC compatible
Operating systems: Windows 10/Windows 8/Windows 7/2000/Vista/WinXP
Similar Games
Viewing games 1 to 7