Corruption of Champions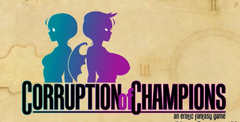 a game by
Fenoxo
Platform:

PC

User Rating:

6.0

/

10

-

1

vote
Rate this game:
See also:
Eroge Games
Text-based adventures have been around for about as long as gaming has been. Some of the first games started off as these dialogues screen where you write your adventure. Corruption of Champions made something rather unusual by getting an erotic fantasy adventure into this genre and somehow made it work.
Even though many younger gamers have really no idea what a text-based adventure is, it is still a thing even today. And while it's true that it's more of a niche type of game, it still has its audience. We'll explain what these text-based games are in a moment, but first, let's talk about Corruption of Champions.
About the game
Corruption of Champions, as we previously mentioned, is an erotic fantasy game in the shape of a text/based adventure. The player starts its adventure in exile from its village, with no equipment to defend itself. You are thrown out in the wild to find your way in survival and become the Champion you-re expected to be.
They choose these Champions every year to fight against the evil beings and protect the village. But to become one they have sent you through a portal to a different dimension, where you must choose your path as a champion. But temptation and danger are everywhere, and this champion can end up being corrupted.
Your character playstyle and story are completely up to you in this game, you can be however you want to be.
What are the text-based adventures?
Back in the day before games looked flashy and had amazing art, even back before they had an image at all, text-based games were all the hype. Similar to the old tabletop role-playing games, you were placed in a world, and you wrote your own adventure.
Just as in visual novel games you click on different dialogue/action options, in text-based games you write them up. This can lead to some of the most interesting adventures, you'll just have to put your own imagination at work with this one.
If you tried the genre with this game and liked it but fantasy is just not your thing, the same developer group also has Trials in Tainted Space available. The title is pretty much the same as Corruption of Champions but set into a sci-fi world. Different characters and interactions await you in space this time.
Review
Corruption of Champions is definitely an odd title that takes you on an erotic fantasy adventure, even if you are only reading it. It's very well written, and it's more complex than you'd expect from a community game. Even if you're not playing it for the erotic aspect of the game, you can have a good time and go to the past with this adventure.
And probably the best part of this game is that you can play it right now for free, you don't even need to download it. And don't worry, you can download it and play it for free, the full game.
Graphics and visuals: There really isn't much to say about this game in the visual aspect. Since it's a text-based game most of what you'll see will be words on the screen, so yeah, there's that.

Gameplay: The gameplay of this game is interesting as it's a little hard to call it "gameplay" at all though. You are going to choose your adventure by typing whatever you want to do in every situation. The game does present many different and varied situations, so you can replay the game many times, and enjoy a new adventure each time.
Download Corruption of Champions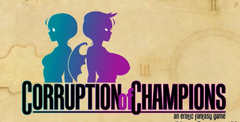 System requirements:
PC compatible
Operating systems: Windows 10/Windows 8/Windows 7/2000/Vista/WinXP
Similar Games
Viewing games 1 to 8