Cricket 2002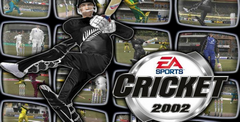 | | |
| --- | --- |
| a game by | HB Studios |
| Platform: | PC |
| Rate this game: | |
| See also: | Cricket Games |
At the time of writing, it's a soggy summer's day, the World Cup is but an expensive memory, television offers blanket coverage of Wimbledon, and the football season is still six suffocating weeks away. As if to mock my torment, another cricket game drops on the doormat, courtesy of our dependable friends at EA Sports. The Cricket series has been around in various guises for a number of years, but has yet to really trouble the nation in the manner of the ubiquitous FIFA monster. Perhaps surprisingly, the last instalment was Cricket 2000, which by EA Sports' standards represents a hiatus of Cro-Magnon proportions.
Over the history of the series, the only real constant has been the laconic commentary of funny-faced Antipodean, Richie Benaud, and he is back once again, although David Gower has been replaced by the brasher tones of Jim Maxwell, whoever he is. Suffice to say that it's a seamless affair, and representative of the general quality of the package. You know the score; it's an EA Sports title, so expect television style presentation, countless camera angles, meticulously modelled stadia, intricate detail and superfluous idle animations from the masters of polish. It is all present and correct, and. as seems to be the goal, it's like a television programme that you control.
Willow The Wisp
This would all be for nowt if the interface was useless, but fortunately this isn't the case. Cricket has never been the easiest of sports to replicate, but this makes a reasonable fist of it, with bowling involving the positioning of a green disc, and batting requiring you to swing the willow in the immediate vicinity of said circle.
Both disciplines take some mastering, and while it's effective enough, it's not always entirely convincing. Even when taking a wicket or hitting a six. there's always the nagging doubt that you are not completely sure how you did it.
Line & Length
There is some subtlety at work though, and the various bowling styles require markedly different approaches, with the pitch and the weather also affecting play and tactics. It's not just the mechanics of cricket that aren't particularly suitable, there's also the fact that a match can last five days. Playing an entire test match would try the patience of a monk, let alone the average attentiondeficit gamer. The limited overs game is where the immediate value is to be had (the more limited the better) and it can make for a mildly engrossing experience. It's easy to let a few hours slide by and it's amazing how involved you can become. While it's tempting to try and lash every ball out of the ground, a more measured approach is generally required and there is plenty of scope for thought. You'll get bored of it eventually, but while it lasts, it's another quality product from EA Sports.
Download Cricket 2002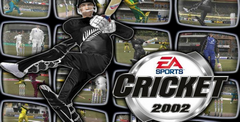 System requirements:
PC compatible
Operating systems: Windows 10/Windows 8/Windows 7/2000/Vista/WinXP
Similar Games
Viewing games 1 to 9