Diplomacy is Not an Option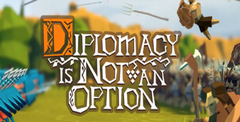 Click the "Install Game" button to initiate the file download and get compact download launcher. Locate the executable file in your local folder and begin the launcher to install your desired game.
Have you ever been subject to a practical joke? However, not one that leaves you with a face full of pie or your pants by your ankles. Rather one that tricks you only to offer you a lovely surprise as a result. Kind of like being summoned to jury duty and it turns out that your pals have thrown you a surprise birthday party. Well, that's exactly what Diplomacy Is Not an Option feels like. It lures you in under false pretences and pulls the rug from under you. Only when you shoot into the air, you gracefully stick the landing.
This game plays most similarly to tower defence games such as Plants vs Zombies, Bloons Tower Defence, Defence Grid, Orcs Must Die 3 and Kingdom Rush. This game aims to bombard players with hoards of enemies to test their skill ans tactical aptitude. However, is this game more of a test in how to endure boredom? We find out in our review of Diplomacy Is Not An Option.
The Only Option is Violence
As mentioned, this game aims to trick the player into believing that the game will revolve around making mundane decisions as the king of the realm. However, this fear is soon quelled when an army of blood lusting beasts bare down on the walls of the kingdom. Then suddenly, you burst into action, preparing your men for battle to protect the city against the onslaught of monsters. As far as narrative setups for tower defence games go, this is simple, concise and perfect for the game in question.
In terms of the gameplay, its very much a mash up of Age of Empires, Command and Conquer and more simplistic tower defence games like Bloons for example. It's a game that has simple and accessible mechanics that are simple to use and easy to understand but hard to master. Plus, with the way the game is set up, one game doesn't simply end in victory. The game is infinite until your kingdom falls, meaning you must grow continuously or fall to the enemy.
This means that the game has infinite replay value so long as the player is skilled enough to survive. Plus, we have to commend how the game keeps the gameplay fresh throughout the defense attempts. There is a period where you'll have maxed out all systems and be waiting for your inevitable demise as in all TD games, but this doesn't come for quite some time. Keeping the player engaged and the gameplay emergent throughout.
The Verdict
While this game is limited by the nature of the genre it finds itself in, you have to commend the effort it goes to in an attempt to be different. This is a TD game, meets sandbox city builder, meets RTS game. It goes out of its way to allow the player to play in any way they choose and that has to be appreciated. The replay value is also great provided you enjoy these games and even the visual aspects are decent.
7
The only downsides to this game are the rather predictable late game slog, the paper-thin narrative and the lack of unique mechanics. However, as a whole this game is a commendable TD game and deserves a try at the very least
Pros:
A commendable mix of genres
Decent visuals
Very replayable
Cons:
Lacks in ingenuity
Late game becomes a predictable and inevitable wait for death
Download Diplomacy is Not an Option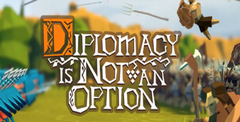 System requirements:
PC compatible
Operating systems: Windows 10/Windows 8/Windows 7/2000/Vista/WinXP
Similar Games
Viewing games 1 to 8