Double Homework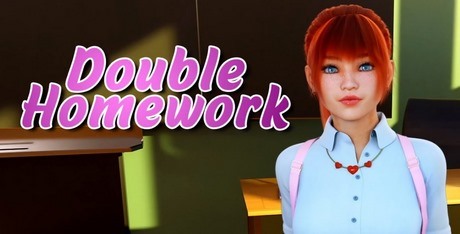 Click the "Install Game" button to initiate the free file download and get compact download launcher. Locate the executable file in your local folder and begin the launcher to install your desired game.
Lewd visual novel Double Homework is brought to us by a developer that I am actually a pretty big fan of so I was excited to get the chance to spend some time with this game. I think that this is a decent enough game, but those expecting something revolutionary may be a bit disappointed by what is on offer here as it does play it all rather safely. I think that there is some good here, but it is perhaps a tad too slow for its own good if I am being honest.
Double The Pleasure
The premise of Double Homework is something that I can get right behind. Our main character is an average Joe (all be it a very ugly one!) that lives with two hot girls and he is basically trying to navigate his love life with these two girls and find his place in the world. The game also has something of a "mystery" aspect about it where our MC is trying to deal with something that happened in his past. Honestly, they should have skipped the mystery aspect of this story and just had the dude trying to hook up with chicks.
Getting To The Point!
Now, I think that they did have something with the story in Double Homework, a guy with two girls always has a lot of potential. However, I think that the main issue I had with this story here was not the "mystery" that it felt like was shoehorned in, it was how slow paced it all was. There is a lot of explaining every little detail in this game and it can get really easy to gloss over and not pay attention, which of course makes you ultimately lose interest. I think this really needed an editor to whittle down the story a tad.
My Dear Rachel!
For me, the best thing that this game has going for it is the character render of the character Rachel! There is a scene in Double Homework that takes place in a locker room and it is by far the best part of this game, it is very hot and so much fun! The female characters are all cute and have a nice look to them, however, this game has what I consider to be the ugliest looking dude I have ever seen in a lewd game! It does take a while to get to the sex scenes and they are not animated which is a shame.
Picking The Right One!
I would have to say that Double Homework is very close to being lumped into the kinetic lewd visual novel category. You do get some choices to make here and there like where you want to finish in a sex scene for example. However, as far as the actual story of this game goes, for the most part, you are going on the ride that the developer wants you to go on and I never really felt like the choices I was making had any deep and meaningful impact on the story.
7
While I would not put Double Homework anywhere near my list of the greatest lewd visual novels of all time, I still think that there is some fun to be had here. As I said, the scene in the locker room with Rachel was great, it made playing the game worthwhile for me. However, I just feel like this is a bit too slow for its own good and I could see most people losing interest in this game before they get to the good stuff.
Pros:
Rachel is so hot
That locker room scene was awesome!
Most of the female character renders are great
I do think that the story does have some good moments
Cons:
The story is just too slow and too long winded for its own good
The sex scenes are not animated
Download Double Homework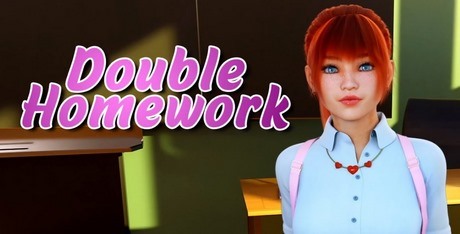 System requirements:
PC compatible
Operating systems: Windows 10/Windows 8/Windows 7/2000/Vista/WinXP
Game Reviews
At one point or another, we all encounter strange and unsettling times in our lives and have to navigate them with as much care and caution as we can. This might require a change of job, a change of perspective or a change of scenery. The latter is true for the protagonist that you control in Double Homework as he moves in with two women after a troubling time in his life to set things back on track again.
Unbelievable Visuals
What strikes you immediately when you start this game is the absolutely astounding visuals on offer throughout the game's campaign. The facial structures, amazing eye detail, impeccable textures and lighting and environments all culminate to offer an overall presentation that is worthy of any major game on the market. In some instances, the images on show are hard to distinguish from reality which is a really impressive feat.
Predictable Story
Double Homework has a narrative that you can see a mile away. You live with two hot girls and you'll get to know each and then have to choose between them or try and conjure up a threesome agreement of some sorts. It's a typical teenage drama with lots of sex and mischief thrown in for good measure. While the writing isn't anything that will set the world alight, its good enough to carry the subject matter along nicely. You'll probably find enough reason to push on until the end of this one but if you're looking for Something that will capture your imagination, you'll have to look elsewhere
The one saving grace is that there are a set of multiple endings that allow the player to choose their own destiny in some respects. Plus the characters do have plot lines that intersect nicely in some areas. As we said, the writing is far from poor, just predictable.
Harsh load times
The gameplay is your standard dialogue-heavy choice game and dating simulator, nothing an avid adult game connoisseur won't have encountered many times before.
However, the main drag back of this one is the ludicrous load times. The engine with the very demanding 3D renderings causes the game to slow down drastically and means that whatever momentum that the story picks up is soon lost as you twiddle your thumbs waiting for the next scene or task to complete.
A passive experience
5
The game just seems to pass you by in a way. You can throw yourself into it, put yourself at its mercy and it simply will stand motionless and do the bare minimum. It's going through the motions in the form of an adult game and anyone that likes to be intimate from time to time knows that going through the motions simply won't do.
Pros
The graphics are a saving grace for this one as they are realistic and almost flawless in their execution.
The writing is cohesive and serves its purpose and most of the characters are likable at the very least.
It just seems like a game that couldn't get the traction it needed to be a great addition to the adult games roster.
Cons
This game is still receiving episodic updates so you can always hold out hope for a big change but at this moment, its average at best.
See Also
Viewing games 1 to 8