ESPN Great Outdoor Games: Bass 2002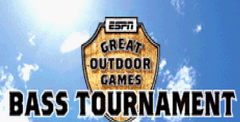 Click the "Install Game" button to initiate the free file download and get compact download launcher. Locate the executable file in your local folder and begin the launcher to install your desired game.
Overview
You hunt through your tackle, looking for the right lure. A crank deep diver? Maybe a red pencil? How about the green popper? Here it is, the blue-green vibration. Water in the middle of the lake looks good at nine in the morning. It's a cool 61 degrees today; you should have some large-mouth or maybe even some spotted bass biting. Cast out at about 79 feet and see what takes. Let the lure rattle its way through the mid-level of the lake. Whoops, forgot the beverage. You pause, walk to the refrigerator, grab a cold one, pick up the Game Boy Advance and ease back in the chair for a relaxing time of fishing. Ah, the great outdoors. Or, more specifically, Konami's ESPN Great Outdoor Games: Bass 2002.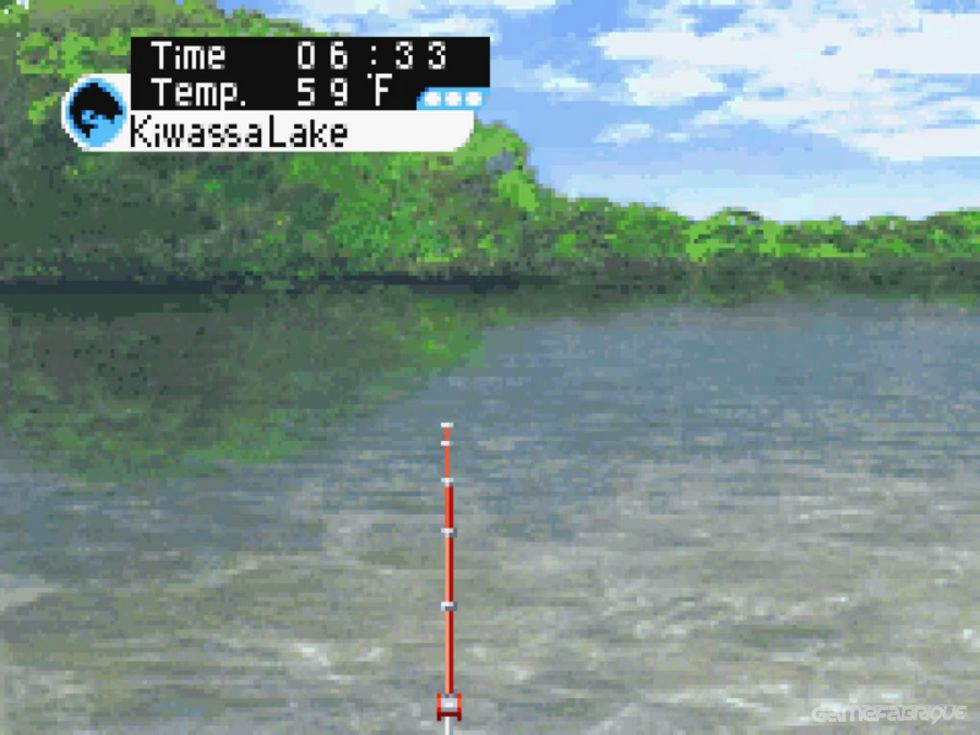 "Gone Fishin"' has become much easier with the release of Great Outdoor Games: Bass 2002. For the avid angler who has played fishing games before or just needs to feel the adrenaline of a taut line with a bigmouth on the end, this game will meet that basic need. It is a quick pick-it-up-put-it-down game that will satisfy fishing enthusiasts, but a "throw-back" for most gamers.
Gameplay, Controls, Interface
The definition of a "pick-it-up-put-it-down" game is one that can be picked up and learned quickly and easily, or a game that can be picked up, played briefly and put down, eliciting at least mild satisfaction. Great Outdoor Games: Bass 2002 fits each definition well. The controls are very simple and straightforward. The A button lets you choose your tackle, cast the line and reel it in (bringing in the line and fish). The B button is the cancel choice for paying out the line (give the line slack to release tension) and returning to a previous option. The fishing process is simple: choose an appropriate tackle; cast the line; reel in the line at varying speeds and jerk the fishing rod to get the lure to mimic live bait and make it appealing; hook the fish and reel it in, making sure not to increase the tension lest it break and you lose the catch. This is a little trickier than it seems at first. Making the lure more appealing to the fish requires pressing the A button at different speeds and pulling the fishing rod for various movements. The tackle box shows you the various lures, their actions and the color choices available. Choose the right lure for the best catch of that species. There are more than 15 types of fish to catch, and each species lives at various water depths and is attracted to different lures. With a large selection of spots to fish from and three lakes to troll, the catches will vary. Some fish are more active at certain times of the day and specific temperatures. Casting a short reel sometimes will produce better catches than long casts. Putting all these factors together gives a better appreciation for fishing itself.
After a few tries in the Free Fishing game, it's time to play the tournament and start hooking the big bass. Rules of the tournament raise the challenge a little. Fish length and weight are a factor. Meet the qualifying round within the time allotted and reel in the best overall catch by weight, and the finals are a cast away.
Great Outdoor Games: Bass 2002 can be mastered in an hour or less. Learning which lure goes with which fish and where the best fishing spots are takes a little more time, but not much longer. You can play a tournament in an hour or two, or take very little time just to fish around. Minor strategy, a little patience, and some luck and you will be "hookin' 'em" with the best.
Multiplayer Support
There is a Cable Versus option to go head to head with a friend. A tournament occurs between opponents based on the overall weight of the fish caught during tournament play. This is truly for the die-hard fishing enthusiasts who need that moment of relaxed competition. Remember that you'll need two game cartridges, a cable link and two Game Boy Advances.
Graphics
Graphics can be broken down into three areas: introduction cut scene, fishing spot and fish. All three are photo-realistic still images except for the fish, which move their tail fins and wiggle up and down when hooked. These are nice picture postcards, but nothing to write home about. Just like many postcards, they will probably get lost in memory after a little while. It is sometimes difficult to distinguish a Florida bass from a small-mouth bass, but then again, so it is in the real world. Actually, this is one of the brighter games on the Game Boy Advance, with the picture clarity much better even without perfect ambient light. Overall, the graphics are' quaint.
Audio
The audio seems to be a direct connection to the Outdoor Life Network on cable TV. Pipe it through a one-inch speaker or even over the headphones, and soon you'll be turning down the volume -- especially when you hook a fish and the banjos start a-kickin' in. There's only so much you can take! I give one small note of applause for the sound of tension on the line when the fish fights back. This sound effect was extremely good. Everything else became a forgotten piece of sound or was totally muted after a while.
Bottom Line
ESPN Great Outdoor Games: Bass 2002 is a quaint game, but not very remarkable. With little to show in graphics, even less in sound and some minor thought placed on lure choice and technique, Bass 2002 is a pick-it-up-put-it-down-in-an-hour-or-two game cartridge. If you absolutely need the thrill and rush of fishing while laid up at home due to a leg cast or the flu, ESPN Great Outdoor Games: Bass 2002 by Konami is your game. Otherwise, look elsewhere. As a side note, this reviewer has dutifully restrained himself from bad clichés and less than witty puns up to this point' but ESPN Great Outdoor Games: Bass 2002 by Konami is a good fish story for waders with an angle on reeling in the lure of a good catch without any tension. For most landlubbers though, the fish ain't bitin' this bait.
Download ESPN Great Outdoor Games: Bass 2002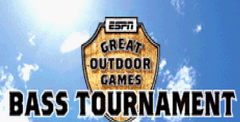 System requirements:
PC compatible
Operating systems: Windows 10/Windows 8/Windows 7/2000/Vista/WinXP