Fantastic Dizzy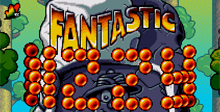 Click the "Install Game" button to initiate the free file download and get compact download launcher. Locate the executable file in your local folder and begin the launcher to install your desired game.
Machine: Genesis;
Manufacturer: Codemasters;
Fantastic Dizzy boasts egg-ceptional cartoon graphics, egg-cellent game play, and egg-traordinary puzzles that will keep you busy for hours on end. Unofficially known as the Mario of Europe, Dizzy - whose various games have sold in egg-cess of three million units - is one shell of a guy.
Dizzy's adventures take you across the land of Zakeria. A once peaceful kingdom, Zakeria's now controlled by the evil wizard Zaks. Dizzy must find his friends, save his girlfriend Daisy, and collect a potion to heal the leader of the Yolklolk, Grand Dizzy. Whew! It's big egg-venture! D'oh!
Download Fantastic Dizzy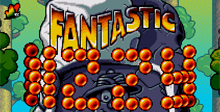 System requirements:
PC compatible
Operating systems: Windows 10/Windows 8/Windows 7/2000/Vista/WinXP
Game modes: Single game mode
Player controls:
Up, Down, Left, Right - Arrow keys
Start - Enter (Pause, Menu select, Skip intro, Inventory)
"A" Gamepad button - Ctrl (usually Jump or Change weapon)
"B" button - Space (Jump, Fire, Menu select)
"C" button - Left Shift (Item select)
Use the F12 key to toggle mouse capture / release when using the mouse as a controller.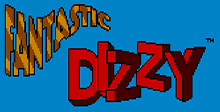 System requirements:
PC compatible
Operating systems: Windows 10/Windows 8/Windows 7/2000/Vista/WinXP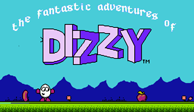 System requirements:
PC compatible
Operating systems: Windows 10/Windows 8/Windows 7/2000/Vista/WinXP
P-200, 32 MB RAM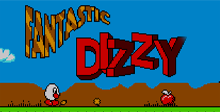 System requirements:
PC compatible
Operating systems: Windows 10/Windows 8/Windows 7/2000/Vista/WinXP
Game Reviews
Manufacturer: Codemasters
# of players: 1
Difficulty: Moderate
Available: November 1993
Theme: Action
Dizzy's here and he's pretty upset. Daisy's been kidnapped by the evil Wizard Zacks, and Dizzy is the only one brave enough to save her. Now Dizzy must leave his home in the Yolkfolk Treehouse Village to start his quest. Beginning in Dizzy's own house, he has to find the key to get out. Once you're out, search everywhere for clues and items to help you along before you leave the village.
This game is of the quest type, where you have to search everywhere to find the things you'll need to complete the game.
Huge levels are the highlight of this actioneer starring an egg-like hero, with plenty of items to find on your quest. Graphically, things are okay, but the involving game play is the real star here - things get somewhat addictive!
Ready for a little NES scramble? Camerica's got the egg! Dizzy, champion of the Yolkfolk, is out to fry an evil egg- stealing magician, courtesy of Camerica's Aladdin NES Game Enhancer. You may recall that ol' Diz is one of England's most popular video game characters. Dizzy the Adventurer crosses the Atlantic bundled with the Enhancer.
Eggs-treme Romance
Dizzy and Daisy are two young Yolkfolk in love. When Zak the Sorcerer puts Daisy under a sleeping spell, it sends Diz into shellshock. Now he must eggs-ecute Zak and give Daisy a wake-up call.
Dizzy the Adventurer is a cartoony, side-view, multi-scrolling adventure game. As in previous Dizzy games, you travel around the countryside in search of various items that serve as keys to solving a passel of puzzles and predicaments. Dizzy is a good egg, so many of the problems he encounters have to do with helping other unfortunate characters, such as Leo the Lion, who has a thorn in his paw, and the Juggler, who's lost his balls.
The game isn't organized by stages. You must traipse back and forth across a fantasy landscape that includes a tree- borne neighborhood, a cloud walkway, and two castles.
ProTips:
From some ledges, you'll have to make a leap of faith to proceed in the game.
To reach the upper levels of the tree area, you must jump onto off-screen clouds.
Whenever you get close to the top of the screen, press A to jump up and look for hidden upper levels like this one.
He Ain't Humpty Dumpty
Dizzy the Adventurer is a hard-boiled puzzler. It's easy enough to find stuff (the countryside is littered with it), but what do you do with Pliers, a Trumpet, Cheese, Logs, an Empty Bucket, a Stick, and a Hole? That's what you have to figure out. However, deciding when and where to use those goodies will scramble your brains. Moreover, you can only hold three items at a time, so you must stash stuff in places where you won't forget about it.
Dizzy's controls are simple and solid. He walks, jumps, and pulls his famous egg roll/forward somersault. Dizzy's no soft-shell hero, either. He takes a licking and keeps on ticking. Water, however, will poach him.
Un-egg-stravagant Looks and Listens
Dizzy's a cute little egg with an award- winning smile. The rest of the graphics are uninspired, though nicely detailed and easy on the eyes. The conversation screens look good, but seeing them once is enough.
The sounds are similarly un-egg- ceptional, but at least they're an easy earful. The music is mellow yellow and good for one listen. The effects are okay, though infrequent.
Eggo-maniacal Action
Dizzy the Adventurer is good, simple fun. Although this is a single-player game, straightforward controls mated to mind-stumping puzzles make it an entertaining game for a kid teamed up with an older player, or for a party of puzzle-solvers. Dizzy is a Grade A game that isn't over easy, and that's no folk.
Never judge a video game by its cover! Although The Fantastic Adventures of Dizzy appears to be a simple, cute kiddie game starring an egg and all his YolkFolk friends, it's much tougher than it appears.
The evil wizard, Zaks, has captured Dizzy's lady love, Daisy, and put a spell on all the eggs of Zakeria. Now it's Dizzy's duty to make a long, continuous trek (no designated levels) to find Zaks' Cloud Castle and put an end to his evil enchantment.
Eggs-Tra Help
Traveling through the colorful lands of Zakeria proves to be eggs-ceptionally tricky and dangerous. For instance, before he can get past the piranha-plant,Dizzy must first find the snappy Weed Killer. Luckily, necessary tools, such as the Weed Killer and energizing fruit, are plentiful. The best aspect of the game is figuring out where and how to use the items you find. Dizzy also receives clues and items from the local YolkFolk.
ProTips:
To avoid getting scrambled by the wild animal west of your house, toss it a hunk of chicken as it charges at you.
Don't bother trying to grab the pick-axe until you've first conquered the Crystal Falls.
The Diz also happens upon secret doorways lead to five game-within-a-game bonus rounds where he can earn eggs-tra lives. The sub-games include the Sliding Puzzle round, where Dizzy must work against the clock to un-scramble a puzzle; an Indiana Jones-style Mine Cart ride, and an eggs-xiting barrel ride down a raging river!
Get Stoked with the Yolk Folk
Humpty Dumpty would be proud. Dizzy's a surprisingly eggs-citing game. The graphics, sound, and game-play are above average, and the bonus areas are challenging. The Yolkfolk of Zakeria are ready to egg you on, get cracking!
Explore the magical cartoon kingdom of Zakeria as Dizzy, in search of your beautiful girlfriend Daizy. It's adventure in the style of Mario as you discover a fantastic dream world and battle to save your girl.
Fantastic Dizzy also know as The Fantastic Adventures of Dizzy.
Fantastic Dizzy was the most technically-advanced of Dizzy's adventure games in many ways. It was the only one to feature actual scrolling rather than a flick-screen system, the only one not to be released for the 8 bit computers the character originated on, the only one to originate on a console, and the only one to feature pure arcade sub-games, such as a simple Operation Wolf clone and a runaway mine-cart section.
Fantastic Dizzy gameplay involves walking Dizzy through the levels, picking up objects and using them to solve simple puzzles. There are plenty of tests of arcade skill along the way as well, as gaps must be jumped and baddies avoided - you have 3 lives to negotiate all this with. As well as aiming to rescue the beautiful Daisy, you are also aiming to collect as many stars as you can - there are at least 100 in each version.
Travel through places like a haunter forest, a dragon's lair and Zaks' Tower. Meeting all kinds of weird and wonderful characters on the way, it's sure to be an exciting journey.
Fantastic Dizzy features:
You play Dizzy the Egg
Go on a wild adventure through wonderful environments
All kinds of wacky high jinks
Make new friends and new enemies
It's a tough job being a good egg because the yolk's always on you. Find your way through the maze of levels to get to the Cloud Castle where your girlfriend is being held captive. Solve problems along the way, grab magical items and pick up useful objects needed to complete the quest. Door keys, rope, shovels will all be helpful at some point in time but you can only carry three. Which will they be?
People say:
4.0
Dizzy starts out fine, exhibiting graphics and sound that make it appear to be one of the best of the new renegade carts. This wears off quickly, though with a lack of interaction and too many distractions (like puzzle games) that slow down what could have been some cool play.
6.0
Dizzy will be another 'sleeper' this Christmas. It takes planning and thinking to make progress in this game as the quest is very long and like SMB there are lots of tricks and hidden items to discover. Unfortunately Dizzy is an egg rather than a Mario and not easy to relate to.
4.0
Another try at a cute game with a distinguishable character and an action/quest theme that falls short in many areas. Dizzy's ability to carry only three items takes away from the excitement of the game.At best, it's just an average game and not easy to get into
7.0
What starts out to be an action-comical adventure game just never seems to leave home! A family of eggs with colorful characterization live somewhere between where they are and where you want them to be! Game play is hard-boiled, but the music is sunny side up!
Sega Genesis/Mega Drive Screenshots
NES/Famicom/Dendy Screenshots
Sega Master System Screenshots