Gas Station Simulator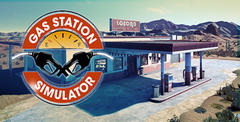 Click the "Install Game" button to initiate the free file download and get compact download launcher. Locate the executable file in your local folder and begin the launcher to install your desired game.
Man, let me tell you Gas Station Simulator is my kind of game! I am a huge fan of simulator-style games and this one is just so in-depth that it well and truly took me by surprise! As you have probably guessed, this is all about running your own gas station, but the game is far deeper than that sounds. I highly recommend that you head on over to STEAM as there is a free prologue that serves as a great demo to this which gives you a better idea of what you are getting yourself in for.
The Glorious Route 66!
The story of the game is that you have bought a run-down gas station that is a dump. You want to restore this place to its former glory, all the while making fat stacks of cash along the way. Gas Station Simulator is exactly what it sounds like, a simulator where you are in charge of a gas station, but there is far more to that than you would think!
Making It Your Own
It is near impossible for me to tell you all the features that this game has so I will try my best to hit you with the things that caught my attention. To start with, you have to clean the place up, this means getting the brush out and cleaning the floors, painting and repairing any damage, and making sure all your equipment is ready to go before you start getting customers.
The game gives you a ton of freedom when it comes to how you take care of your customers and that is something I think is very cool. Of course, having gas for people is the most basic of your needs, but quickly into Gas Station Simulator, you will realize that this game is more than just offering people gas!
So Many Boxes To Tick
As well as looking after your gas station. You have many other things that you can do to make money. You can have a little store where you sell snacks, coffee, and other assorted items. You need to have a varied selection as the big burly trucker is going to want something different to the hipster driving an electric car! You will need to keep an eye on your various stock to make sure nothing runs out and you have to deal with problem customers and employees, you may even get into a fistfight or two!
Gas Station Simulator will even allow you to build a little motel and diner as well as a repair shop so you can fix people's vehicles. If you get sick of work, you can even shoot a few hoops on your own basketball court! It is crazy how many things are in this game and you may start off small, but with some big dreams, your gas station can turn into something pretty damn epic.
There have already been some great simulator-style games released in 2021, but Gas Station Simulator is probably the one that I am most excited about. I know some of you guys may be thinking "how cool and fun can working in and running a gas station be?".
8
Well, I know what you are saying as at first, I was the same way! However, the level of depth and the many different ways you can grow your business and make a buck is really cool. If you enjoy sim games, make sure you keep a close eye on this one, and be sure to check out that free demo.
Pros:
It is crazy how much stuff you can do in this game
It is very addictive to build your gas station from the ground up
There is always something that needs your attention
I like how you can get into fights!
Cons:
The game may be a tad too deep for some
Will all of the features be ready on day one when the game launches?
Download Gas Station Simulator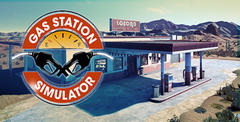 System requirements:
PC compatible
Operating systems: Windows 10/Windows 8/Windows 7/2000/Vista/WinXP
Game Reviews
Have you ever cruised down a country road, stopped at a gas station, and thought, "I wonder what it's like to run this place?" If you answered yes, it won't be surprising that Gas Station Simulator is the game for you. This new indie simulation game adds yet another title to the collection of niche builders that hardly anyone would have thought of but is somehow intrigued by the premise.
Gas Station Simulator throws the player into a western USA shack in the mid-20th century. The mission is to run the most successful gas station these parts have ever seen. Do you have what it takes to offer excellent customer service? Can you run a mean, lean establishment? We're ready for this game to put us to the test.
High Fuelled Dreams
Today, when we think of gas stations, modern shelters with multiple pumps and snack-filled stores come to mind. Gas Station Simulator offers more of a vision of a 1950s abandoned shack than the colossal chrome establishments synonymous with the typical establishment. That's setting the premise that the game could be more of a folklore tale than a bland, objective-based simulator.
The mission of the Gas Station Simulator is straightforward. Players will arrive at their dream of running a successful gas station, purchasing a run-down shack beside a highway in the far reaches of the desert. Rest assured, plenty of people pass by looking for gas and libations after hours of driving. You will be the one that offers them a new lease on life as they visit.
The mechanics of the game follow the standards of most indie simulators. You'll find meticulous management details to create a successful gas station, including pumping gas for clients. You'll also renovate and improve your establishment, manage inventory, and ultimately raise as much profit as possible. There's a lot to do, but is there rhyme, reason, and reward behind these tasks?
Gas Station Simulator is surprisingly immersive. The detailed visuals, environment, and overall theme of the game provide a charm that lays the foundations for a story. There needs to be a solid narrative, but the customization levels and varied tasks make players feel they are living their dream. Apart from the occasional gameplay and AI bugs, it's a compelling experience.
Love in the Times of the Gas Station
Gas Station Simulator will not blow any minds or become a cult classic. It doesn't have that vibe about the game. However, we have a well-made, entertaining simulation game where the liberties in mechanics make the game immersive. You could put it in the same pot as the Farming Simulator series but with more creative potential.
8
The liberal, straightforward gameplay can be attractive to nearly every gamer. Sure, there are some bugs, and obviously, time runs its course in games like these. But if you need a few hours of semi-relaxed entertainment, why not become a gas station owner?
Round-Up - Pros & Cons
Pros:
A relaxed, immersive environment
Visuals and mechanics combine well
Player creativity is encouraged, allowing freedom of gameplay
Cons:
Gameplay and AI bugs become frustrating
The station feels too condensed for any meaningful improvements
See Also
Viewing games 1 to 8