Great Naval Battles Vol II: Guadalcanal 1942-43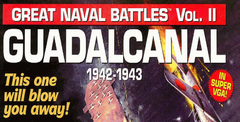 Click the "Install Game" button to initiate the free file download and get compact download launcher. Locate the executable file in your local folder and begin the launcher to install your desired game.
Ssi's great naval battles was by no means perfect, but it was certainly the best surface action war game to appear in recent years. Despite its shortcomings, the popularity of the product was sustained, largely because ssi made an effort to keep loyal players satisfied by releasing several scenario disks.
It would have been a simple matter to tweak the engine of the original game very slightly, create a selection of new scenarios and re-release it with an undeserved "if appended to the title. Fortunately, ssi has chosen to rework the game to a greater extent, especially upgrading both sound and graphics to meet the expectations of a host of new game players and the technological capabilities of new machines.
Total control
While the original game was set in the Atlantic, for the sequel the scene moves to the sunnier, but no less bloodier, climes of the Pacific. It centres on a series of cruicial battles between the us and Japanese fleets that took place around Guadalcanal between 1942 and 1943. Dozens of training missions, several different scenarios and two campaign options give this sim longterm playability: to put this in perspective, one scenario (with just four ships) could keep you amused for a day or more. It'll take about two days to play each side and that's using only the simplest of tactics, like steaming straight at the enemy with guns blazing.
The degree of control you can exercise over the fleet is quite daunting but, thanks to the excellent interface, coming to terms with the multitude of functions takes surprisingly little time. I have to admit, though, that launching air strikes did require more than a brief glance at the manual. The ai does an excellent job, taking care of just about everything, such as plotting main and second gun-firing solutions and, if conditions require, shedding some light in the area with star shells. At the same time the computer will take care of pumping out and repairing damaged areas, launching torpedoes, maintaining your customised ship formations and flying 50 tbf Avengers and F4 Wildcats.
You can, of course, do it all yourself (excluding the flying), but I challenge you to take evasive action with 20,000 tons of usn Yorktown when a squadron of B5N2 Kates have just dropped twelve 45-knot, high-explosive fish in the water and the primary gun director has just been dive-bombed out of action on the usn Sth Dakota. If you don't think that's a problem, try counterbalancing your listing vessel by deliberately flooding opposite sections of the craft.
There is a happy medium to suit most people and switching the ai on or off is a mouse click away in the respective control window.
All this action can be viewed from anywhere on any ship in the task force and, for the really vain, a camera is provided on the look-out post to record the very few successful assaults on the dominant Japanese force. Few things in life are as gratifying as a full broadside connecting! (You sad person. Ed.)
On the campaign trail
Much of your time controlling the activities of the fleet is spent on the bridge of the flagship. The map display is the heart of the operation. It enables you to post specific orders to other land bases and vessels, and it can be adapted to show various ranges and icons, of which there are too many to list. There is also an array of preset navigational aids, such as shadow, intercept, patrol box, return to base and so on. If watching through the sights of your main guns is all too much for you, then zoom in on the enemy and watch your bombers in action.
The basic goal in the campaign mode is to gain and maintain control of Guadalcanal. You also have limited authority over the troop movements in the area, but the game objective is really to keep them supplied. (We' all know battleships have a short lifespan without adequate support.) Again, it is up to you to decide when to disengage and return to bases to refuel and repair. As was the case at the time, the Japanese have air superiority, but remember: your guns are bigger. In a game like this that simulates reality so precisely, the golden rule of "know your enemy" should always be adhered to. Believe me when I say things start to get really hairy when, having only allocated six planes to spotter duty, you get your first contact. Naturally you tool up the torps and dive bombers, allocate a fighter escort and away they go, keeping back a skeleton force for a second wave. "Oh gosh!" I said (something like that anyway) when contacts two and three appeared with their spotter planes heading in my direction. Time to run for cover. But on a clear sunny day? I don't think so!
There's just enough time to split the force and send the bbs in for a kill, but with two in for repair and a supply convoy to defend my apparently unassailable task force, things were looking decidedly thin!
Tension mounts as the first attack wave returns looking battered. Worse is still to come since the enemy makes a retaliatory strike immediately. I am forced to concede this one and retire to nurse my seriously bruised pride.
A naval love affair
ssi has managed to create a comprehensive but, nevertheless, extremely playable simulation which not only puts the original game in the shade, but knocks spots off everything else into the bargain. I guarantee that if you dive in with manual in left hand and mouse in right you'll soon be losing sleep. As 1 mentioned, ssi actively supported GNBI with add-on scenarios and I sincerely hope this trend continues.
Download Great Naval Battles Vol II: Guadalcanal 1942-43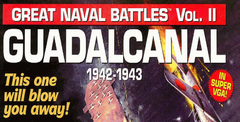 System requirements:
PC compatible
Operating systems: Windows 10/Windows 8/Windows 7/2000/Vista/WinXP
See Also
Viewing games 1 to 11