Harvest Moon: Friends of Mineral Town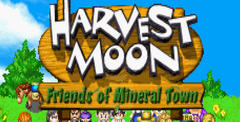 Click the "Install Game" button to initiate the free file download and get compact download launcher. Locate the executable file in your local folder and begin the launcher to install your desired game.
Harvest Moon: Friends of Mineral Town would see the series make the jump to the Nintendo Game Boy Advance. Being able to play a game of this stature on the go is pretty awesome and despite being on a handheld system, it manages to offer a full Harvest Moon experience.
Give Me A Reason
After getting lost in the woods as a child, a kind old man lets you stay at his farm where you have a great time. Fast forward many years later and that friendly old man has sadly died and he has left the farm to you! The premise of the game has a lot of heart and it even tugs on those heartstrings as the reason you are left the farm really makes you want to succeed.
Taking Care of Business
At its core, Harvest Moon: Friends of Mineral Town is what you would expect from this series. You need to fix up the farm, take care of animals, grow your crops, make money, and keep the farm going. There is also the aspect where you need to make friends, fall in love, and live a good life too. The game does it all with a nice look and a whimsical soundtrack.
While this may seem like a pint-size offering, Harvest Moon: Friends of Mineral Town is a fantastic portable Harvest Moon experience. Even now, all these years later many fans of the series will say that this game is one of their favorites. It just does everything right and if you want some handheld Harvest Moon action, you cannot get much better than this.
Download Harvest Moon: Friends of Mineral Town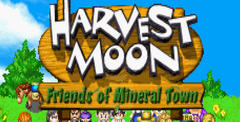 System requirements:
PC compatible
Operating systems: Windows 10/Windows 8/Windows 7/2000/Vista/WinXP
Game Reviews
As far as I am aware, Harvest Moon: Friends of Mineral Town is the ninth game in the series. I could be off here, but give me a break as there is a ton of these games! This is actually the first game in the series to be released on the Game Boy Advance and it was a huge deal at the time of release.
My Farm Is Yours
The story of Harvest Moon: Friends of Mineral Town for the Game Boy Advance is rather charming and sad at the same time. A young child who visits the countryside ends up lost and he arrives at a farm with a sweet old man who takes him in. He lets him stay at the farm and he has a great time. Many years later, now grown he goes to visit this kind old man, only to discover he has passed away, his farm is super run down and it has been left to him.
Working The Farm
I would say at this point pretty much everyone knows what to expect from the Harvest Moon series or the Story of Seasons series as it is known now. The idea of the game is that you need to bring this farm back to its glory. You start off with the run-down farm and a handful of tools that you can use to clean up and grow various things. You need money to improve your farm and the way you do this in the early part of the game is by farming, mining, and foraging.
Hello My Lady
While working the farm is awesome (and also very addictive) a huge part of Harvest Moon: Friends of Mineral Town is that you need to mingle with the townsfolk and also find someone to swoon and romance. There are a ton of villagers that you can talk to and make friends with. There are also six different ladies that you can try your luck with. I know this sounds strange to those who have not played the game, but the social aspect of the Harvest Moon series has always been something I greatly enjoyed and it is especially good here.
Animals On The Far
How you run your farm will be different from how I do it, but I love working with the livestock. You have cows, chicken, and sheep that you can look after in the game. As well as selling milk, eggs, and wool. You also need to bond with these animals so that you can earn even more money from them. You can even enter them in contents! You even have a dog and horse that you need to care for. The animal aspect of Harvest Moon: Friends of Mineral Town really is something I enjoyed. It is a bit more scaled back in this game compared to what later games in the series offered, but I really like that about this game.
I really cannot say enough nice things about Harvest Moon: Friends of Mineral Town. At the time of release, it was a game I spent a ton of time playing, being able to play a game like this on the go was a big deal. Even now I would say it is one of the best games in the series and it holds up very well. If I had to suggest a game for a newbie to the series to jump into it would be this one without a doubt.
9/10
Pros:
The story has a lot of charm to it
Raising animals is a great deal of fun
You can fall in love
Some of the townsfolk are very amusing
It is a very, very addictive game
Cons:
Graphics may look a bit simple by today's standard
The game can take over your life