Hearts Of Iron 2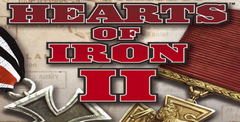 Click the "Install Game" button to initiate the file download and get compact download launcher. Locate the executable file in your local folder and begin the launcher to install your desired game.
When a game comes with a instruction booklet, you know you're getting something with some degree of depth. The manual for Hearts Of Iron II is such a size, but even when you've waded through this tome, the author actually stresses that his guide is a mere introduction, rather than an exhaustive point of referral. This should give you a good idea of what's in store should you choose to purchase what is probably the best global-level strategy game ever devised.
In essence, Hearts Of Iron II is to WWII gaming what Championship Manager is to soccer, in that it's as much about lengthy preparation and intricate resource management as it is to taking to the field and hacking down your opponent. Moreover, much of the excitement is played out in your head rather than before your eyes, for although the on-screen graphics do an excellent job of portraying a strategist's-eye view of global conflict, they are designed to be functional rather than attractive. Underneath what would in any other strategy game be laughable sprites and crude explosions, is a level of strategy that is as broad as it is deep, all of it layered in such a way as to be accessible in order to carry out whatever strategy you wish to follow.
In At The Deep End
The good news for those who might have dived into the original game too early (see Going For Platinum', right), is that HOI2 doesn't gleefully chuck you in at the deep end only to scarper and leave you spluttering in the water. Instead, it lowers you in gently (there is no shallow end), makes sure you're all right and only then, when you're confident enough to push out, will it leave you to get on with the messy business of subjugating (or freeing) the swimming pool - or rather, the world.
The tutorial missions do a fine if unspectacular job of showing off the tools with which you must manage your economic, military and political resources. From these it is generally a good idea to try out some of the less daunting single-player missions, which apart from including all the big to-dos like D-Day, Battles Bulge, Coral Sea and Barbarossa, also offer up a number of curious what if?' scenarios. (For example, a war between Brazil and Argentina and a joint Soviet/US invasion of mainland Japan.) Small in scale these may be compared to the grand 11 -year campaign (set between 1936 to 1947), but the challenge is no less enticing - especially if you want to complete a game in days rather than months.
As whoever and whenever you begin the game, your country will start woefully unprepared for any kind of conflict, let alone one soon to engulf the globe. Research must be undertaken, production started, infrastructure expanded, diplomacy and trade entered into and all of it completed on time and under budget. A process easier said than done, although compared to the original game it is a process far simpler to understand than it once was.
In the first Hearts Of Iron, researching all the various technologies in order to produce a particular strain of tank was a hideous, confusing and off-putting side to the game - as was the procedure of setting up sea trade routes and convoys. Now such aspects are much simpler, yet the game's new ease of use does not come with a dumbed-down price. Convoys are now automated, although you can fiddle with the settings if you wish. Additionally, rather than using arbitrary research points, HOI2 requires you to employ specialist companies and individuals (General Motors and Boeing in the US, Krupp and Messerschmitt in Germany) to complete the necessary research into bigger engines and more effective offensive theories.
Despite your very best diplomatic efforts and whether you are prepared for it or not, war, like Christmas, does eventually arrive. Whilst there are no Rome: Total War-style 3D battles to direct, there is just as much drama and tension in watching armies advance and retreat across the map as provinces are overrun by tanks and infantry, bombed and strafed by aircraft or pummelled by off-shore fleets of battleships - all happening in your imagination, of course.
Simple But Smart
Whilst the combat system may appear to ape the simplicity of a board game, the reality is much more complex. A small force of well-researched troops (better drilled with new equipment) is likely to rout a larger foe still revelling in First World War-era tactics or weaponry. It also pays to have the right general in charge of your divisions and having them attack from territories where the terrain is advantageous, the weather agreeable and at the time conducive to military operations.
The mechanics of combat have been completely overhauled since the first game. Squadrons and fleets can be set to patrol or bombard for lengthy campaigns, and where armies would collide en masse, now you can assign supporting roles to divisions that happen to be close to the front line.
Of course, for many it will matter not one jot how accessible Hearts Of Iron II is. The fact is that it is an unapologetically slow and complex 2D war game that will likely have traditional RTS fans scratching their mono-brows and picking weevils out of their bearskin loincloths in bafflement. For the more serious' armchair general however, Hearts Of Iron II is the pinnacle of high-level strategy, where its interface, Al and global playing field combine to provide a game that will very likely become the benchmark for years to come.
Going For Platinum
Hearts Of Iron Salutes The Fans
The comparisons with Championship/Football Manager don't end with the fact that both they and HOI are played from the sidelines. The fact is that almost as much as Sports Interactive depends on a network of fans who collate and discuss stats for players across the globe, Paradox has fostered a community of people happy to contribute opinions and code updates, many of whom are expert military historians. It is as a result of them that late last year the original Hearts Of Iron was re-released as a Platinum edition (some would argue, a playable edition), featuring all manner of mods and updates that buffed what was a rough gem into a glittering diamond. Of course, HOI2 is the shiniest in the series to date, although if its destiny only partly shadows that of CM/FM, the best is yet to come.
Download Hearts Of Iron 2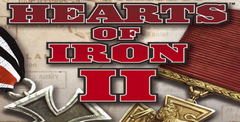 System requirements:
PC compatible
Operating systems: Windows 10/Windows 8/Windows 7/2000/Vista/WinXP
Similar Games
Viewing games 1 to 8