Hellish Quart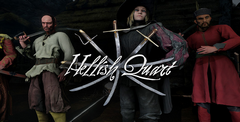 Click the "Install Game" button to initiate the free file download and get compact download launcher. Locate the executable file in your local folder and begin the launcher to install your desired game.
Realistic fighting games have become more and more popular over time. While still niche in the grand scale of available titles, games that seek to mimic the complexity of real-life sword fighting are clearly gaining traction. Hellish Quart is one of those titles. Similar to games like Bushido Blade and Kengo: Master of Bushido, Hellish Quart is 2021's answer to the sword fighting cravings everyone has had since the PS2 era.
Duel Simulator 2021
Developed by one of the senior animators that worked on the Witcher 3, Hellish Quart is a game that is carried by its realistic simulations and animations. Animations are fluid and dynamic as enemies slash and hack at each other with either grace of desperation. Whatever the player's tactic of choice might be, the combat in Hellish Quart never feels inauthentic.
The movement of the game's small number of characters is smooth and believable, as is the way that clothing interacts within the game world. It's not unusual to see people's hats fly off mid-match as they narrowly avoid a rapier slice to the head. When compared to games of old like Bushido Blade, it's clear that Hellish Quart comes out on top in the realism department, even if the game does have a slight feeling of 'jank' that permeates through the whole experience.
Physics-based Combat
Unlike other combat-focused games like Tekken or Street Fighter, Hellish Quart utilizes physics calculations to generate animations for players' attacks. This means that there are no pre-canned animations, as seen in other games like Skater XL. Button mashing isn't possible in Hellish Quart. Tactics are crucial for winning a fight, and players have a level of control over their swordsman that hasn't been seen in video games before up until this point.
Hellish Quart supports keyboard, gamepad and fight stick controls, and players can move in a total of four directions mid-battle. There is also a quick-dash ability that players can use to push towards their enemy or to make a tactical retreat.
The Woes of Early Access
While the demo for Hellish Quart has been out for some time, the developers made the jump to Early Access to allow gamers to support the development of the game. Unfortunately there is not much of a difference between the two versions of the game as of writing. Currently the game boasts five characters and a number of different weapons, but clearly there is a long way to go until Hellish Quart is a finished product.
The fact the game is so early in development is clear in some of the assets the game uses as well. The same goes for voice acting, which while not important in a fighting game, does distract from the otherwise very realistic aesthetic. Hellish Quart is a blast in short bursts and for gaming nights with friends.
The foundation of the game is something to marvel and gawk at, but it will be a long while until the developers have a product that can really make an impact on the gaming scene.
6
If you love physics-based games or combat brawlers, then there's no better time to grab Hellish Quart than when it's cheap and in Early Access. Just beware that the game is yet to be finished.
PROS:
Animations are fluid, smooth and physics-based
Incredibly realistic sword gameplay
Unique setting and very intriguing foundation
CONS:
Small budget means the game has a lack of polish
The current state is very small
Voice acting is poor
Download Hellish Quart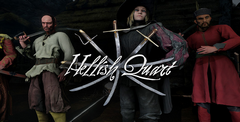 System requirements:
PC compatible
Operating systems: Windows 10/Windows 8/Windows 7/2000/Vista/WinXP
Similar Games
Viewing games 1 to 8