Hokko Life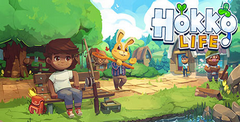 Click the "Install Game" button to initiate the file download and get compact download launcher. Locate the executable file in your local folder and begin the launcher to install your desired game.
Look, you know, I know it and I am pretty sure the big N no it too that Hokko Life clearly has a little inspiration from a very popular series of games! Ok, so that was a bit bitchy of me to say that, but I meant it in jest. I have fallen in love with what this game is offering and even though from what I can tell, it is not exactly rocking the boat with originality, I still think that what is on offer here for the right kind of person is going to be a game that sucks away hundreds of hours of their life.
Fresh Off The Train
The whole "plot" of Hokko Life is that you have just arrived in town and due to your creative talents, you have been tasked with helping the town and the townsfolk be the best they can be. Clearly, Animal Crossing, Harvest Moon, and Story of Seasons were massive inspirations for this game, but there is another game that I feel this is similar too and that is My Sims on the Nintendo Wii!
Gathering Your Resources
In this game, you will need to, first of all, gather all the resources that you can find. You can mine, chop and dig deep to find all kinds of resources. Once you have your resources you can then turn these into things like paints, wood and so on that you can then use to build and make things for the town and the people who live here. It is the same kind of thing that you have done before, but there is still a real charm to it too.
The Building Table
Remember how I said that Hokko Life was like a bunch of other games and then threw in that what seemed very random My Sims reference? Well, the building table that the game has is what gave me the My Sims vibes. The way that you can make furniture (as well as other stuff) in this game is awesome and it is done on this thing called a building table. Let's say you wanted to make a chair. You would choose the design of it, but you can also choose the padding, how big it is, where it will go, the color, and so on. I spent a ton of time making stuff here. You can even design clothes and deck the town out in your own fashion label! Taking care of buildings in their placement and interior design is another way that you can flex those creative muscles.
Down Time
Look, I know what I am about to see here is going to raise some eyebrows, especially if you work for Nintendo, but it is still fun. Hokko Life offers you ways to relax and take a break from all the making and gathering that you will be doing. You can go fishing and catch bugs… yep, just like in Animal Crossing and it is done in pretty much the same way too!
More Charming Than Charmy the Bee
Actually, forget that Charmy the Bee is a bit of an asshole! What I am trying to say is that this game has a lot of charm to it, charm which I also think is greatly inspired by Animal Crossing. You play a human-looking character, but the people who live in this town are animals. They have a lot of personality to them, as does the whole of the town and it is something I like. I would say the style is a blend of Animal Crossing and a bit of My Sims too.
8
I would wager a lot of people will watch the trailer or check out the Steam page for Hokko Life and wonder how the heck Nintendo has called in Bowser and Donkey Kong to come knocking with a big cease as this is one of the most blatant Animal Crossing clones I have seen. Yet with that being said, this game is actually quite fantastic. Anyone who is creative is going to love this, while Animal Crossing is clearly an inspiration, I will say that as far as making stuff like furniture and painting people's homes goes, this actually has it beat.
Pros:
I just love the whole style of the game
The building table is great and lets you make cool things
I liked exploring for resources
Interacting with the people in the town is fun
Cons:
It is very obvious what games they took inspiration from
A bit more story with the characters would have been nice
Download Hokko Life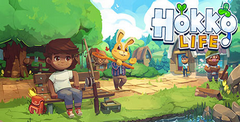 System requirements:
PC compatible
Operating systems: Windows 10/Windows 8/Windows 7/2000/Vista/WinXP
Similar Games
Viewing games 1 to 7