Iron And Blood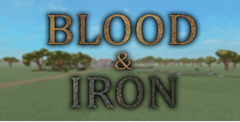 Click the "Install Game" button to initiate the free file download and get compact download launcher. Locate the executable file in your local folder and begin the launcher to install your desired game.
Anyone familiar with Dungeons and Dragons should shudder at the Ravenloft, the other-worldly dimension controlled by the most evil of evil. Knowing Ravenloft is one of the most popular AD&D realms, Take 2 Interactive Software and Acclaim Entertainment, Inc. combined powers to bring you Iron & Blood: Warriors of Ravenloft. a fantastic 3-D fighter set in the haunted world.
I&B promises to revolutionize the fighting game genre. You will see, of course, 3-D texture-mapped characters and terrains, light sourcing and multiple camera angles. The game looks great, but hey. almost anyone can do that now, right? The new features will not be found on the technical side.
Now your fighters can gain experience and magical powers that can stay with them even after your playing session is over. This concept of "building up" your character has been around in the role-playing genre and is now applied to a fighting game for the first time.
In the Campaign Mode, each player will agree on the number of lives each character gets, then select the characters to be on their team. The computer then selects an objective that each of the combatants will fight for. This objective can be a Ring of Resurrection, a one-time use ring that will bring a fallen fighter back to life; or an addition of a new teammate; or a magical bonus, which translates into a new magical ability, an increase in an existing ability; or an arcane power, which is a super, one-use power.
Each player then fights out the individual matches. The winner of the match will win the objective and live on to fight another match. He keeps any objectives won. as well as any damage taken. If an injured winning character chooses to skip a few matches, some of the damage may be healed. The losing character loses a life, but can keep fighting if he has lives left This keeps continuing on until one team eliminates all the fighters on the other team.
Besides winning the objective, you can earn more hit points (health) by racking up your kill count This is a permanent improvement on your character as well. You can raise your characters up to, but not over, Level 9 (after all a limit has to be placed on how powerful your character can become).
If that were not enough, there are points in the game where a signal will indicate that a secret code should be entered. If you can pull it off, you will be bestowed with an ancient artifact that will grant you even more powers. These artifacts all come from actual D&D campaigns and include such peculiar items as the Voodoo Doll or the Signet of Holy Wrath.
All of these improvements and bonuses can be saved to your memory card. This terrific feature gives the game the long-term playability of the classic paper-and-dice role-playing games. Imagine bringing to your friend's house your ninth level, Hourglass of Doom Wielding Black Knight for an evening of fisticuffs.
Iron and Blood is coming to multiple platforms, but will premiere on the PlayStation. I&B may take fighting games to such a high level, it will get to put its name up with the likes of Street Fighter II and Virtua Fighter as one of the most revolutionary games of its kind.
MANUFACTURER - Take 2 Int.
DIFFICULTY - Adjustable
THEME - Fighting
NUMBER OF PLAYERS - 1 or 2
Download Iron And Blood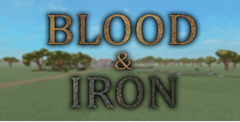 System requirements:
PC compatible
Operating systems: Windows 10/Windows 8/Windows 7/2000/Vista/WinXP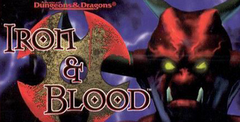 System requirements:
PC compatible
Operating systems: Windows 10/Windows 8/Windows 7/2000/Vista/WinXP
Game Reviews
The 3D fighting game Iron and Blood: Ravenloft is the first such game to be tied to the Advanced Dungeons and Dragons license. Players will be able to take up arms with 16 fantasy warriors, including ores, clerics, and other RPG staples as they pick teams that then battle each other one-on-one in 18 interactive arenas. Unique abilities, like stealing players' health points or items, will be accessible through artifacts won in each battle. Is this the perfect blend of fighting and sword-slinging? We'll see.
The people have longed for a real meaty fighting game with cool RPG-style campaigns, and now,Take 2 Interactive is intent on giving the people what they want.
Iron & Blood will have the usual battle and vs. mode of battle, but will also feature the much anticipated campaign mode.
Iron & Blood sports the official Advanced Dungeons and Dragons license, so all the dwarves, ores and magicians are authentic D&D-endorsed combatants. That doesn't mean that these guys are established characters. I'm sure that would have cost extra dough and cut into development time that's better spent on making the game as good as possible.
The game looks good and features 16 action-packed characters, with a mix of heroic fighters and demonic denizens of evil. Check out this month's insert poster and look for the VG review soon.
Similar Games
Viewing games 1 to 6