Virtua Fighter 3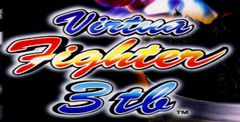 Click the "Install Game" button to initiate the free file download and get compact download launcher. Locate the executable file in your local folder and begin the launcher to install your desired game.
Yu Suzuki has been a very, very busy boy. Since the early days of Space Harrier and Hang On, he has been Sega's leading light when it comes to arcade development. Perhaps his most important games to date have been Virtua Fighter and VF2. Virtua Fighter has never really been huge here in the US, but in Japan, they just can't get enough of it. Sega has just unveiled the first look at Virtua Fighter 3 and the good news for Sega fans is that it puts almost every other arcade game to shame. As a matter of fact, the gameplay sequences look like high-quality rendered intros rather than live action fighting. Graphics just don't get much better than this.
Running at an awesome (and completely convincing) 60 frames per second, Virtua Fighter 3 has the most lifelike characters ever seen in a game. Yu Suzuki apparently has a five-stage plan.This is stage three. Stage five is planned to look like film footage rather than graphics. He;'s almost there now. If the graphic appeal of the game wasn't enough, the third game in the series promises to offer even more addictive and enjoyable fighting action.Yu Suzuki takes his martial arts very seriously and each character is modeled on an expert in a real fighting style.
The results are among the most impressive displays of motion-capture ever seen.These characters move and look exactly like real human beings, albeit a bit shiner. Yu has added a couple of new characters, but not enough to make this a completely new game. Rather, he has endeavored to hone and perfect the mechanics and characters used in VF2.
The results of all this hard labor and intensive research have to be seen to be believed. When this game was unveiled (and at a very early stage) to a Japanese arcade convention, the crowd gasped in awe and astonishment. They got to watch a series of early demos (from which these shots are taken) and went away breathless.
The bad news is of course that a Saturn conversion could never hope to look anything like as good as this.The problem with setting yourself such high standards--they're nearly impossible to beat. Look forward to more news on this amazing arcade machine soon.
Download Virtua Fighter 3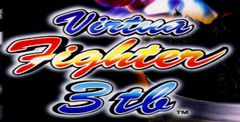 System requirements:
PC compatible
Operating systems: Windows 10/Windows 8/Windows 7/2000/Vista/WinXP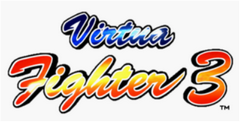 System requirements:
PC compatible
Operating systems: Windows 10/Windows 8/Windows 7/2000/Vista/WinXP
Game Reviews
Sega's coin-op division recently unveiled Virtua Fighter 3 at the recent AOU arcade show in Japan. The new incarnation of Virtua Fighter has been created by Yu Suzuki and his AM2 team using the brand new (and untried) Model 3 system board.This machine apparently has polygon handling like nothing else on Earth and was developed in conjunction with Martin Marrietta, the professional flight-sim experts. The new characters look more like prerendered intros than live game fighters and the overall effect is staggering.The graphics do more than tart-up a jaded game style, they give life to the exceptionally realistic characters.Yu Suzuki, the team leader has continued to research actual martial arts, and the results are fabulous. Each character behaves exactly like their real-life counterpart, using highly convincing martial arts techniques.
There are two (possibly with another one hidden) new characters in the VF3 line-up, as well as your old favorites, all of whom have been updated with new moves and more subtle strategies.Two new characters may not sound like a whole lot, but the Japanese audience that made the game so popular in the first place will lap 'em up. Virtua Fighter 3 is due to ship into American arcades late in Summer and may well give Capcom and SNK something to worry about. Right now, the AM2 team is looking at using the same technology for the upcoming Daytona 2 coin-op.
The long-awaited sequel to Sega's immensely popular Virtua Fighter 2 arcade game made its world debut at the AOU (Amusement Operator's Union) arcade show in Tokyo on Feb. 21. 1996. Your editors were there to witness the unveiling, and what was shown was unbelievable. Never in the history of gaming has any product ever look as good as Virtua Fighter 3. Granted it was more of a semi playable interactive-type demo than a real game (four lucky Japanese show attendees actually got to play the demo!), but what was being demonstrated was running on an actual prototype of Sega's new Model 3 board.
The demos consisted of short battle sequences and solo demonstrations of each character. In total, there were 12 characters shown, each with a new background. The graphic detail in each fighter was astonishing. Little things like facial expressions were easily visible, and the smile after a successful battle was very lifelike. Also, the movement of the eyes, which actually follow the movement of the opponent, was downright eerie. The clothes even looked very real as they now move freely in the wind or change position and shape as the character moves about and engages in battle.
The main person from AM2 behind VF3 is Yu Suzuki. After the AOU Show, Mr. Suzuki took some time out of his busy schedule for an exclusive interview: There is a new girl in VF3. What is special about her?
Yu Suzuki: The Japanese girl in the demo was dancing the Japanese traditional dance what we call Tine moves." Her name is Aoi Umenokouji. She wears a pink- colored furisode (kimono with longer sleeves) with cherry blossoms and a navy and purple hakama (a type of pants). Notice that the structure of her face is very detailed. Also, did you notice the snow falling? We created the snow flakes one at a time.
The new Dural is amazing. It looks like T2. How was it made? It looks like a mirror, and it is pretty good. The shininess is the best part. It isn't like the Dural in VF2...that's the power of the Model 3.
The graphics are approaching movie-quality, aren't they? Aoi, for example, moves very smoothly. When you see her moving, you can see that the long sleeves are made of silk and the pants made of cotton. We can now create differences in the way clothes move, so you can tell the difference between silk and cotton using our Model 3.
However, Jacky's leather jacket quality is difficult to express. It would be easier if it was made of cardigan, laugh
Will there be a change in the operating system, like more buttons? This is not important. There could be 50 or 100 buttons. The problem is how we incorporate them into the game. We haven't decided on this yet.