John Madden Football 93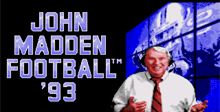 Click the "Install Game" button to initiate the file download and get compact download launcher. Locate the executable file in your local folder and begin the launcher to install your desired game.
Concurrent with the release for the Genesis, John Madden Football '93 kicks off a new season for the SNES. The SNES version has practically all of the same hot new features as the updated Genesis version, and it's a major improvement over the original John Madden Football released last year. Sharper graphics, faster game play, and smoother animation make this game a strong candidate for SNES Sports Game of the Year!
All American
Unlike some of the other SNES football games, which are conversions of programmed Japanese football games, John Madden is clearly programmed right here in the U. S. of A. This game looks, sounds, plays, and feels just like the real thing. The characters are in proportion with the surroundings, and players move believably to a realistic selection of plays.
Although the 28 teams are named only by city, they are based very accurately on the strengths and weaknesses of the 28 real NFL teams and their performances during the '92 season. In addition, Madden '93 features 10 extra teams to choose from -- eight of the all-time greatest teams and two All-Madden squads of superstars.
Tastes Great, Less Chunky
Madden '93's most evident improvements over its SNES predecessor are the graphics and animation. The first SNES Madden Football moved slow and chunky in comparison to its Genesis counterpart. Now, only the faintest bit of awkwardness occurs whenever there is a turnover, and the screen flips to face the opposite direction. All players, backgrounds, and movements have been enhanced, so they're practically identical to their Genesis kin. New moves, such as Head Butting, Player Taunting, Shoestring Catches, and Clothesline Tackles, have been added to the repertoire of moves and grooves.
ProTip: As in real football, you must drop back and give time for your receivers to get open.
Right on the Numbers
Another improvement is the wealth of stats and information. In addition to Madden's useful pregame analysis of each team, at halftime the game reports extensive stats for the starters at each major position, such as quarterback pass/completion and the backfield's run/receiving productivity. This enables you, the coach, to determine who's having a good day and gear the next half's plays to those players.
The improved IsoVision Instant Replay function now features a player identification feature that highlights each player by number. Use this feature after every big play to keep track of your hot players.
The computer is a tougher opponent in Madden '93. Plus, its play-calling time has been cut in half. It's sometimes so fast that you may find yourself scrambling on defense to get a play called before the offense hits the line of scrimmage! Keep your defensive audible plays in mind, when you find yourself in such a situation.
John Madden '93 features the same great digitized oomphs, grunts, and bone-crushing tackle sound effects as the original. Excessive crowd noise is kept to a minimum, and there is no distracting soundtrack. However, the SNES version doesn't feature the digitized "Maddenisms" of the Genesis version.
SNES MVP
John Madden Football '93 is a major refinement of an already excellent game. Debates over the difference between the SNES and the Genesis versions are now a moot point. Owners of the first SNES John Madden are sure to appreciate the improvements of its sequel. Fast, realistic action, hot graphics, and prime time game play make John Madden Football '93 a surefire first-round draft pick!
Download John Madden Football 93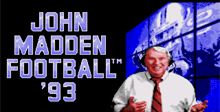 System requirements:
PC compatible
Operating systems: Windows 10/Windows 8/Windows 7/2000/Vista/WinXP
Game modes: Single game mode
Player controls:
Up, Down, Left, Right - Arrow keys
Start - Enter (Pause, Menu select, Skip intro, Inventory)
"A" Gamepad button - Ctrl (usually Jump or Change weapon)
"B" button - Space (Jump, Fire, Menu select)
"C" button - Left Shift (Item select)
Use the F12 key to toggle mouse capture / release when using the mouse as a controller.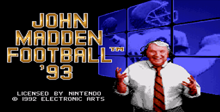 System requirements:
PC compatible
Operating systems: Windows 10/Windows 8/Windows 7/2000/Vista/WinXP
Pentium II (or equivalent) 266MHz (500MHz recommended), RAM: 64MB (128MB recommended), DirectX v8.0a or later must be installed
Game Reviews
Manufacturer: UBI
Machine: NES/gemeBoy
No. of Levels: N/A
Listen up sports fans John Madden Football '93 is coming to both the NES and the GameBoy! While both versions are early in production, you can expect to see intense football action. If it has the Madden name, it must be good.
A bunch of realistic plays are to be programmed in along with well animated players. The colors on the NES version are bright and depict the field well. The GameBoy, despite the lack of color will be nearly identical to the NES version.
Run in for the touchdown, or kick a field goal. You must practice to be the best, or you'll never win. This is going to be one of the better NES football games once it's finished.
UBI is hard at work to bring Madden alive on the NES and GameBoy. Sorry Mr. Mushnik, this game is just like it's 16-Bit big brothers. If you are an armchair athlete like the majority of players out there, and want a little something different, John Madden Football '93 is for you, NES, or the GameBoy.
Winter time means bundling up, frosty breaths, hot chocolate, and FOOTBALL! John Madden Football '93 for the Genesis continues the seasonal tradition. At first glance, Madden '93 doesn't look or play much differently from John Madden '92. However, once you get down to serious business, you'll notice a wealth of All-Star enhancements. Is it possible to improve upon one of the best football video games available on any home gaming system? Let's tackle the issue, shall we?
New and Improved
First and foremost, game play is now faster and smoother, because now it's powered by 8 megabits of horsepower. The on-screen action is more responsive to controls. The computer takes less time to select plays, and it's a tougher opponent. All the graphics have been enhanced, and there are game play additions galore.
All 28 NFL teams reflect their current strengths and weaknesses based on their performances during the '92 season. In addition, John Madden '93 adds eight of the greatest teams of all time to its roster, including San Francisco '84, Oakland '76, and Miami '72 (the only team to go undefeated through an entire season). Plus, there are two All Madden teams. Yes, you may enter tournament play with dream teams!
A Refined Game
Several refinements and additions have added to the realism of game play. Each team is now able to call No-Huddle Offenses, and the quarterback can instantly down the ball to stop the clock. Offensive and defensive plays are the same as in Madden '92, but a new split-screen play-calling feature in two-player mode isolates your play selection from your opponent's, which makes it easier to read. Extensive player and team stats, plus new commentary by John Madden, start off each game. Be sure to read Coach Madden's comments; they often identify the key strategies. The new coin toss feature allows the loser of the toss to choose which goal to defend. This means you can play with the wind at your back, which can add valuable yardage to field goal attempts and "Hail Mary" bombs.
Penalties are still an arbitrary decision by the computer zebras. Unlike the NFL, which has ruled out instant replay reviews, you may contest penalties by seeking instant replay of the infraction. Plus, you're also allowed one automatic penalty overturn per each game. Good thing they don't allow this in the NFL!
ProTips:
Save your penalty overturn trump card for long yardage yielding situations.
When shooting from the shotgun, move your quarterback to allow extra time for receivers to get their marks.
The Grass Is Greener
Overall, the graphics are sharper, more detailed, and even better animated. New additions, such as end-zone crowds, clothesline tackles, head butting, and players taunting each other, add to the sense of realism. Many of the graphic enhancements can be observed in detail via the IsoVision Instant Replay Camera that enables you to scan from any player's point-of-view throughout the entire playing field during Instant Replay.
For recoverable onside kicks, call an audible at the line. Then kick sharply to the right sideline, and use only 25% power.
He Must Be Heard
A couple of new additions to the sound department round out Madden '93. A new, ultra-hip theme song introduces this game. An earful of digitized "Maddenisms", such as "Where'd that truck come from?", "He'll remember that number!", and "Boom, he's on his back!" are peppered throughout the game. Thankfully, Electronic Arts has kept sound effects and crowd noise to a minimum, and there isn't a repetitive, mind- numbing soundtrack.
Goal to Go
Electronic Arts has done it again and made the best even better. John Madden Football '93 is even more fun to play than Madden '92. Football diehards will definitely welcome the new play features, the additional teams, and the tougher computer opponent. Regardless of which version of John Madden Football you play, it's clearly the benchmark for all other football video games!
Nobody knows more about football than John Madden. And no one is better prepared to bring you the hard hitting, bone crunching excitement of the video grid iron.
You can't find a better video football game anywhere! The control is absolutely incredible. You can view three different receivers at the same time and throw the ball in a split second. When running, the heart of all offenses, you have a variety of moves that allow you to shake your would-be tacklers. You can't beat EA's enhanced graphics and play, either. Get ready to do some serious heavy-duty head-bashing this football season.
Gridiron madness returns to the Genesis compliments of Electronic Arts' John Madden Football '93. Choose from a hefty number of defensive and offensive plays. Throw it long and hope your receiver catches it in the crowd! Then, line up for the extra point and kick it through the uprights! When executing a running play, use your stylish moves to shake the defense. Travel the road to victory with Madden '93.
People say:
8.0
Another successful follow-up to the series! Like its predecessors, Madden '93 is an all-out gridiron battle with enough options and plays to retain the realism of the sport and absolutely fantastic animation supporting the play. With new digitized scenes and graphic depictions of on-field events, this one is a winner!
8.0
EA certainly does know how to make Igood sports games. Madden '93 is no exception. While die-hard players will rave over the subtle improvements, there is a diminishing returns problem - the previous version was so good that the average player may not think this version is worth the money in buying a new cart.
9.0
Hooray!!! Another JM cart for my collection! Again this game is almost flawless in game play. The graphics have minute changes but everything basically looks the same. Still no halftime show, but you get John's voice commenting the major plays. Do the Superbowl Shuffle with the linfamous '85 Bears. Isn't life grand?
9.0
John Madden just keeps improving his all-star hit series for the Genesis! Madden 93 is the best yet, jam packed with so many details, plays, athletes, and options to drive a less stable person mad! I love the new animations, like the shoestring catch, and the new digitized voice of our favorite coach potato, John Madden.
Sega Genesis/Mega Drive Screenshots
SNES/Super Nintendo/Super Famicom Screenshots
Other Games by Electronic Arts