Knights College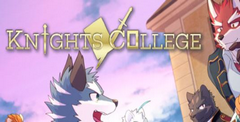 Download Knights College and experience a visual novel full of romance, friendship, and adventure! Choose your path, make meaningful connections, and discover the secrets of the prestigious academy. Enroll and play now!
Enrolling for college is a real coming of age story for most young adults. It's a time where you leave home for the first time, make friends that will be with you for life, learn skills and acquire knowledge that will be the foundation for your new career. Plus, this is usually a time where sexual experiences become common place. Well, Knights College is a title that leans into this premise, offering a furry adventure that will train you to become the best knight of the realm.
This game plays similarly to other titles such as Lust Theory, Doki Doki Literature Club, Overboard, Suzerain, Emily is Away and also is quite similar to card games like Kingdom Hearts: Chain of Memories, Poxnora and The Eye of Judgement. This game is a dating sim with a difference but does this unique approach pay off? We find out in our review of Knight's College.
A Knight to Remember
Ok so lets start with the visuals here. Let's just say it like it is. They are pretty poor. They look rough around the edges, the character designs all look weirdly top heavy but not in an intentional sort of way. Plus, there are a distinct lack of animations, the colours look washed out and the environments look poor. The saving grace is that the UI is simple to understand and wonderfully laid out but it's not really enough to carry the experience on its back.
Then as for the story and the writing, honestly, we weren't that blown away either. The characters all play up to very cookie-cutter stereotypes and high school groupings. The writing is predictable, the interactions with the characters are predictable, the storyline throughout doesn't lean into the school/college setting anywhere near enough and the lewd content surprisingly feels like an after thought.
The only thing that makes this game worth visiting in our opinion is the actual gameplay which is a rare thing for games of this nature. The card system incorporated within this game is a truly unique way to handle the conversational choices and relationship building process. So we have to commend the game on doing something truly different in a field that has tried pretty much every gimmick around.
The Verdict
Overall, this is a game that isn't without merit. The story does have its moments, some characters are better than others and the card system truly is one of the finest conversational mechanics we have seen in the genre for a while.
5.5
However, it's the sheer lack of narrative direction, the lack lustre visuals and the inability to make this college setting seem interesting is more than enough to deter even the most keen dating sim fan from this one. If it's on sale, grab it. If not, perhaps give it a miss.
Pros:
Truly unique card conversation system
Story has it's moments
Cons:
Characters, setting and narrative are uninspired
Visuals are rough around the edges
Download Knights College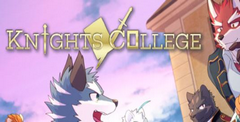 System requirements:
PC compatible
Operating systems: Windows 10/Windows 8/Windows 7/2000/Vista/WinXP
Similar Games
Viewing games 1 to 7