Kung Fu Heroes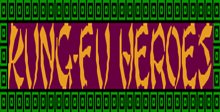 Oh, no! The Princess Min-Min and all the treasures have been taken by the evil enemies. Two Kung-fu experts, Jacky and Lee volunteer to save the Princess.
Defeat the enemies with the best of your Kung-fu skills and bring peace to the Land.
Download Kung Fu Heroes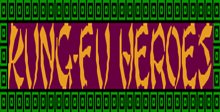 System requirements:
PC compatible
Operating systems: Windows 10/Windows 8/Windows 7/2000/Vista/WinXP
P-200, 32 MB RAM
Game Reviews
Strategies
Here are more strategies on how to play Kung-Fu Heroes. Practice these techniques to enter their big contest (see ad in this issue)! These tips will help you battle the different opponents!
Kung-Fu Commandos - They are the first enemy you'll encounter. There are three kinds of commandos. One uses only kicks, one throws only punches, and the other uses a combination of the two. The latter is not as strong but they can kill you I if you're not careful!
Floating Viper - Punches won't hurt them. You must throw kicks to conquer them. In the later half of the stage, the Floating Vipers will appear with beams which you must dodge.
Spear Man - Spear Man is not that difficult to defeat. However, be cautious of the distance the spear is thrown. As you learn this you'll be able to avoid the spear. Jump over their spears and defeat them with your miracle kick.
Mr. Coffin - There are three different types of this enemy. One is normal, one shoots beams and the other is invisible. Mr. Coffin attacks by holding on tight and not letting go! You can defeat him if you have three "punch-ups" and an "S". Get him quickly with your Moon Sault Kick!
Gun Man - He is dangerous. He blows bazookas everywhere. Dodge the bullets with kicks. Always pay attention to what goes on around you. Avoid bullets from other enemies.
Cat Mage - If you are hit with the beam from Cat Mage, you'll turn into stone and won't be able to move. Defend the Medusa Beam with your Moon Sault Kick. Score big points by attacking with your Miracle Kick!
The wicked Demon's Army is out to get you! The evil Kung-Fu Commandos, the Gunmen with their gigantic bazookas, the magical Medusa Cats, and lots of other enemies inhabit the eight Demon's Castles. Punch and kick your way to the ultimate in two-player excitement!
Look for the legendary treasures that'll help you defeat the Demon's Army! The Dragon's scales are hard as steel, so you'll need the Legendary Sword! Watch out for the Medusa Beams! Better have the mirror handy! Gather all the treasures, and you'll be an awesome Kung-Fu Hero!
Evil monsters have taken Princess MinMin and the treasures! Sorrow abounds throughout the land. Only the two young friends, Jacky and Lee, can defeat the monsters and save the Princess. Fortunately both are well trained in Kung Fu techniques for they must journey through eight separate castles, filled with dangerous monsters. It's said that secrets that will help Jacky and Lee are hidden in the castle rocks and stones. To find out Jacky and Lee will have to destroy them with their powerful Kung Fu punches. Only then can they rescue Princess MinMin.
NES/Famicom/Dendy Screenshots
Similar Games
Viewing games 1 to 3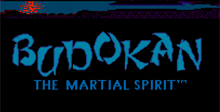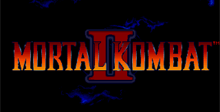 Mortal Kombat 2
Nothing, nothing can prepare you! All the fierce kombatants of the #1 arcade smash gather for Mortal Kombat II, a battle to defeat the shape-shifting demon Shang Tsung and his ruthless master, Shao Kahn. Brutal special moves, Friendships, Babalities, hidden surprises, crushing combos and outrageous finishing moves - ALL yours to kommand. Let the Kombat kontinue.