Land of Illusion Starring Mickey Mouse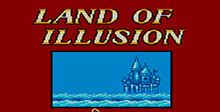 In Sega's Land of Illusion for the GAME GEAR, an evil phantom has stolen all the good magic (in the form of crystals) from a village in an enchanted valley. It's up to Mickey to get them back. Never fear, the Mouse is in the house.
Sugar and Spice and Everything Mice
During your side-scrolling search for Magical Crystals, you play Mickey and you must tromp through a magical forest, a toy shop (where the toys come to life), the ruins of a great palace, and a hostile desert. You also swim through a lake, shrink down and frolic among the flowers, and explore miniature underground caverns.
Not every area is a straight stroll. You have to figure out a few puzzles, move through a few walls, and climb some rocks - all while avoiding enemies that try to trap you. Mickey's enemies come in every shape and form, like pushy pumpkins, renegade rocks, mouse-munching plants, and more. Mickey can defend himself by bopping them with his famous butt crunch move, combined with a few items he picks up after defeating bosses, like a magic flute (which will take him back to anywhere he's been), arope to climb with, and a miniaturizing potion to help him get in and out of tight spots.
See You Real Soon
The graphics in Land of Illusion are very good for such a small venue. Mickey moves well and without glitches. The backgrounds fit a lot of detail into a little area. Plus, neat special effects, like the lights going out unless Mickey's holding a lamp and Mickey turning into a small mouse, are fun touches. The music is also good. It provides effective moody accompaniment, like ghost music in the castle scene and cheerful marching music in the valley scene.
M-I-C-K-E-Y M-O-U-S-E
Although some areas are fairly short, this game is a lot of fun. Special surprises and brainteasing tricks should keep novice and intermediate gamers happy for a while. Be warned, though, there's no save feature. You have to play through the entire game in one shot. Land of Illusion makes a great car partner on a long trip, or takes the edge off of a long wait in a dentist's office. Trap this mouse if you get a chance.
ProTips:
Use the key as a weight to reverse the walls in this tricky Enchanted Castle stage.
Stay on top of the flowers in the flower field. There's a 1-up on top of the flowers near the end of the stage.
After you get the rope, go back to every stage to increase yourheatth bar by gathering Magic Stars. There's a Star above the chests in the palace ruins.
Pay attention whenever you come across a pot with an "M" on it. You'll probably need to use it as a stepping stool.
Download Land of Illusion Starring Mickey Mouse
Game Reviews
Mickey's back to battle bad guys in this adventure based on the popular Castle of Illusion cart for the Genesis. It seems that King Horace's Blacksmith Castle. Goofy's Toy Palace, and Donald Duck's Harbor Fortress are each overrun by mischievous creatures. As Mickey, you've got to battle the bad guys, win the heart of the fair damsel Minnie, and defeat the treacherous Phantom-in-the-Clouds to recover a stolen gem and restore prosperity to the tiny village. With four megs of magic, this game's a monster.
Sega Master System Screenshots
Similar Games
Viewing games 1 to 2