Michelin Rally Masters: Race of Champions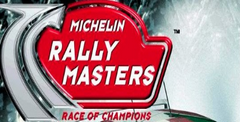 Click the "Install Game" button to initiate the free file download and get compact download launcher. Locate the executable file in your local folder and begin the launcher to install your desired game.
From the developers of MoCorhead, this is the officially licensed game of the Michelin Rally Masters Championship - the annual Gran Canaria event whereby two cars compete side by side on a parallel figure of eight circuit, Scalextric style. As much about drivers as it is the actual cars, the championship enables you to take on the likes of Alistair and Colin McRae, not to mention lannu Mikkola, Stig Blomqvist and some two dozen other unpronounceables, the contest taking place on a knockout basis.
There are three other game modes to enjoy, all based on fictional tracks, and there is certainly plenty of variety on offer, the 48 courses ranging from American stadiums to agricultural backwaters. 2D trees notwithstanding, Rally Masters is graphically impressive and looks like being an excellent addition to the genre, falling somewhere between the anal authenticity of Rally Championship, and the simplistic, elongated powerslide of Sega Rally 2. Nice.
Download Michelin Rally Masters: Race of Champions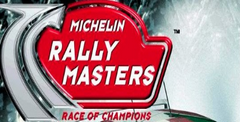 System requirements:
PC compatible
Operating systems: Windows 10/Windows 8/Windows 7/2000/Vista/WinXP
Game Reviews
To say that there's no lack of decent driving games for the PC is a pretty obvious statement. Whether your penchant is for Formula One, touring car, super-car or table-top racing, you're pretty well catered for. Up until now, Codemasters' Colin McRae Rally has been the game of choice for most rally fans, and to be honest it's going to take something special to knock it off the top spot.
Undeterred, Gremlin Interactive have decided to enter the fray. A crazy decision, you might think. Except that they have a secret weapon - Swedish developers Digital Illusions, the no doubt very blonde and healthy-looking bunch of chaps who brought us the rather excellent and unusually monikered arcade racing spectacular known as Mororhead a year or so ago.
Far from resting on their laurels, sitting around in saunas, listening to The Cardigans and drinking copious quantities of absinthe, they've been beavering away developing an even quicker game engine that's capable of chucking even more detail around your monitor screen. What this translates to in real terms is mouth-watering to say the least. Not only does Rally Masters sport superbly detailed cars and scenery, but there's also real-time car damage and sexy weather and lighting effects to behold. Spin off while careering down a snow-capped, pine-lined mountain track and you see bits flying off your car and panels being dented quicker than you can say Vorsprung durch technic'. Swerve off course in the dead of night while speeding through the desert and can say Mark Thatcher your headlights have smashed into tiny shards and your gearbox has decided to call it a night. Yep, you've got real-time mechanical failure to contend with too.
But it's not all bad news. As well as a garage full of different licensed and badged cars and teams to choose from, you get an orally effervescent co-driver to keep you heading in the right direction, and the facility to roll up your sleeves between stages and tinker with your car's engine and gear set-up and choose the best tyres for the job.
Those of you who find the prospect of racing against the clock a lonely and somewhat dull affair will be pleased to hear that as well as the traditional rally sprint-style shenanigans, there's also the opportunity to compete in knock-out head-to-head racing, a CPU/multiplayer championship or CPU/multiplayer duels. Special attention has been paid to recreating realistic individual driver AI (or so we're told), and 3D sound should help those with the relevant kit to keep a check on who's in their blind spot when speeding into those difficult bends. Finally, TV-style replays enable each driver to relive past glories or disasters in frame-by-frame fashion.
All in all, it sounds rather jolly. Suffice to say we'll be keeping a close eye on the game's development - as no doubt will Codemasters.
Remember Motorhead? No, not the grizzled rockers, you fool, the futuristic racing game. Of course you do. Arriving in the office with little more than a polite nod, it soon had us hooked with its extravagant visuals and frightening speed, moving like the proverbial shit off a shovel.
The point? The point is that the same blokes who typed in Motorhead are currently busy on their next vehicular extravaganza, Rally Masters. Those blokes are Gothenburg-based developers Digital Illusions, and their head honcho Fredrik Liliegren spoke to about the game. We asked him what they were hoping to achieve, and he told us: "We set out to do what we felt was the complete rally experience. Any type of rally you can imagine, we wanted to do in the game."
Okay, what about the Michelin Race of Champions, the post-season championship which takes place annually in Gran Canaria, whereby two drivers go head to head on parallel tracks that switch over at one point, Scalextric-style? It's in there? With a licence? Cool. What else? "We said: 'Okay, what other competitors are out there.' We have Colin McRae, so we took the VRC-style stretch runs and built a championship around that. There's V-Rally on PlayStation, which has four cars on the track at the same time, kind of rally cross-style, so we're doing a championship around that. And then there's Sega Rally Arcade - people like that, so we'll do one of those as well. So we have basically four different ways to play the game. It's the complete rally experience. There's no other way to play a rally in real life, and they're all in the game."
Simulation Street
So will it err towards either arcade, or simulation tomfoolery? 'The Rally Masters special stages are simulated. I mean the car routine - the physics is as close as real can be without it being too hard for an average games player to play the game. In those modes where you should be able to, you can switch tyres and settings and repair your car, and there will be car damage and stuff like that. But in the Rally Masters event, because the drivers drive the same car, you don't really get to fiddle with anything, because the cars have to be similar."
What types of cars are there? "Every single car you can think of, from the new Peugeot 306, the Ford Focus, down to the old ones that you've seen from the old times; monster cars, group B cars which were banned because they were too dangerous - we've got them all in there. We've got some specials as well - Mini Coopers. Anything that we feel is cool."
So you haven't just taken the Motorhead engine and written the words 'Rally Masters' on in crayon?
"On PC it's totally rewritten, because the old one was DX5. This one is DX6, and it will incorporate some parts of DX7 once that's released. It's an entirely new render engine, entirely new physics engine, so in essence it's a new game, but built on the experience from Motorhead."
Rally Good
What's so good about rallying anyway?
"I think rally is a very exciting way to play a driving game. FI is okay, but rallying is more action, more stuff happening. I think it's the most fun of all driving sports to watch on TV, and most fun for people who can get into it. I mean, you can take your car out in the countryside and kind of rally on your own. It's hard to get into an FI track and do that."
What about that perennial rally game bugbear 'invisible wall syndrome'?
"Obviously we have to have some limitations on where you can drive, otherwise there would be too much space taken up in memory, especially as we're doing PlayStation and N64 versions. But we'll try to build the tracks so that it's natural."
How many tracks are there? "In total, throughout the championships there are going to be 5I unique tracks, and then you can race those backwards once you unlock certain secrets in the game. So that'll be 102. And then, you know, if we count weather and everything like that, it goes up." It certainly does, and our crack team of mathematicians have calculated that including reverse, weather and day/night variants, diis comes to 368. Which is a lot. With 368 different track variations, all the big names from the world of rally, plus over 60 different cars, this is going to be a seriously large game.
It's also shaping up to be pretty damn good, judging from the quick spin we had at E3, although we had to wait half an hour while a former French rally driver put the game through its paces. But if it's good enough for him, it's good enough for us. Bring it on.
See Also
Viewing games 1 to 7