NBA Showdown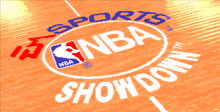 Click the "Install Game" button to initiate the free file download and get compact download launcher. Locate the executable file in your local folder and begin the launcher to install your desired game.
Machine: SNES;
Manufacturer: Electronic Arts;
Have you ever dreamed of managing a team comprised of Michael Jordan, Charles Barkley, Shaquille O'Neal, Dominique Wilkins, and Clyde Drexler - without even worrying about a salary cap? Well, your dreams have come true, thanks to the guys at the EA Sports factory. NBA Showdown has all the features you could want in a game, including the option to trade starters and create a customized team.
NBA Showdown is basically the same game as the earlier EA Sports basketball games:
Each team has a 12-man (updated!) roster
Each computer player resembles - however slightly - his real-life counterpart.
Instant replay, a ton of stats, and injuries are all part of the mix that makes this the best basketball title to date.
You can take on the computer or grab a friend for a preseason match-up, an 82-game season, or the playoffs.
And don't worry - a battery back-up saves all trades, stats, and standings for playoffs and seasons.
Play control is the only area in which NBA Showdown lets you down. It's very rare to steal the ball on defense because the computer plays better than a human ever could. So the best way to stop the other team - especially in a two-player vs. game - is by not guarding the man with the ball. When you've got the ball, be wary of the offensive foul. If you push against a defender for too long, or are simply trapped between two opponents and try to get free, you get the whistle.
Fortunately, the small control problems don't take too much toll on your enjoyment of Showdown, nor do they differ significantly from the earlier Ea Sports releases. The game's seasonal play feature, updated rosters, and trade-player option make this game a must-buy for basketball fans.
Download NBA Showdown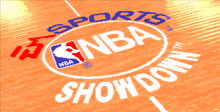 System requirements:
PC compatible
Operating systems: Windows 10/Windows 8/Windows 7/2000/Vista/WinXP
Pentium II (or equivalent) 266MHz (500MHz recommended), RAM: 64MB (128MB recommended), DirectX v8.0a or later must be installed
Game Reviews
In what's becoming an annual tradition, those sports programming wizards at EA Sports have revised their awesome basketball game with enough enhanced graphics, new features, and snazzy options to make it a brand-new, must-get b-ball game. NBA Showdown for the SNES produces the most complete 16-bit NBA experience around. Actual NBA teams and players, sharp graphics, solid game play, season play, and even the ability to trade players make this game roundball heaven! Let's hit the paint for the complete play- by-play commentary.
The Lowdown on Showdown
NBA Showdown is jam-packed with options and features, so that each game is a unique experience for one or two players. The game showcases complete NBA authenticity, with all 27 NBA teams and players (including digitized portraits of the starting lineups), the 1993 East and West All-Star squads, and updated 1993 stats.
ProTip: Fast breaks are rare in this very fast game. Allow your teammates time to make it down court to set up offensive formations.
The most exciting new features fire up the battery backup. You can play a complete 82-game season, plus the NBA Playoffs and the Finals (if you're good enough). You can also play four different seasons concurrently! Passwords enable you to track your team's progress. The game updates all team standings, including league leaders in scoring, rebounds, blocks, steals, free throws, and three-pointers. It's a statistician's nightmare, but a fan's dream comes true.
You can now also trade starting players from all of the teams, and create your own all-star team using the Custom Team Builder option. Imagine acquiring Jordan, O'Neal, and Ewing without having to pay their salaries. It's every NBA owner's fantasy!
The more time you have to set up a three-point shot, the better chance you have of making it.
As with previous EA Sports titles, Showdown's emphasis is on realism and on presenting the fullest sporting experience possible. You assume the dual role of player and coach, navigating through very real injuries and fatigue throughout each game and season. Players perform according to their stats even more so in this version than in previous EA Sports basketball titles. Additional touches include stylish Marquee moves for 30 of the hottest NBA pros and a T-meter to control the power and accuracy of free throws.
Forget about blocking NBA superstars as they go into their Marquee shots. Get set to inbound the ball.
The Sights and Sounds of the NBA
The graphics are sharp and intense. Large, well-rendered character sprite make each one of the 10 on-court players stand out from the detailed backgrounds. EA Sports claims that the game's speed has been upped 100% from the original version, and the increase is instantly noticeable. Players are silky smooth as they glide up and down the screen in response to the user-friendly controls.
The digitized sound effects are sharp and effective. You only wish the crowd would be a little more boisterous after your awesome plays.
If defenders are playing extremely tight, try shooting fade away shots instead of rushing the basket. You'll avoid an offensive charging foul.
Keep your eyes on the court and listen to your teammates. They'll shout as time runs out on the shot clock.
Slam Dunk!
Needless to say, you gotta get this game if you have even the faintest interest in basketball. The wealth of options and features guarantees fun for gamers of all ages and skill levels. Even if you already own EA Sports' Bulls vs. Blazers, the ability to play four simultaneous seasons, quicker game play, and trades make this new game hard to resist. NBA Showdown is a solid testament to EA Sports' credo: "If it's in the game, it's in the game!"
Forget all the other basketball games that promise you everything in the game but give you nothing. EA has come up with the most realistic basketball cart ever! Unlike their previous roundball games, this Super NES cart has everything you could ask for! You get all the players, all the stats, and all the moves of the 1993 NBAs eason. Everything's been updated! So you'll even get to play as awesome rookies like Shaquille O'Neal!
Pick from all 27 NBA teams and play an entire 82 game season or just head into the playoffs. The battery backup saves team standings and all league leaders as well as the current season. You can now trade players anytime before, during or after the season. There's also a new Custom Team Builder where you can create a fantasy team that's better than the Dream Team. Game play has also been greatly improved and the speed is twice as fast. EA also plans to release a Genesis version later. Hoop it up!
CUSTOM JAMMERS
Do you think the Dream Team was the best basketball team ever assembled? How about playing as Michael Jordan in all positions? Have two Charles Barkleys playing with two John Stocktons and David Robinson. This is all possible in the new special custom mode where you can create a team that could only exist in your wildest fantasies.
SNES/Super Nintendo/Super Famicom Screenshots
Other Games by Electronic Arts