NCAA Football 2000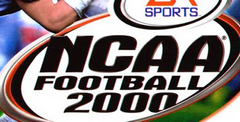 Click the "Install Game" button to initiate the file download and get compact download launcher. Locate the executable file in your local folder and begin the launcher to install your desired game.
a game by
EA Games, and EA Sports
Genre:
Sports
Platforms:

Playstation,

PSX

Editor Rating:

7.9

/

10

, based on

6

reviews
User Rating:

8.7

/

10

-

3

votes
Rate this game:
See also:
NCAA Games
The sweat, blood, and soul of collegiate football is once again strutting onto the gridiron as EA Sports prepares to unleash the Bearian beast, NCAA Football 2000. EA stepped up last year by delivering one of the most spectacular-looking football titles on the PlayStation, and one of the most steeped in features. This season, EA's on its way to improving an already great game in all the right ways by expanding the Dynasty mode (you'll have even more recruiting responsibilities) and by beefing up the graphics and optimizing the frame rate.
NCAA Football 2000's most outstanding addition is its create-a-school feature. Gamers will be able to name their school and assign the team a nickname as well as pick its uniform colors (right now there are only three choices), logo, stadium type, enrollment, and onfield decorations. Add in the ability to create your own offensive and defensive plays, exclusive rights to the Orange, Sugar, and Fiesta Bowls, along with 177 selectable Division l-A schools, and gamers have a college football title worthy of its moniker. Based on the way the game looked and played in its preview form, tundra warriors will have something to look forward to this fall.
Download NCAA Football 2000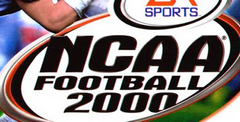 System requirements:
PC compatible
Operating systems: Windows 10/Windows 8/Windows 7/2000/Vista/WinXP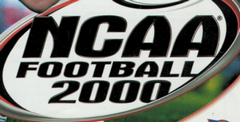 System requirements:
PC compatible
Operating systems: Windows 10/Windows 8/Windows 7/2000/Vista/WinXP
Game Reviews
Even though it's the middle of summer, the crushing sounds on the collegiate gridiron can be heard from Tennessee to the Bay as EA Sports sets its sights on creating the most intense college football game ever. Until now, you could only dream of owning the most complete pigskin title--with NCAA Football 2000, that dream has become a reality.
Heisman Hopeful
Contained within NCAA 2000's war room are a host of gridiron gameplay goodies that would make even Bear Bryant proud. For starters, this game has more teams to choose from (a whopping 220, counting 140 Division l-A and l-AA teams and 80 classic match-up teams), six game modes, the ability to create your own players and plays, and all 23 Bowl games, including the Orange, Sugar, and Fiesta Bowls. The features that send this year's game over the top, however, are its expanded Dynasty mode and the ability to create your own school.
The Dynasty mode is huge: Not only can you play unlimited seasons, but you also get increased control over your roster with a more in-depth recruiting process. At the end of in a five-week recruiting binge that, depend-record, will enable you to score the best impressive is NCAA 2000's create-a-school enables you to name your school and team, choose your unicolors and logo, select what type of stadium you'll play in, and more. You can school in any conference for season and Dynasty mode play.
Win or Go Home
NCAA Football also has the graphics, control, and sound to match its excellent features. EA Sports has successfully sped up its game with a faster, smoother frame rate to match Game-Breaker's. Plus, it has incorporated more motion-captured moves, used three player-models instead of one, and added impact-related tackles.
As for control, NCAA Football is tight. This year, the running game and the juke moves are more effective, while the kicking and passing remain just as solid. The sound is also great, featuring more commentary from Chuck White, more interactive and timely rally and fight songs, and some of the most bone-jarring effects around.
It Don't Mean a Thing Without the Ring
NCAA Football 2000 comes out of tile locker room looking to sink any takers on the college Field with its in-depth Dynasty mode, create-a-school feature, and awesome gameplay. You can even a transfer your outgoing seniors onto a memory card and play with them in Madden NFL 2000. Even though gamers still have to wait and see how NCAA GameBreaker 2000 shapes up (see the Hands-On preview this issue), you may just want to spend your cash now on NCAA Football. You can't go wrong.
ProTips:
When choosing your offensive audibles, make sure to choose one running play, one mid-range pass piay, and one deep route.
On second and third downs, call plays that offer multiple passing routes: It's important to be able to throw to your backs in swing patterns or deep to your receivers downfield.
Use the 5-2 defense If unsure about your opponent's intentions. Most plays are well balanced, enabling you to guard against sweeps, screens, and passes over the middle and deep.
To get the most out of your created team, choose a balanced running and passing attack.
Aim your kick-offs at the sideline to get your opponent bunched up with no space to maneuver.
Graphics
This year's graphics are awesome. The frame rate has been optimized for faster, smoother gameplay, the player animations are so lifelike you'd swear you were watching a televised contest, and the impact-relative tackles create the ultimate visual spectacle.
Sound
To get sound this inspiring, you'll have to go to the nearest stadium. The hitting effects are bone-crunching, the commentary is accurate, and the fight and rally songs play at the right moments.
Control
Control is on the money. Plus. EA Sports has tuned up the running game this year to make it more effective '; welcome news if you like to dominate the line of scrimmage. The awesome juke moves and excellent trajectory kicking make triumphant returns.
Fun Factor
If you're nuts about college football, you have to have NCAA Football 2000. Its expanded Dynasty mode, awesome create-a-school feature, and optimized frame rate make it the most complete college football game ever.
Ahh, it's our old favorite. As you probably know, NCAA Football 99 took top honors in our sports category last year--we really like it. That's why we've had our fingers crossed for this year's edition. Please, oh please, don't muck it up with overly ambitious changes. Thankfully it's already evident NCAA 2k is well on the right track.
Most importantly, the game engine has been retained with only minor tweaks and adjustments. The bigger changes involve the graphics and animation. Proportional players have finally made their debut in a football game. The linemen are stocky chunks while quarterbacks and receivers are noticeably smaller. Middle-weight sizes exist as well. The size of a player also relates to his power and speed. Gone are the days when you could use a lineman to cover a short-route receiver. Power is also determined by size. Smaller linebackers aren't as effective on larger running backs or vice versa.
There's a lot of new animation as well, 100 more to be exact. On top of several tackle calamities wherein players flip over backward upon impact, celebrations are rampant--the six-shooter salute and finger-in-the-face taunting to name a few.
Even the refs' gestures are more fluid and realistic. Cheerleaders, mascots and coaches are present on the sidelines as well. Combining these elements with the quick-cut, TV-style presentation gives the game a healthy dose of college football atmosphere.
New conferences include the MEAC, SWAC and Ivy League. In all, 140 division 1-A and 1-AA teams exist. On top of that, a classic match-up option gives you 8o additional teams from the past.
Several new features are quite helpful. Onscreen coaching tips point out how you could have better defended the previous play. It's both helpful and humbling.
An on-screen play editor lets you create or modify a play while on the field (very cool option).
While gameplay is obviously the leading draw in NCAA 2000, new management and create-a-school features pump up the sim appeal Building a school involves choosing uniforms, colors and even student enrollment. You may then use your new team in any game mode.
As you can tell, we're all pumped up about NCAA 2000. With any luck at all it'll stay on track in its last stages of development.
MANUFACTURER - EA Sports - Tiburon
THEME - Sport
NUMBER OF PLAYERS - 1-8
People say:
8
Yup, this is a heck of a college football game all right. As expected. NCAA CF 2000 has retained its great gameplay while adding several new options and features. The best part is, they beefed it up in the right areas: frame-rate, animation, new teams and expanded modes. To the developer's credit, they laid off any big changes to the game engine, or the overall personality (besides proportional player sizes). Messing with too much would've been foolish, after all, its predecessor was EGM's sports game of the year. While flaws are small, there are a few things. The Al is a little lazy in some situations. For example, while not a sure bet, throwing to the middle, just up-field seems overly successful. Again, not a money play just too easy. There's a few gimme-plays using the Shot-gun formation as well. In addition, I wish you could toggle through after-play action (from the huddle to the line is a slow walk). Other than that, I couldn't be happier with the Al or any other part of the game. With 30 new schools plus Create-a-School, variety is not a problem. Go ahead and take your Bethune-Cookman Wildcats (who are they?) all the way if you please. Like last year, multiplayer is really good. Try a multiplayer tournament for a really good time. The evidence is all there, NCAA 2000 is a great college football game.
8
Although NCAA Football feels just as natural to play as Madden does, I have a little trouble getting into it. This is mainly due to playing with college teams rather than the pros. I just have more fun with the pros. But this little personal preference aside, NCAA Football is a quality football title--and definitely illustrates the progress this franchise is making. If you enjoyed last year's installment (who didn't?), this year's version won't do you wrong.
7
NCAA was one of those games I just didn't care about. Not because it's a bad game, mind you...no, in fact I know it's a good game because it was easy to learn, fun to play with the four-player multitap, and has enough player stats to tickle Kraig Kujawa pink. And no, the graphics were OK too--nothing offensive or glaring, just sort of functional. After playing Madden 2000 though, it was hard to sit stiti for NCAA. They have their similarities but I prefer Madden.
7
I've always been a bigger fan of 989's GameBreaker series than EA's NCAA Football titles. The latter have always been a little rough in appearance and a bit harder to get into and control. This year's NCAA hasn't improved upon much, making it a rather disappointing follow-up to last year's critically acclaimed hit. And since updated rosters aren't as crucial in college sports games, I can't whole-heartedly recommend this to owners of NCAA 1999.
Overview
This game is missing one major item, a giant warning sign that screams: "This game is extremely addictive!!!!" NCAA Football 2000 is a kickin' upgrade to last year's EA college football game, NCAA Football 99, with some nice surprises thrown in. They have the same modes as last time, with exhibition, tournament, great games, season, practice and dynasty. So what makes this game so good? Mainly it's the addictive dynasty mode, easy playing style, create-a-school and create-a-play features.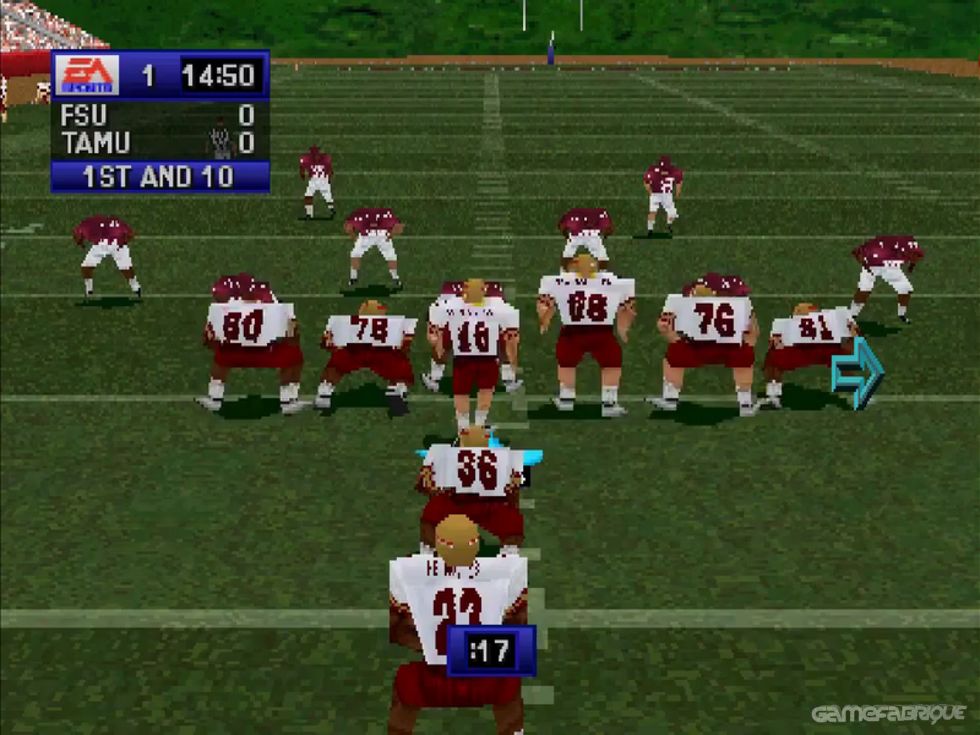 Gameplay
The gameplay is set up so that someone can pick up the controller and play a game without having to read the manual. They have individual playbooks for whatever college you pick and like most football games you pick the formation first and then the play. To snap you simply press the x button and the receivers have big letters or symbols above their head symbolizing which button to push to chuck the ball their way. If you have a dual shock controller you can use the right stick to move around a target where you'll throw the ball. This is a very interesting feature because you feel more into the game as you track a receiver with the target and throw it into a strategic location. For example if you throw the ball close to a receiver but still into an open spot, your receiver can outrun the defender much of the time whereas a normal throw would go towards the receiver and if the defender is in between you, you have an interception on your hands.
Although the basic gameplay is very intuitive there are a lot of goodies for the people who read the manual. Inside it describes how to do the cool things like fake pumps, fake snaps, man in motion options, and a coach's cam that shows where the receivers are planning to go. Unfortunately the manual isn't deep enough because it leaves out a lot of badly needed information. Why do some of the people all of a sudden get a yellow color in a play? I assume it means they're getting tired but it would be nice to know for sure. When you're checking out the different plays there is sometimes a thing off to the left that says Ace, Jacks, King etc. What does this have to do with football? Something, I'm sure, but the manual doesn't tell me.
One of the other things I didn't like about this game is that it takes a long time for your team to get out of the huddle and into their starting positions, which forces you to pick a play very quickly so you don't get a delay of game. A nice feature would be to assign a hurry up button that makes them hustle up to the line.
Arguably the best thing about this game is the dynasty mode. From here you can either make a team a perennially national contender or get handed your walking papers if you fail to do a decent job. In between seasons you can send your head coach or staff on a variable number of recruiting missions, based on how well your team did that season and possibly on how many players you cut (not sure on this part). You can pick out your favorite states to see who is available, check a different list on who is interested in playing for your team or go after the 100 top national picks. I absolutely love this because it is a challenge to see how many blue chip players you can convince to come to your team and then playing the next season to see if you've built a winner. This is more addictive than it sounds and should be the option to avoid if you want a life. My only misgiving is that you have one opportunity to cut some riffraff from your team before the recruiting starts, but the manual fails to mention if this affects how many visits you get allocated.
Graphics & Audio
The graphics and audio are pretty good, with the players' different sizes depending on their weight and height. After a play you can see some players huffing, or watch them pat each other on the back. You get to hear the home team's chants and songs and if the crowd is getting a bit rowdy the quarterback even signals for them to quiet down before he gets the ball. The crowds don't look too hot and if you go to the sideline the coaches and cheerleaders look pretty shabby. The audio is great as the crowds cheering or jeering sound very realistic and the grunts, snaps and tackles make you swear that you're in the game.
Bottom Line
This is a game worth buying, EA Sports has produced another winner. The gameplay, graphics and audio are first rate, but the biggest thing they could improve on is their manual. The only people I would recommend renting are the ones who currently own NCAA 99 and aren't sure if the game is worth an upgrade buy.
EA Sports looks to stiff-arm the competition once again with this year's NCAA Football 2000.
Gridiron Grit
The college football season is beginning to rev up as EA Sports hits the gridiron with NCAA Football 2000, the next installment of its excellent collegiate franchise. As in recent years, gamers can expea an unparalleled number of game-play options.
For starters, NCAA Football 2000 will feature a new graphics engine that promises to handle tons of animations, such as wraparound tackles and more varied catches, and that delivers a more optimized frame rate. Gamers can also look forward to an expanded Dynasty mode, including the ability to cut or red-shirt players; a play-editor that allows you to create and edit plays on the field; all 23 bowl games, including the exclusive rights to the Orange, Sugar, and Fiesta Bowls; analog passing and trajectory kicking, and new play-by-play from Rose Bowl announcer, Chuck White.
Create If and They Will Play
EA Sports is also looking to load the PlayStation's stadiums with more teams than in previous years by including 137 Division l-A and AA schools, as well as 40 classic-matchup contests--you can even create your own team and university using NCAA Football 2000s new create-a-school feature. You'll be able to choose your team's colors, logo, and the size and location of your school. Best of all, you can play with your created school in any game mode and contend for the title. If NCAA Football 2000 plays as smooth as it sounds, the franchise should once again reign as the top collegiate pigskin-game on die PlayStation.