NFL Gameday 2000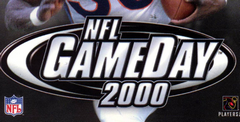 Click the "Install Game" button to initiate the file download and get compact download launcher. Locate the executable file in your local folder and begin the launcher to install your desired game.
a game by
Sony Imagesoft, and 989 Studios
Genre:
Sports
Platforms:

Playstation,

PSX

Editor Rating:

6.9

/

10

, based on

5

reviews
User Rating:

8.0

/

10

-

2

votes
Rate this game:
See also:
NFL Games
You had to figure 989 Studios would pull out all the stops for the last GameDay of the century; however, the number of new features, options and tweaks found in NFL GameDay 2000 borders on the ridiculous. Two-hundred new player animations? Twice as many plays as GameDay '99? Throwback uniforms? A Create Player feature that allows you to customize a player down to his "mental makeup?" Forget the kitchen sink--989 Studios has thrown an entire kitchen's worth of extras into this game.
Cognizant of the fact that most gamers barely scratch the surface of today's feature-rich sports games--when was the last time you played an entire season as a general manager? the developers have tried to make GameDay 2000 more enjoyable for casual gamers, too; the new "Play As Any Skill Player" option lets you become the quarterback, running back, wide receiver or tight end with the touch of a button. You can also break ankle tackles or drag would-be tacklers for the first time ever with second and third efforts. Of course, your opponent has new gang tackles, low- and high-wrap tackles and drag downs at his/her disposal to keep things even. GameDay 2000 even has in-game help menus to assist newbies unfamiliar with the game's controls.
An updated TV-style presentation complete with telestrator-animated replays--you know, that yellow electronic pen sportscasters love to use--and dramatic camera angles make this the sharpest-looking GameDay ever. Co-announcers Dick Enberg and Phil Simms add to the fun with frighteningly obscure factoids about your favorite players. Did you know Tampa Bay quarterback Trent Dilfer played for his high school golf team in Fresno, Calif.? Neither did we.
For those of you who like to micro-manage your favorite team down to the smallest detail, the game's GM Mode lets you create, draft, sign, trade and release players and free agents. There's even a salary cap.
The game's computer Al has been beefed-up, too. Both offensive and defensive players make adjustments on the fly before the snap, forcing you to make similar adjustments.
Suffice it to say NFL GameDay 2000 has more than enough additions to keep even the most rabid football fan busy well into the next millennium.
MANUFACTURER - 989 Sports
THEME - Sports
NUMBER OF PLAYERS - 1-8
Download NFL Gameday 2000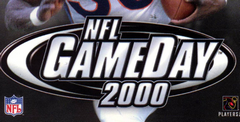 System requirements:
PC compatible
Operating systems: Windows 10/Windows 8/Windows 7/2000/Vista/WinXP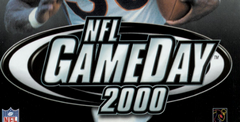 System requirements:
PC compatible
Operating systems: Windows 10/Windows 8/Windows 7/2000/Vista/WinXP
Game Reviews
People say:
7
GameDay has always been the arcade alternative to Madden football. All the crazy, exciting things you couldn't do in Madden you could in GameDay. That's not true anymore. GD 2000 is as tough as any football title out there. On most plays the Al is competent. Back-field coverage (a sore spot last year) is now quite intuitive. If a receiver breaks loose, it doesn't take long for a defender to pick 'em up. All in all the Al isn't the weak part of the game, it's the skating-on-ice animation and some of the sillier features. For example, you can celebrate after each play no matter what the outcome. Many of the "happy displays" are ridiculous (spinning on the head, weird dances, etc.). It's a fluff feature that doesn't bring anything to the game. A more serious problem has players unrealistically darting across short distances. It almost looks like a skip in animation. The biggie, however, is the sliding-on-ice animation. It's really noticeable when you use the special moves, which by the way, are still over-exaggerated. Stiff-arms lay defenders out like a knockout punch while dives produce unusual yardage gains. But that's what made GameDay unique in the first place, not to mention what people like about it. If you can get past the animation woes and the silly taunting stuff, GameDay is a decent football game.
6
I'm not a die-hard sports gamer like Dean, and that's why I disagree with most of the stuff he gripes about. I actually like this game's fluff features. I like its over-the-top animations. The celebrations are just polish, as far as I'm concerned. And GameDay is an incredibly polished title. It's also just as easy to jump into as the past GameDay games. The training mode is ideal for newbies like me who get frustrated when they go up against experienced players.
7
This month at EGM, we present to you a layman's perspective on this season's big football titles (that's me). I like the inclusion of an arcade mode in GameDay 2000 but playing the game on an analog controller is a bit too loose for my taste. The big deal this year is that the replay feature has a sports announcer magic marker pointing out who made the big play. And I know it's superficial, but the animation is just complete jalopy. Ugly and jerky.
7
I've always been a fan of GameDay since it has more of an arcade feel than Madden. Funny thing is, now that I'm getting used to Madden, this year's GameDay plays more realistically than it used to. No matter, the game is still fun. Although, I agree with Dean--some of the animation is downright silly. But I don't think it's as much of a problem as he does. Overall, GameDay isn't as tight of a package as Madden, but it holds its own just fine.
NFL GameDay 2000 b looking to rode the competition with excellent gameplay and a deep features roster.
Hall of Fame Features
The race for this years Super Bowl champ is definitely up for grabs as NFL GameDay 2000 charges out of the locker room with an already fastplaying, sim-intensive game. In seasons past Madden was the undisputed king when it came to features, but this year that's not the case: GameDay 2000s features roster is stacked with outstanding options that would thrill even Tom Landry.
First off, GameDay introduces a Dynasty mode that enables gamers to control every aspect of their team. You'll have to deal with players retiring by filling their positions, signing players whose contracts have expired, and drafting new talent (you can even import graduating seniors from NCAA GameBreaker 2000)--all while staying under your team's salary cap. Once you've filled your roster, you'll engage in preseason contests to see if your new rookies will make the team (just like in the MLB franchise). From there, it's on to the big time--and, if you're good enough, Super Bowl glory. Other outstanding features include a play editor that enables you to design your own offensive and defensive plays, and a Practice mode where you can put all your team's plays through their paces--including the ones you've created.
Lombardian Proportions
The GameDay franchise has been thrilling the football crowd with awesome graphics, and GameDay 2000 is primed to do the same this season. The player models are once again phat and in your face: Hulking linemen gather in the trenches to do battle while the field generals run the backfield, scrambling and dropping bombs. Plus, the game's frame rate is still sizzling even in the early playable we fired up. Additionally, GameDay 2000 will feature a telestrator just like the one on TV that will illustrate well-executed plays during the replay. As far as control and sound go, they're both on the right track. The players responded well to all commands and actually broke tackles rather than just falling down when touched. This year's audio is definitely shaping up to be better than last year's: Phil and Dick are back calling the shots with much more varied, in-depth commentary.
If 989 Sports can keep on track with what it has planned for NFL GameDay 2000, you can look for a heated race between it and Madden. Until the final reviewables arrive, neither can be declared the season favorite--but one thing is certain: GameDay 2000 is a strong contender.
Overview
I've seen the NFL GameDay series on the shelves but I never picked one up before, which is a real shame because this game has some great features for football fans. I read the PR department's boasts of things like the play editor, general manager mode, realistic animations and gameplay, etc., so I was a little curious — could they pull off all these claims and do it with style? What I found was that NFL Gameday 2000 fulfilled most of my expectations, but fell short in a few areas.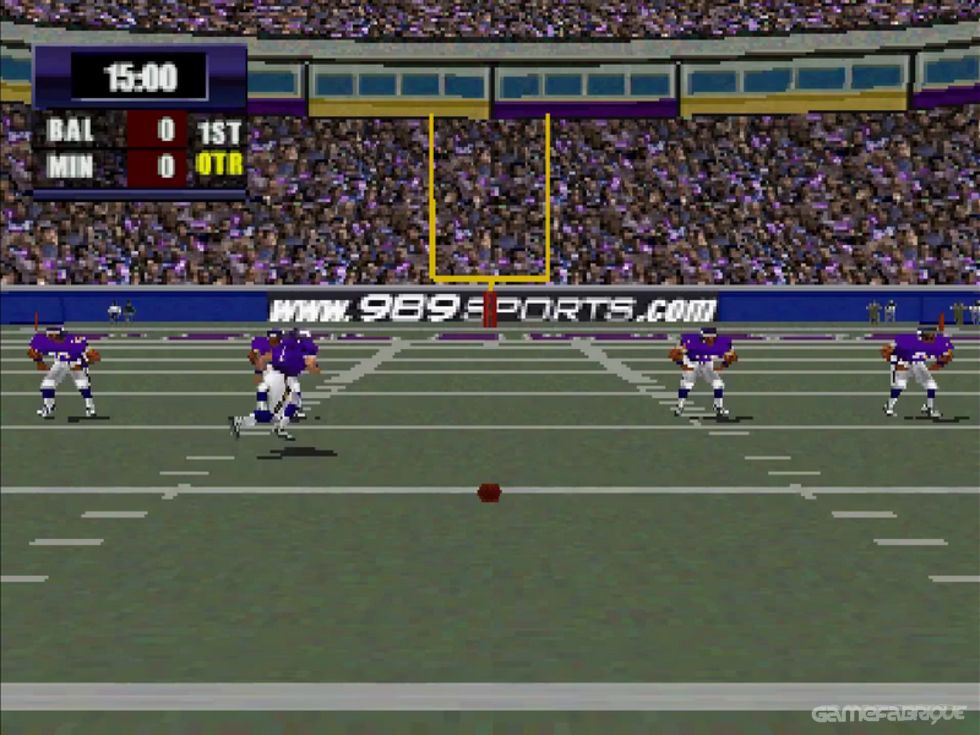 Gameplay
The most important aspect to any PSX gamer is gameplay, so let's get to the meat of the subject. NFL Gameday is a blast to play. The user interface is straightforward with what seems like an endless stream of plays to choose from, the controls are set up in a way so that you don't need to read the manual before plopping in the game, and the music and graphics enrich the whole experience. Once you've mastered the basic tackling, running and passing skills you can read the manual to do the advanced stuff like tackle high or low, do a swim move, or stiff arm.
One of the things I like most about Gameday 2K is the realistic tackling. I just got done reviewing NCAA Football 2000 and can't help comparing the two. I never really saw true multiplayer tackles in NCAA Football and it usually seemed like one of the players fell down immediately after contact was made. With Gameday, a couple of players can tackle a guy and there is a slight struggle before the offensive guy goes down or breaks free. Gameday doesn't stop there, though, because they also added drag tackles, upended tackles, and high and low wrap tackles.
Running is another area where Gameday trumps NCAA Football. I played 25 or so games on NCAA and not once did I break for a run that was over 40 yards; neither did the computer, and it was a rare play that a runner got more than 15. That's a little unusual and unrealistic, if college games and NFL games on TV are any indication. With Gameday, however, you occasionally get a big running play and most of the others seem realistic compared to what I've seen on TV. Because of this you can use a balanced team and actually have a choice not to rely always on passing.
The computer AI is pretty good, except the computer has a little trouble using timeouts. More than once I'd shake my head in disbelief when the computer would use a timeout with lots of time still left in the quarter and then suffer a humiliating defeat because they didn't have any at the end. The defensive and offensive player AIs are set up well with regards to the level of difficulty you have set. New players will find the Rookie setting challenging for the first game if they don't know what the controls are or what plays are available. After they figure that out they'll see that it's pretty easy to throw the long ball to an open receiver and gain 30+ yards each play. Cranking up the difficulty assures holes aren't quite so wide for the runners and the passes need to have better timing, plus you get to look for the money plays and discard the trash.
The play editor comes into the action at this point. You can create your own play, telling the receivers what route to take or what hole the runner should try cutting up. This especially becomes useful if you know you're going to play a team that has some star positions that you want to avoid and some weak holes you want to manipulate. If you're a fan of one particular player, say Marshall Faulk or Jerry Rice, you can play their positions for the season to see just how much better you can make them.
The commentary between Phil Simms and Dick Enberg is impressive for a game, with replays showing what a play did and why it worked or failed. There were occasions where the comments really didn't fit the play, the praise a little overwhelming to a relatively unsuccessful run, or the same comment repeated too many times, but overall it's some of the best commentary I've seen in any PSX game.
The most glaring/irritating aspect I found about this game is the ball animation for field goals or extra points. When kicked, the ball travels so straight that I'd swear it was shot from a rifle. What happened to gravity pulling on the ball so that it flies in an arc?
Graphics & Music
The graphics and music in this game are first rate. Playing '60s and '80s songs after a touchdown or before kickoff gets the blood pumping and feet tapping. They play excerpts from Louie, Louie, Taking Care of Business, That's The Way I Like It, etc.
The graphics look very sharp and smooth, with some great tackle and celebration animations thrown in. If you choose, they allow you to celebrate after every play and it's a little annoying. If I saw one of my running backs celebrating after a fumble, I'd probably cut him on the spot. I didn't play against another person, but I can see this feature getting abused among younger kids and dragging out a game.
Bottom Line
This is a fun football game and a good buy if you don't already have one. You might want to rent it first if you're a Madden fan or own the '99 version. The graphics are pretty incredible, the music gets the adrenaline flowing and gameplay is amazing. The only things they could work on a bit more are the AI, the commentary and the field goal/extra point animation.
The clash of the gridiron titans continues this fall as 989 Sports fires a Y2K volley across Madden's bow with Its honed and toned NFL GameDay 2000.
Refining the Giant
989 Sports is hoping to push the limits of 32-bit graphics in NFL GameDay 2000 by improving the player models and stadiums of its predecessor. Each player will be built according to their real-life physical specifications and move with the assistance of even more motion-captured animation from the likes of Jerome Bettis, Tim Brown, and Mike Alstott. GameDay 2000 s new moves will include gang-tackles, drag downs, upended flips, shoestring catches, sideline "tip-toe" snags, and chop blocks. Players will even be able to break ankle-grabbers and drag those puny punks during second and third efforts!
Stickin' It to the Competition
If the standard goods are what you want, GameDay 2000's got 'em: Check out all 31 NFL teams with their 1999 rosters, including the new Cleveland Browns and Tennessee Titans. You can also import senior college players from NCAA GameBreaker 2000 and let them take on the pros.
Stat demons will enjoy GameDay s new GM mode, which enables you to track squads over multiple seasons and operate under the restrictions of a salary cap. If you're still hungry, GameDay 2000 promises improvements to its playbooks, practice mode, A.I., play editor, and player creation, along with play-by-play commentary by Dick Enberg and Phil Simms. With such a potentially huge showing from GameDay 2000, jt looks like this fall will bring another epic battle between GameDay and Madden on the PlayStation gridiron.
Something for Everyone
989 reports that newbies will find GameDay 2000 more accessible thanks to the inclusion of MLB-style in-game help menus. On the other sticky-gloved hand, vets who've played this formula to death (or, even worse, with the Philadelphia Eagles) will take interest in the new "play as any skill" mode, which allows you to focus on one individual position--quarterback, running back, wide receiver, or tight end--to perfect your virtual craft. If you're looking for an excuse to upgrade a previous version of GameDay, this cool new mode may be the high-cholesterol feast at your tailgater.
Similar Games
Viewing games 1 to 12