NCAA Football 2003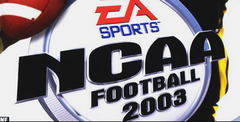 a game by
EA Sports
Platforms:

GameCube

XBox

Playstation 2

Editor Rating:

8

/

10

, based on

3

reviews
Rate this game:
As the new college football season kicks off, EA Sports launches another attack at the college football video-game crown in the form of NCAA Football 2003. So how does the GameCube version stack up? Well, after several days of game play under my belt, I am pleased to report with confidence that, 'this game rocks!'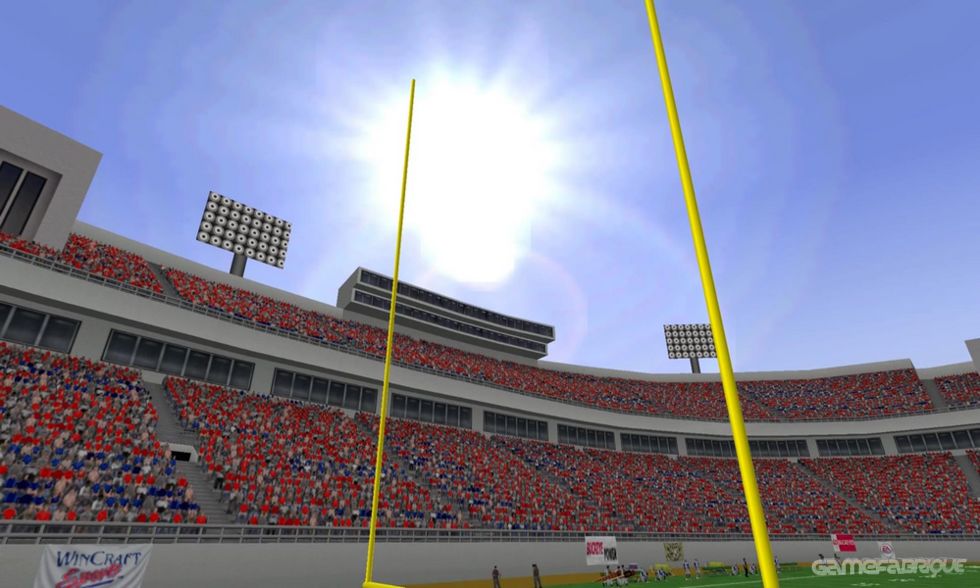 Besides the obligatory Exhibition, Practice and Season Modes, there's a Rivalry Mode, which enables you to compete in historic rival games, and a cool Mascot Mode where you can actually play with a team full of school mascots. Of course, the real meat and potatoes of the game can be found in the Dynasty Mode that's deeper than ever. Customize your schedule, recruit players, and create and edit rosters until your heart's content. You can choose from 117 Division 1-A or 27 Division 1-AA teams or create your own school, customizing everything from school nickname and uniform, to stadium type and fight song. You'll also find new college-specific plays and formations such as new option variations and wide receiver splits. Once you take to the field, you'll be treated to the best game play and AI in the business. On offense, running and passing have been improved, and thankfully the option play (a weakness from last year's version) has been fine-tuned to near perfection. On the defensive side of the ball, defensive backs will cover their opponents much more realistically and sacks are toned down to a point where you won't be rackin' up ten or twelve a game. The GameCube controller will take a bit of getting used to, but eventually you'll find it quite suitable for the task at hand.
From the detailed player models and stadiums to the 3D cheerleaders and mascots, the game's graphics are comprised of clean textures and vibrant colors. The action on the field is fast and fluid, with slowdown kept to a minimum. Several adjustable live-action and replay cameras do a fine job of immersing into the action on the field. The award-winning broadcast trio of Brad Nessler, Lee Corso and Kirk Herbstreit provide play-by-play and color commentary that is at once entertaining and informative. Together with over 200 team-specific chants and fight songs, the game's audio package captures the intensity, pageantry, and spirit of college football like never before.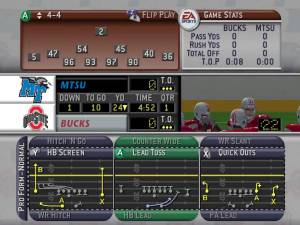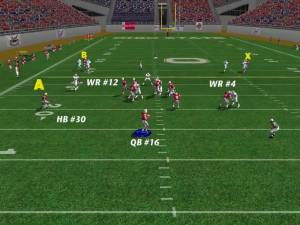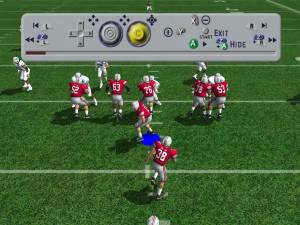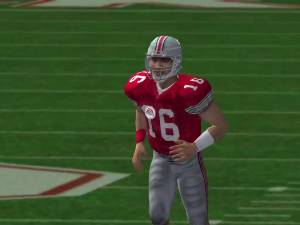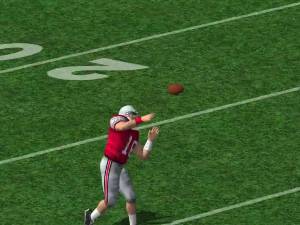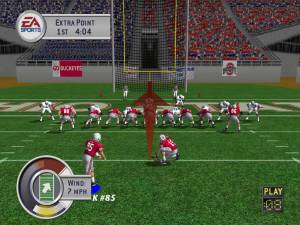 If you're a college football fanatic and you own a GameCube, NCAA Football 2003 is a dream come true and a must buy.
Download NCAA Football 2003
Game Reviews
I skipped last year's crop of sports games from EA Sports so when I had the opportunity to grab NCAA Football 2003, I jumped all over it. Granted, EA Sports did not make an NCAA Football game for Xbox last year, so technically, this is game is the freshman offering. That said, this game is anything but a first attempt at football. EA Sports has been refining their football skills across every major platform for years so it should come as no surprise that this is one great looking, great playing, and is an overall great football game.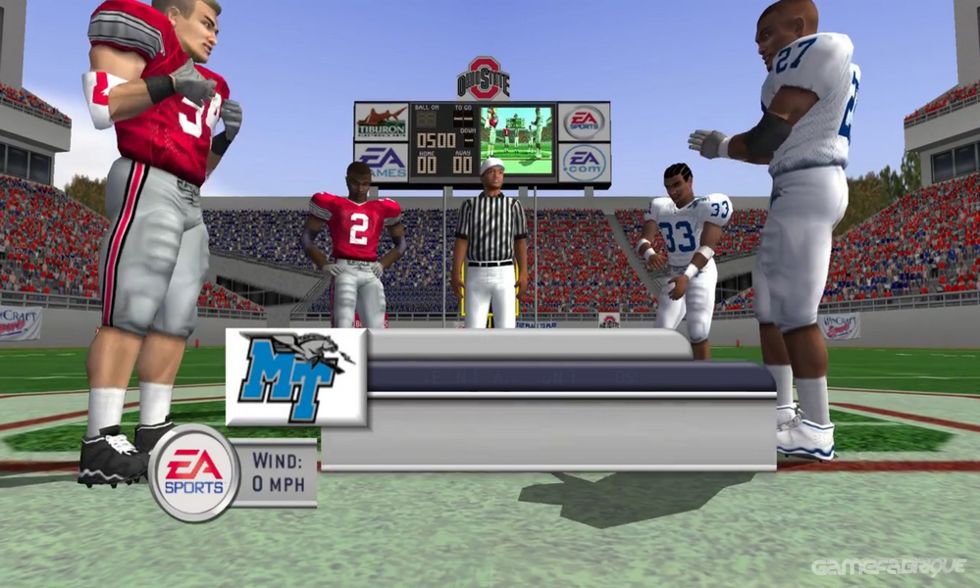 If there is one thing I can say with confidence, it's that EA Sports has really nailed football. Even if you are not a fan of college football, NCAA 2003 plays so well that you will almost forget you are playing a college game. Everything, from the running game to the passing game, just feels' right. The developers have really done a great job of adding many small touches that make the game feel much more complete, particularly in the player animations. I found myself smiling or even laughing (in a positive way) after some of the realistic tackles. One example of many was when my running back was headed into the hole and a defender came up and hit him. My running back bounced back a little and his momentum slowed but his legs were still moving like he was running full steam ahead. Seeing that showed me just how much detail was added to this title.
The game is also packed with options and the hardcore will absolutely love the dynasty mode. You can recruit and develop players in an attempt to build your own football juggernaut. The depth and replayability is unparalleled and will be used as the benchmark for years to come. Unfortunately, no Xbox live support was added so it looks like we will have to wait until next year to play online.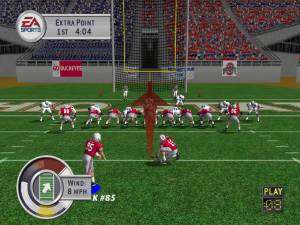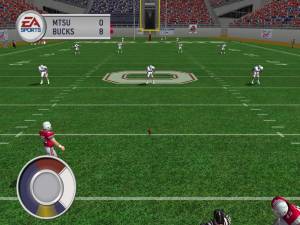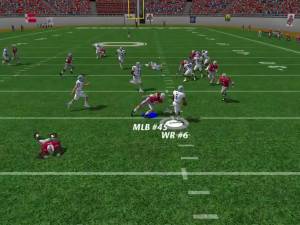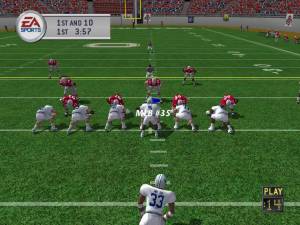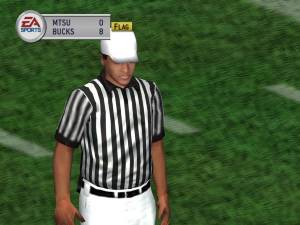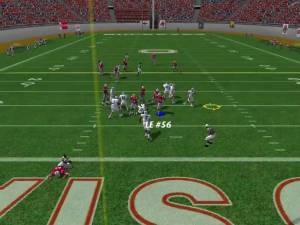 I do have a couple of very minor gripes with the game however. First, I found playing defense to be a bit random. There were times where a receiver would be triple covered on first down and he would drop the ball. But the same receiver would be triple covered on third and long and he almost always made the catch. I don't know if it was just coincidence but it got to the point where I was frustrated because the computer converted so many third and long plays. Also, the punt coverage leaves a lot to be desired. For some reason, if you call a punt return, the computer controlled blockers will not block the two defenders on the outside so almost every time your punt returner would catch the ball, he was immediately smothered. Gripes aside, this is still a great game worthy of your hard earned cash.
Following on the heels of last year's success, EA Sports has once again released their college football juggernaut NCAA Football 2003. Loaded with all the expected options, you may also be surprised by a number of new additions as well as improvements on older features. Game options like season mode, dynasty mode, rivalry game, mascot game, and practice are all included in addition to creating your own team or player. Most football fans will find plenty to keep them entertained with stadiums for 116 division 1-A schools, 50 mascots leading the crowds, and 200 unique fight songs to keep things fresh.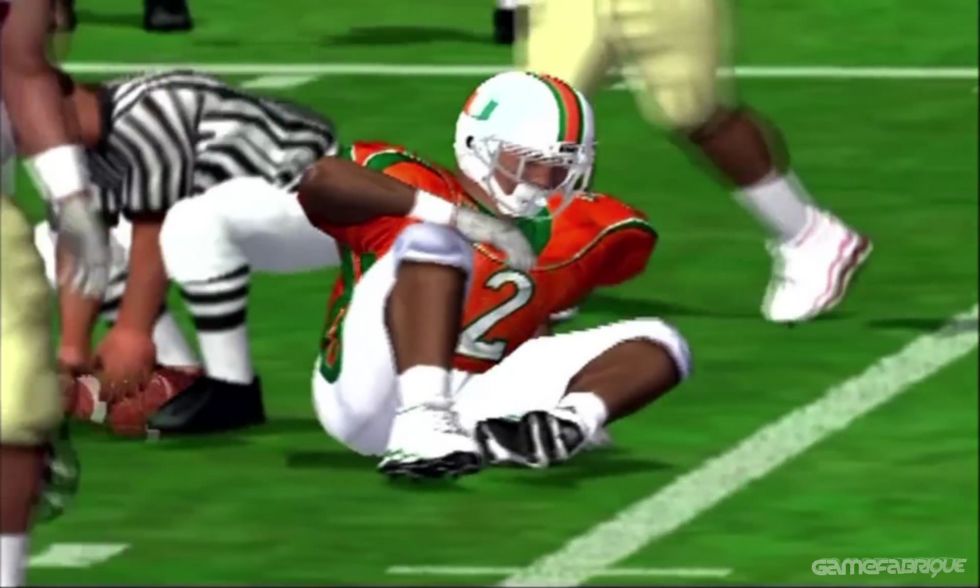 Besides the different options available, a number of other improvements have been made to the general gameplay. These improvements have for the most part successfully added more depth to the game as an AI upgrade and new plays and formations all give reasons to purchase NCAA Football 2003 even over last year's attempt. Other issues including new animations and numerous new unlockable nuggets will also separate NCAA Football 2003 from the competition and it's previous version.
Although the game hasn't had any large visual facelifts, the commentary has. The sometimes repetitive comments from the broadcasters have been noticeably reduced and more dynamic comments have been added that flow better throughout the game. Even though it wasn't a huge distraction last year, the improvements to the 2003 version are noticed and appreciated.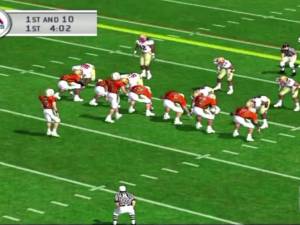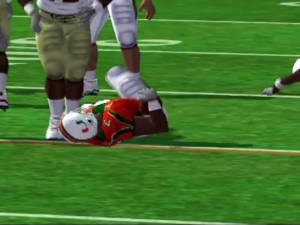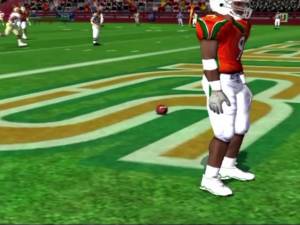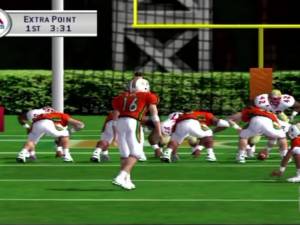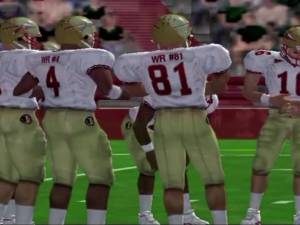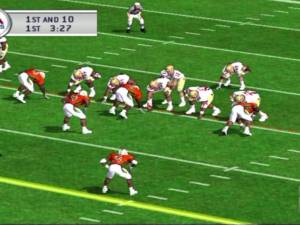 Overall, NCAA Football 2003 is a worthy successor and your best bet for a solid college football game this season. With the improvements to the gameplay and additional options, those owning the previous version as well as those being first introduced will not have any issue wondering if their money will be well spent.
Similar Games
Viewing games 1 to 18