Front Page Sports Football Pro '97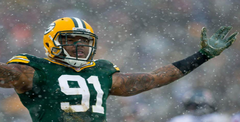 Click the "Install Game" button to initiate the free file download and get compact download launcher. Locate the executable file in your local folder and begin the launcher to install your desired game.
Overview
Are you ready for some football? It's not only a Monday Night party, it can be an everyday party for you with this intensive simulation-style effort. This game has been named Football Game of the Year by Computer Gaming World in '93, '94, '95 and '96, and although I have not played those prior games, I can see another award on the horizon. You can choose what you want out of this game, from being the commissioner, the coach, or better yet any one of your favorite NFL stars. Ultimately you are as much the man as you want to be; if you want to be the Big Tuna, Bill Parcells, you can make all the moves from diagramming and testing your own plays to completing your own game plan on both sides of the ball. You may propose trades among teams to update any recent changes. Just try and remember that too much leads to burnout and we don't want you to wait 15 years to come back as Dick Vermeil has done. You can get the hint that this game will take some work by the 223-page manual alone. This game will require a lot of time and effort to get significantly proficient enough to guide Steve Young and the West Coast Offense. But remember, perfect practice makes perfect. The game features a practice session that is highly advised, as the timing of setting up running plays and passing plays is difficult to get a handle on at the start. So buckle up your chinstraps, get those clipboards ready, bring all your rowdy friends and let's head on down to the gridiron.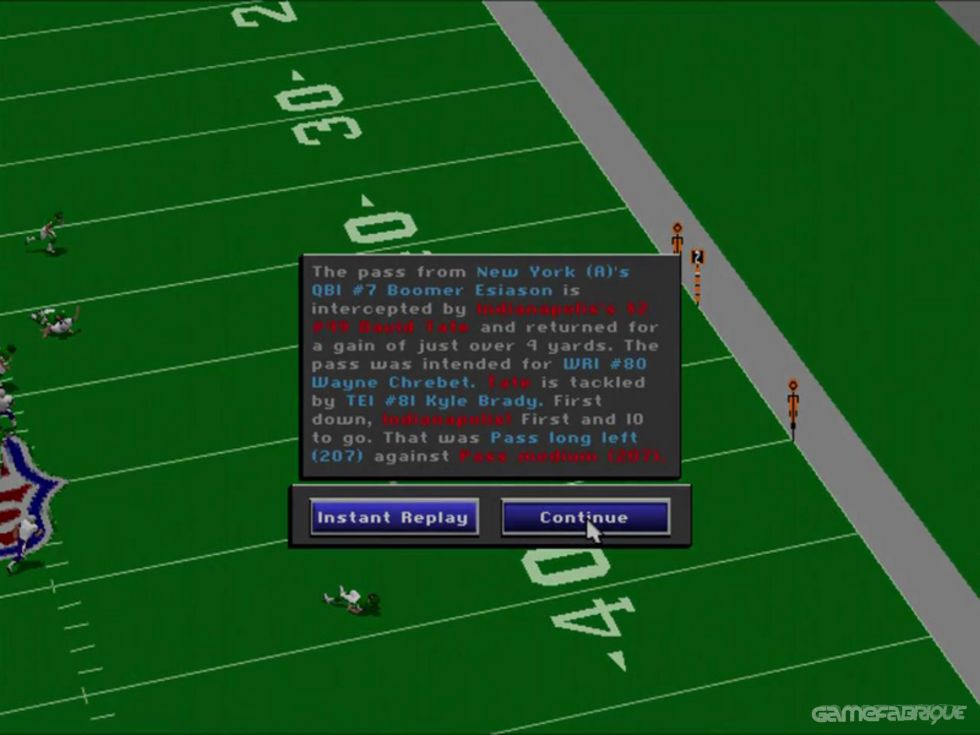 Gameplay
This is not an easy game, so do not expect to come out and dominate the computer as is possible in so many console games. It can be downright frustrating, to be honest. But the action will keep you coming back to try and conquer those omniscient Cowboys. I started out with a 50-0 defeat with Atlanta at the hands of those pesky Panthers, gaining all of 48 total yards. Talk about a clambake. By game three, I actually had a running back (Barry Sanders) gain positive yardage but lost to the Vikes 39-19. Game Four, Mile High Stadium, in a steady downpour, the Jets go down 14-10 as Elway tossed for 322 yards. I still couldn't run and got sacked way too much, but did complete over 50% of the passes. At this point, rollout dumpoffs to running backs are the most effective. You are for the most part better off letting your computer-controlled teammates make most of your defensive plays, as you will probably get juked a few times. Play calling is relatively easy, as your designated game plan will select the appropriate play in highlights. But you gotta live a little and deviate from the plan to really go for it. Once you get more accustomed to the action, you can set the camera to track different parts of the action, which would prove to be most helpful on aerial attacks. League statistics are automatically updated to check your favorite's place among the leaders or trailers as it may be. This game has all you need from kneel-downs and spiking the ball to stop the clock to setting your own audibles. I do feel sorry for the referees, as they do not get to wear sleeves in either rain or snow. They definitely need a new union.
Graphics
The graphics move well throughout the game, although I have yet to be able to execute a spin move. The ball carrier will be highlighted with his number, as will the intended receiver as he passes through the passing window. The plays are well diagrammed; however, on the running plays it proves a bit difficult to pick out the proper hole you should be running through toward daylight. Each field's end zones are painted proudly with the home team's trademark logo and the first down sticks are clearly displayed so you can dive for the first down.
Audio
"Ready, Break!" belts out loud and clear. Both quarterbacks and middle linebackers aggressively bark audibles out. The crowd tends to get rather excited on plays inside the ten-yard line and will occasionally boo the questionable interference call.
System Requirements
Pentium or better processor, 16 MB RAM, mouse, one or two joysticks, Windows 95, local-bus video, a hard disk with 100 MB free space, a SoundBlaster or 100% compatible sound card. For multiplayer play, a 9600 baud modem or higher and network cards. You also need 8 MB of RAM and at least 409,600 bytes of free conventional memory.
Bottom Line
Front Page Sports Football Pro does not leave anything to chance as they have stamped out another excellent ball game. If the NFL has it, you have it. The competition is stiff, which only adds to extended pleasure. So whether your desire is to simulate a season, lay it on the line with yourself at the helm or even, perhaps, position yourself as Director of Football Operations of the Saints and prove that you could've made the moves to host the Super Bowl on your home turf, here is your chance. Again, this game will take some time to cover all the nuances, but you will have a good time trying.
Download Front Page Sports Football Pro '97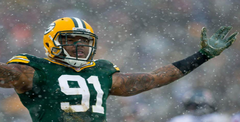 System requirements:
PC compatible
Operating systems: Windows 10/Windows 8/Windows 7/2000/Vista/WinXP