Pro 18 World Tour Golf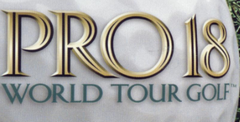 Click the "Install Game" button to initiate the file download and get compact download launcher. Locate the executable file in your local folder and begin the launcher to install your desired game.
a game by
Psygnosis
Platform:
PC
Editor Rating:

5

/

10

, based on

1

review,

2

reviews are shown
User Rating:

7.2

/

10

-

5

votes
Rate this game:
See also:
Golf Games
Overview
Every couple of years a company will try to knock Links LS off the top of the mountain of golf games on the market. Psygnosis has tried to do this with Pro 18 World Tour Golf, but to no avail. Pro 18 boasts about having eight pro players, four courses, new and improved golf swings and 3D acceleration. Well to be honest with you, the players are not rendered very lifelike, the four courses that come with the game are probably going to be the only courses you will ever see, most of us use the same swing that we are accustomed to in Links, and the 3D acceleration was not very noticeable.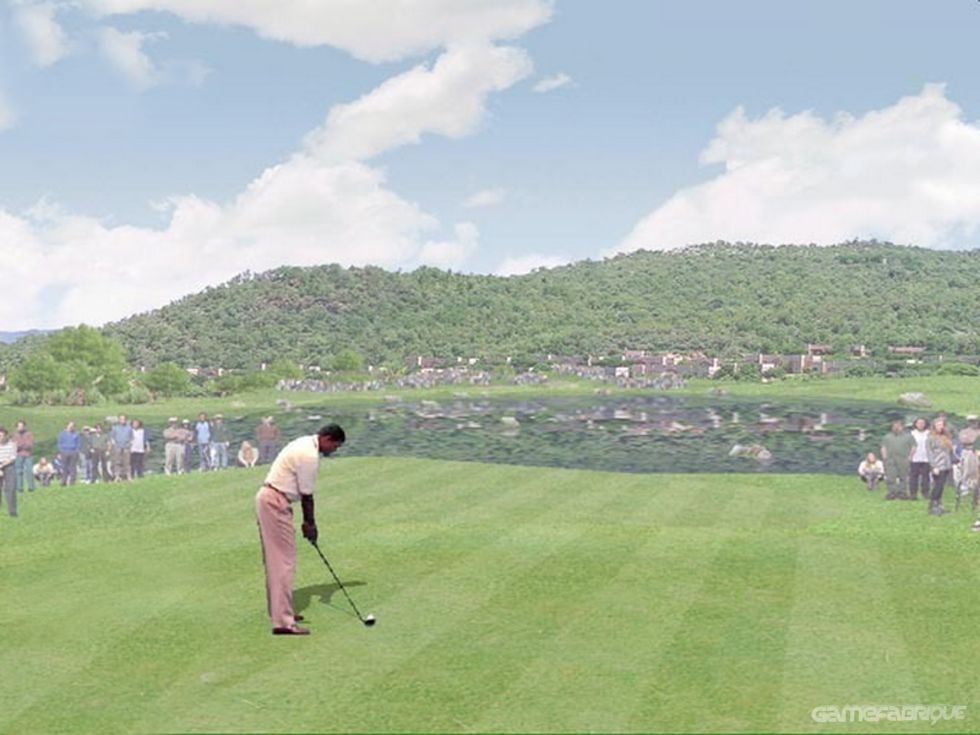 Gameplay, Controls, Interface
After battling with the front end or the game for about five minutes I finally made my way to the first hole of the Coeur d'Alene golf course. Being a veteran to golf games, I didn't practice and I figured I could pick up the controls without any problems. Ha ha. You would think that after this many years playing games I would have learned to look at the documentation. Needless to say, I sat at the first hole for at least another 15 minutes trying to figure out how to change my aiming location. After setting up my shot I was ready to hit the ball. That seemed straightforward and I shouldn't have any problems with it. I hit the ball and it went a little to the right because I have a natural slice. Oh, well. The camera angle switched while the ball was in the air and I couldn't figure out what happened to my ball. It disappeared in the fairway somewhere. What the heck? Then the camera swung around again and my player was standing next to it ready to hit again. I did this three times until I saw the green.
Here is where the game turns into a nightmare. You have to be a mind reader to read these greens. They all look flat! But I can tell you that they are definitely not level. My ball was dancing all over the green and it was not consistent in its breaking either. The only saving grace was if you hit the ball close to the pin, the ball would get sucked into the hole. The first time it happened I thought it was just a glitch in the game, but every hole I went to the same thing happened. If you hit the ball within about a foot of the hole it just magically went in. If only this would happen in the real world.
Graphics
I think I have been spoiled over the last couple of years playing games. When I bought my first Voodoo card I was amazed at how games looked and I swore I would never go back to looking at the world in VGA color again. When I received Pro 18 Golf I thought to myself "Cool, a accelerated golf game. I bet this is going to be the best-looking game I have ever played." Boy, was I wrong. I don't think the 3D accelerator card option is even turned on in the game. I would have checked to make sure, but there isn't any way of choosing which video mode you want to play in. Normally you can switch the resolution or change to software mode or something, but I couldn't figure out how to do it to save my life.
To make a long story short, I will say that the graphics are not as impressive as the box would let you to believe. The courses look as if they took pictures of the trees and rocks and stuff and then pasted them on a picture background. There just wasn't any depth to the courses. The water was static, the trees didn't sway, and most of the time I couldn't tell where my ball had landed (the ball was far too small to see).
Audio
The announcers in the game are a little annoying at times. I would have turned them off but they usually had tips as to how to hit the ball on the green. If it wasn't for them I never would have gotten off the first green. I don't recall hearing rushing water or birds or anything of that nature in the game. I know the last time I played golf I heard plenty of sounds in the background. Of course most of those sounds were my partners cursing at me for hitting my ball into the parking lot. I hate my slice!
System Requirements
Minimum: Pentium 166 MHz with MMX, 32 MB RAM, Windows 95, 2X CD-ROM drive, SoundBlaster 16 or compatible
Recommended: Pentium 200 MMX, 64 MB RAM, Windows 95, 4X CD-ROM drive, 3D accelerator card
Documentation
The documentation for the game was a little slim. The best thing about it was the glossary of golf terms in the back. Did you know that a "yip" is a nervous affliction which makes controlling the hands difficult, particularly during putting? Also known as the twitch. I sure am glad they included that little tidbit of information for me. I don't think I could have played the game without it. Now if they could only squeeze in some useful info on how to set up my 3D card for the game!
Bottom Line
I don't think Links LS has anything to worry about from Pro 18 World Tour Golf. Links is still the champion of the golfing genre and I don't think anyone will ever be able to dispute it. I would suggest that you save your money, go out and get a few golf lessons at the local course. It would be more entertaining and a heck of a lot more fun than sitting at home playing this game on your computer. Psygnosis 'fluffed' the ball on this game, and hopefully it won't 'duck hook' their stocks. (I love this glossary of terms).
Download Pro 18 World Tour Golf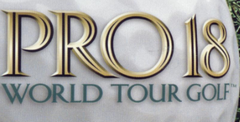 System requirements:
PC compatible
Operating systems: Windows 10/Windows 8/Windows 7/2000/Vista/WinXP
Game Reviews
PlayStation's crowded golf simulation field is about to get even cozier with the addition of Psygnosis' Pro 18: World Tour Golf. Developed by London-based Intelligent Games, maker of PGA European Tour as well as numerous golf expansion discs for EA Sports, Pro 18 reflects the level of detail that can only be achieved after years of experience in a given genre.
Leaving the traditional "three-click" interface (or "two-click," in the case of Sony's ultra-accessible Hot Shots Golf) behind, Pro 18: World Tour Golf employs an advanced "Professional Swing" interface that adds a release control for greater accuracy and realism. All-new aiming and putting engines further differentiate Pro 18 from the rest of the pack.
If you're looking for top names, Pro 18: World Tour Golf has those, too; the picture-perfect swings of Tom Lehman, Colin Montgomerie, Ian Woosman, Dottie Pepper, Vijay Singh, Jasper Parnavik, Laura Davies and Masters champion Mark O'Meara were all filmed at top television production facilities and incorporated into the game, as was the voice of announcer Peter Arliss, adding to Pro 18's television-style look and sound. Additionally, three top courses from around the globe--Northern Ireland's Royal County Down, South Africa's The Lost City Golf Course and Idaho's Coeur d' Alene Resort Golf Course (funny how the course from Idaho has the most exoticsounding name, isn't it?)--were modeled with amazing accuracy thanks to new surveying techniques. A plethora of play modes--Strokeplay, Four Ball, Shoot Out, Skins and Tournament--should have golf fans duffing into the wee hours.
PlayStation newcomers who enjoyed the unadulterated fun of Hot Shots Golf and are looking to experience the next level of realism definitely should check out Pro 18: World Tour Golf.