PGA European Tour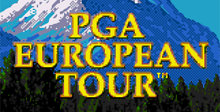 Bon jour, golf fans! Pack your clubs for a tour of five of Europe's most challenging golf courses with EA Sports' PGA European Tour for the Genesis. Using the same, easy-to-play game engine as PGA Tour Golf, plus sharp graphics and extensive detail, this game is accessible to golf die-hards and novices alike.
Europe or Bust
On this tour, up to four players compete for pounds, liras, and francs on five actual courses (two in England and one each in Spain, France, and Switzerland). In addition to playing your friends, you can also compete against 50 European pros, with recognizable names like Seve Ballesteros. Their performances are continually tracked by the computer. Two new game formats include an Elimination Tournament and a four-player Sudden Death hole.
Where's the Windmill?
Just like EA Sports' other titles, PGA European Tour is as realistic a golf simulation as you can get. You have full control of which clubs to use, how hard to hit the ball, and how to line up your shot. Responsive controls enable you to get the most out of your skills. Adding to the realism are uncontrollable variables, including gusting winds and uneven terrain.
ProTips:
Note the maximum distance of the club you're using when you place your aiming cursor on the course. Don't aim at the hole if it's far beyond the reach of the club you're using. Play for position instead.
Timing is everything. Achieve the maximum swing by exactly hitting the 100-percent mark on the strength meter and exactly zero percent on the follow-through.
Sharp graphics provide three useful views: overhead bird's-eye; behind-the-player; and a rotating, 180-degree, topographical grid of the putting green. Every option is represented by easy-to-read onscreen icons. These solid graphics help compensate for the game's average, lackluster sounds.
When putting, remember to compensate for dips and inclines by hitting with extra power.
Viva la PGA
While golf can sometimes be an uninvolving game to watch or play, this video game is perhaps the most user-friendly, engaging golf sim available. After a couple of rounds, you'll discover the subtleties that make golf such a challenge. Golf fans will love this game, and curious novices will be able to jump right in and play.
Download PGA European Tour
Game Reviews
Machine: Genesis
Manufacturer: Electronic Arts/by Polygames
Try really hard and you can smell the grass and feel the breeze when you play PGA European Tour. Well, maybe not, but EA's new links sim offers very realistic golf in the line of the first two PGA Tour games. It's even accurate down to the frustration you experience when you play poorly.
Fans of EA's earlier clubhouse cartridges will find this one structured much the same, but, as the name indicates, a change of setting offers a whole new challenge. Even the seasoned veteran will feel the demands of five European courses and their respective tournaments. Ten European pros - the likes of Seve Ballesteros and Bernhard Langer - and 50 new roster players try to keep you off the leader-board. After all, this is for cold, hard cash (in pounds of course; the Scots did invent the game, after all).
But if you're not ready to take on the heavy hitters, there's still plenty of opportunity to get out on the links. Brush up with a practice round, play a home version of the Skins game, challenge up to seven friends in a match-play elimination tournament, or pit up to four players in a three-hole sudden-death shootout. Compatibility with EA's 4 Way Play insures your foursome's never again denied a tee time, no matter how much you annoy the other country-club members.
Solid controls, clean graphics, and dead-on sound effects make your round enjoyable... unless your golf game determines otherwise. Eventually, though, the shots all start to look the same no matter what hole you're on. Less patient gamers may not want to make their way through a full 72-hole tournament. If you have enough patience however to play golf - or watch it - you should thoroughly enjoy this one.
Manufacturer: Electronic Arts
# of players: 1 to 4
Difficulty: Moderate
Available: 1994
Theme: Sports
Welcome to PGA European Tour - the game that allows you to enter the most prestigious tournament in golf. Now it challenges you to tee off on five of the most beautiful courses in Europe.
The game play is the same from the original PGA carts, but the added features of PGA European Tour will definitely have golf fanatics gassing up their golf carts on this one. Besides the tournament, you have the option of playing a skins game, match play or even a shootout! If you think you have what it takes to go against 61 of the best golfers in the world, grab your caddy and hit the greens, European style.
Sega Genesis/Mega Drive Screenshots
SNES/Super Nintendo/Super Famicom Screenshots
Nintendo 64/N64 Screenshots
Similar Games
Viewing games 1 to 4