Madden NFL '96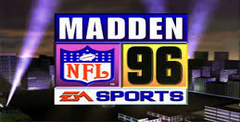 Click the "Install Game" button to initiate the free file download and get compact download launcher. Locate the executable file in your local folder and begin the launcher to install your desired game.
a game by
Halestorm, Inc., Tiburon Entertainment, High Score Productions, Electronic Arts, and EA Tiburon
Genre:
Sports
Platforms:
PC, Genesis, SNES,

Playstation,

GameGear
Editor Rating:

9

/

10

, based on

7

reviews,

10

reviews are shown
User Rating:

9.0

/

10

-

2

votes
Rate this game:
See also:
Sport Games, Sports Management Games, Football Video Games, Manager Games, NFL Games, Madden Games, John Madden Games
Madden is the man, and this year Madden has been dissected and EA Sports has created an entirely new football game.
In the Training Camp Mode, you can create your own players and take them through a number of different events. Your player will be rated in different categories.
More than 100 teams are included in Madden '96, including all Super Bowl teams from the first Super Bowl in 1966 up to last year's.
A host of new offensive and defensive formations have been added. Tommy Talarico has done the sound effects for Madden '96.
We saw an early version, so look for more as the kick-off for Madden '96 approaches.
Download Madden NFL '96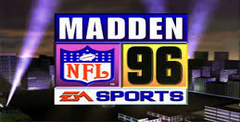 System requirements:
PC compatible
Operating systems: Windows 10/Windows 8/Windows 7/2000/Vista/WinXP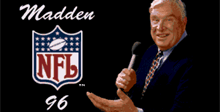 System requirements:
PC compatible
Operating systems: Windows 10/Windows 8/Windows 7/2000/Vista/WinXP
Game modes: Single game mode
Player controls:
Up, Down, Left, Right - Arrow keys
Start - Enter (Pause, Menu select, Skip intro, Inventory)
"A" Gamepad button - Ctrl (usually Jump or Change weapon)
"B" button - Space (Jump, Fire, Menu select)
"C" button - Left Shift (Item select)
Use the F12 key to toggle mouse capture / release when using the mouse as a controller.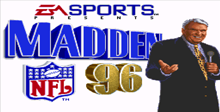 System requirements:
PC compatible
Operating systems: Windows 10/Windows 8/Windows 7/2000/Vista/WinXP
Pentium II (or equivalent) 266MHz (500MHz recommended), RAM: 64MB (128MB recommended), DirectX v8.0a or later must be installed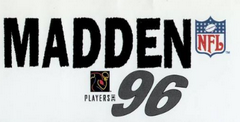 System requirements:
PC compatible
Operating systems: Windows 10/Windows 8/Windows 7/2000/Vista/WinXP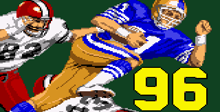 System requirements:
PC compatible
Operating systems: Windows 10/Windows 8/Windows 7/2000/Vista/WinXP
Game Reviews
Do You Remember The First John Madden Football, all those years I ago on the pc? The teams only played in red or blue regardless of their colours in real life, and the players looked like ants dressed up in tiny jelly baby outfits. It was controlled entirely by the mouse, which meant that essentially, you called your play and then watched and waited to see what happened, waving the mouse about as the situation demanded. And it had sound effects that seemed most likely to have been provided by way of sampling Sweep having an orgasm.
But at the time it came out, the only competition on the pc was NFL Challenge, which was played out via two teams of animated X's and O's, so it seemed quite stunning. And you could edit plays to your heart's content, making them as peculiar and twisted as you liked.
Witter, witter, witter...
And that was it for some time as far as Madden went on the pc. Meanwhile, there was great excitement when the Mega Drive version was released - some journalists had embarrassing lumps in their pants while they reviewed it; normal people liked it too. Mega Drive and snes versions were released every year. However, all that came out on the pc was another version of the same old mouse-operated game. People were by now crying out for a decent American football game on the pc, until finally Front Page Sports Football arrived, the nearest thing to Mega Drive Madden on the pc. But nothing from EA.
Wittering on...
It makes you wonder why, though, because NHL Hockey was released on the pc in an almost identical form to the console version from which it sprang; then FIFA Soccer made its appearance. Both played quite well, although they scrolled comparatively slowly, but still there was nothing to be heard on the Madden front. Instead, a 'super-fabbo' version came out on the 3D0. Isn't it funny how, as soon as there's a leap in technology, the graphics are the first thing to get tweaked. On the 3D0 the cute, cartoony but fast-moving and infinitely manoeuvrable Mega Drive players were swiftly transformed into lumbering monsters who, as soon as they got into a clinch together, were difficult to tell apart. Try a run up the middle and you often just had to hope for the best; you certainly couldn't see well enough to spot a gap in the line and go for it. Likewise with catching the ball in a crowd: it was hard to see who was who, so you just ended up whacking the jump button and hoping for the best.
And now, finally, a version has made it to the pc. And it looks nearer, if anything, to the 3D0 version of FIFA than to any version of Madden seen before. It's using EA's new Virtual Stadium technology, which enables you to view proceedings from any angle you like. With 3D0 FIFA, of course, there were angles galore, but none of them were just right. This is one step on from that, and besides, 'just right' for American football is usually from behind the quarterback. Except when your opponent is about to make a catch, in which case it's from the back of the stand, looking towards the sun.
Intelligent players
One of the things that almost everyone complained about in FIFA Soccer was that the players were too intelligent. We suspect that they used the intelligence routines from Madden to control the players. (Which wasn't as good as having Madden itself to play on your pc, but might be seen as the next best thing.) Anyone who played the console versions of Madden will know that, if you didn't want to intervene, you could just call the play and leave the players to their own devices: wide receivers and running backs would run their routes, offensive linemen would block, the quarterback would throw the pass or hand the ball off. Everyone on both sides would react according to their instructions and respond to the ball, too. Which is great - in American football. But in proper football, you don't expect that much intelligence (especially in English sport). You don't want players diving in to head rebounds before you tell them to, or sliding the ball into touch as soon as you switch control to someone else. But you do in American football, and EA probably has more experience of making them do this than anyone else.
So you can guarantee that Madden 96 will have players who respond to the ball and to your input as and when you want them to, and who also stick to their tasks if you leave them alone. And it will look good, too. As for the rest, we'll have to wait and see.
Did you know?
Did you know that American football was very nearly invented by William Webb Ellis? The notorious cheating upper-class twit, not content with 'creating' rugby by handling the ball in a game of football, was on holiday in America when he was invited to turn out for a local football team. He strolled onto the pitch wearing a Roundhead's helmet, with his shoulders padded with two rocking chairs and his body heavily dosed with goat stimulants. Straight from the kick-off, he picked the ball up and hurled it downfield, expecting his colonial chums to adopt his methods on the spot and form another new sport, as his gullible public school chums had before them. Instead, the Americans dragged him to the side of the pitch and kicked him unconscious. American football was then invented five years later, by someone else.
The king of video game football is getting ready to kick off on the PlayStation, carrying over the tradition of strong features that drove Madden NFL '96 to the top of the 16-bit standings. Up to five players can bump helmets with all 30 1995 NFL teams, as well as both Pro Bowl squads and the All-Madden team. Hardcore football buffs will get a thrill from the historical teams, which include the Super Bowl champs and NFL Hall of Fame teams from the '50s to the present.
A playbook packed with more than 240 selections and custom playbooks for each NFL squad bring serious strategy to the action. Other interesting features include multiple camera angles and customizable penalties, weather conditions, and playing surfaces.
Graphically, EA used motion-capture techniques to digitize real NFL players in action, so the onfield gameplay should match the realism of the rendered 3D representations of all 30 pro stadiums. CD-quality sounds and commentary from Madden, Pat Sumerall, James Brown, and Leslie Visser will lend TV-broadcast authenticity to the matches.
What you nearly played:
Back in 1995, gamers were scratching their heads months before the original PlayStation's U.S. launch, wondering if Sony had the guile to lure the big-name developer needed for their console to be a success. That question was answered when Electronic Arts announced it would fully back the system at launch--particularly with the latest edition of their most popular franchise, Madden football. EA had a sweetheart deal with Sony to release a handful of games on day one, and Madden was to come out in the first wave in September. The game was supposed to feature more than 100 teams in all, including classic Super Bowl-winning juggernauts like the '73 Buffalo Bills and '80 Houston Oilers. The entire cast of the Fox N FL Sunday crew was to join John Madden in the commentating, too.
Why you'll never play it:
Under tired leadership, EA Sports was busy churning out horrible sequels for the Genesis and Super NES and needed to find a developer outside of the company that could handle the Madden '96 project very quickly to meet the game's deadline. A small, inexperienced development team from Visual Concepts won the contract. But according to sources at EA Sports, it didn't take long to realize that Visual Concepts' programmers weren't entirely on the ball. "They tried to render each team individually," explains our source at EA, who spoke on condition of anonymity. "Instead of rendering a player, then applying different uniform textures, they painstakingly rendered the 49ers, the Cowboys, etc." This wasteful and redundant engine made the game load slowly; at times, there was nearly a 5-10-second pause as the machine loaded up the offensive or defensive players when a change of possession occurred. "In November, I saw the game and it was a wreck," says our source. "I knew it wouldn't ship in September of the next year." In December, so did the top EA brass. Yet they maintained the facade of Madden NFL 96 being ready for PlayStation launch--even to the point of sending early, horrific builds of the game to the press that would be "fixed up." Even though the game was allegedly in poor shape, EA might have tried launching Madden with the PlayStation, but that was stopped cold by Sony's GameDay. "EA saw that and they made the decision to can it--and it was a good decision. It was crap," says our source. Instead of recouping its development costs by selling a bad product, EA chose to safeguard its crown franchise by not releasing the game. The aftermath was felt internally and externally. The ridiculing of game press stung, and there was a top-to-bottom dismantling of the team behind Madden NFL '96 on the PlayStation. "They just barely got Madden NFL'97 done by the next year," our source says. "That was how behind EA was with the technology--and the new team did a great job of getting it done." It was not until the brilliant Madden NFL 2000 that EA recovered and reclaimed the number-one spot from GameDay. Visual Concepts, meanwhile, has gone on to become Sega's premiere developer of sports games (Sega, in fact, even bought the San Rafael-based studio prior to the Dreamcast's U.S. launch). The folks at VC declined to comment on the Madden NFL '96 debacle. But it's important to note that this company has changed a great deal since 1996 and has proven that it can develop killer titles. And as an ironic sidenote to this story, several editors on the our staff feel that Visual Concepts' NFL 2K1 is a better pigskin title than EA Sports' flagship PS2 launch title, Madden NFL 2001.
Madden '96 on the Game Gear is a below-average attempt to bring football into the handheld arena. While player control is decent, the high-pitched music makes your fingers rush to the volume control. Likewise, the small sprites lack detailed animation. Madden hits the sidelines with this mediocre game.
Manufacturer: EA
Machine: Super NES
We had an early look at the Super NES version, and it does look considerably better than '95. This year you can pitch the ball at any time during a play, which allows you to create bizarre returns. Another new feature is the create-a-player. In order to create a player, you have to send him to training camp where you perform various skill tests, like the 40 yard dash, tackling drills, and intelligence tests. The better you do in these tests, the better your player's skills.
But has the gameplay gotten any better? We didn't get a chance to check out the Genesis version and the Super NES was still real unfinished in the gameplay department. Next month, we'll continue to update you on the progress of this one.
Madden NFL games move relentlessly down the field of football video games like a 49ers opening drive. Madden NFL '96 for the Genesis not only gets a noteworthy bag of enhancements, but it now commands the toughest football A.I. out there.
New This Season
Madden '96 fields a solid lineup of new features. This year, of course, Jacksonville and Carolina up the team count to 30. The sound scores with real, sampled crowd noises, and you hear new witty Maddenisms.
Additionally, the game offers a new Scouting Combine feature, an excellent idea that could nonetheless use some tinkering. The Combine enables you to trade and waive players, and build selectable players at any position through a series of four drills.
However, these drills don't necessarily emphasize position skills. For example, there's no passing drill for future quarterbacks.
On the bright side, Madden receives a respectable graphics facelift. The rendered 3D character sprites look sharp, and the uniform colors are much richer. However, there was obviously a color tradeoff: Last year, skin tone was uniformly tan, while this year everybody's darker than a Raiders jersey.
Additionally, the animation features excellent details, such as helmets flying after big hits. For those who are easily impressed, there are digitized action stills of actual NFL players.
ProTip: The 4-3 Bear Attack is a good defense against running teams.
The Doomsday A.I.
For those who aren't that easily impressed, the familiar behind-the-line view widens slightly for a subtle but significant gameplay upgrade. Now you can see the entire defensive formation, including the cornerbacks.
You need every edge you can get, too, because the A.I. in Madden '96 is murder! There are no sure-fire pass plays anymore, and the A.I. defense is a relentless ball hawk.
The 4-3 2-Deep is a good defense against passing teams.
Pass completions can be few and hard to come by, so start out by playing primo passers like Young, Aikman, and Marino.
If you want to study your play- books during a game, you must stop the clock. Hit Start and select Set Audibles between plays. You'll have unlimited time to analyze plays.
Identify the high-profile players for real-life NFL teams. They get the job done in Madden, too.
Angle kickoffs toward the side line to help your special teams contain kick returners.
The mean and nasty A.I. will answer the prayers of hardcore Madden players, but it will surely frustrate rookies and bandwagon fans. The tried-and-true controls offer some assistance with new moves, such as enabling defensive backs to chuck receivers and ball carriers to lateral.
Madden for Mad Men
The story of this game is the aggressive A.I, which makes Madden '96 a must-have for true Madden pros. Just be prepared to get kicked all around the field.
Madden NFL '96 solidifies its position as the top-ranked SNES football game with a load of new features and upgrades. And it gets the nudge over its Genesis counterpart.
This year, all 30 NFL teams, including Jacksonville and Carolina, are present and accounted for, and there are 50 redesigned offensive and defensive plays. Additionally, Pat Summerall and Leslie Visser join the Madden broadcast team.
Madden powers into new territory with an excellent Front Office feature, which enables you to customize team rosters...from the ground up. Want Deion back, Niner fans? With the General Manager feature, you can try to make that blockbuster deal. Moreover, the Scouting Combine provides 13 drills, which you can use to build your own Deion clone.
As far as games-within-a-sports-game go, the Combine's a blast. Unlike the Genesis game, SNES Madden lets you use drills specific to each position you're trying to fill. For example, potential offensive linemen must perform pass blocking, and kickers must kick for distance and accuracy.
ProTip: Some defensive formations create gaps in the offensive line that are perfect for blitzing linebackers. For example, try 4-3 Contain and blitz the middle linebacker through the center gap.
Football Smarts
The A.I. is even more savvy than Madden '95's, which was no slouch. The pass defense destroys your passer's ratings by zeroing in on ill-timed flat passes or deep outs. On the other hand, the A.I.'s pass offense will pick apart wimpy defensive strategies. Fortunately, the game's three skill settings open up the game to all skill levels.
The game controls continue to gain good yardage. You can now pass to eligible receivers. You can also make laterals, call for fair catches, and "show blitz" on defense. However, the audible feature still fails to mark your plays in the playbook.
Gang Tackles
The graphics sport game-winning detail right down to some new taunts. The animation's fast -- significantly faster than in the Genesis version -- so defenders cover the ball very quickly. However, you'll still find that a multitude of players ridiculously crowd receivers who bobble passes.
For a tricky pass rush, occasionally move a defensive end into the center/guard gap before the snap. Don't let him down into a stance, and then hit Button B at the snap.
Short passes to running backs are a good substitute for running plays.
The sounds split the goal posts. Of course, Madden and Summerall get their two cents in. But the sampled stadium noises add real you-are-there flavor. Moreover, the crowd cheers whenever the home team pulls a good play.
Mad About Madden
EA Sports should have its own football Maddenism: "You want more; you get more!" Madden '96 makes the All-Pro team again.
Let's keep this short and sweet. Madden 96, to all intents and purposes, looks and plays as good as all of its predecessors. It's the new features that make this a newly-created classic. For starters, there are LATERALS!
All the bitching and moaning you and your buds used to do about how you couldn't toss the ball to another player is over. Also, there is a new bluff mode where you can fake your opponent out while choosing plays.
As if that wasn't enough, you can now customize players. In Madden '96 it's how good you are at rapidly hitting the buttons and dodging obstacles that decides how good the player you create is. Also, you can now act as general manager; try your luck dealing with a salary cap. A great update of the classic because the all-important gameplay remains intact. Isn't that what it's all about?
I've been jumping all over EA this issue about how there are some new players in town, and how they'll be turning up the heat on the Kings of Sports Gaming. What I didn't tell you is that these boys aren't sweating.
Madden '96 will be debuting the same time as its competition, and you'll be happy to know that there are no let-downs here. No real noticeable enhancements, graphically or playability-wise, but some new features have proven clutch. There are Pro-Bowl Teams, past Super Bowl victors and a bunch of squads from as far back as the '50s. Also, add the ability to customize players; where your skill with the buttons will determine the guy's strengths and weaknesses; and the option to act as general manager, and you've got a great game.
Sega Genesis/Mega Drive Screenshots
SNES/Super Nintendo/Super Famicom Screenshots
See Also
Viewing games 1 to 37