Madden NFL 2001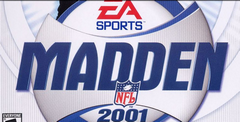 Click the "Install Game" button to initiate the free file download and get compact download launcher. Locate the executable file in your local folder and begin the launcher to install your desired game.
a game by
EA Tiburon, and Electronic Arts
Genre:
Sports
Platforms:
Playstation 2, Nintendo 64,

GameBoy Color,

Playstation

Editor Rating:

8.9

/

10

, based on

5

reviews
User Rating:

9.0

/

10

-

2

votes
Rate this game:
See also:
Sport Games, Sports Management Games, Football Video Games, NFL Games, Madden Games, John Madden Games
EA, which has historically had a tough time with first-generation games on new systems, is focused not only on breaking that tradition, but also topping the stunning graphics of the Dreamcast's NFL2K. The game will build upon the excellent intelligence found in Madden NFL 2000. So hopefully, even though the game is as pretty as a lovely blonde, it won't be nearly as dumb when it arrives this fall.
Download Madden NFL 2001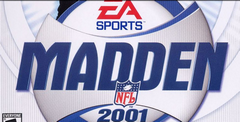 System requirements:
PC compatible
Operating systems: Windows 10/Windows 8/Windows 7/2000/Vista/WinXP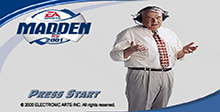 System requirements:
PC compatible
Operating systems: Windows 10/Windows 8/Windows 7/2000/Vista/WinXP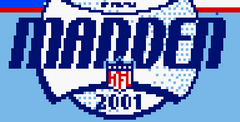 System requirements:
PC compatible
Operating systems: Windows 10/Windows 8/Windows 7/2000/Vista/WinXP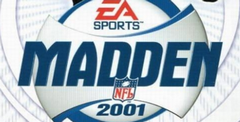 System requirements:
PC compatible
Operating systems: Windows 10/Windows 8/Windows 7/2000/Vista/WinXP
Game Reviews
People say:
9
There's no doubt in my mind that this is the bestlooking PS2 game out of the gate. When I first booted it up, I thought I'd died and gone to football heaven, and for good reason. The attention to detail is incredible. There's the things you'll see during gameplay, such as the receivers reaching out to catch the ball, or the way players' body parts react when hit. Then there's the coaches on the sideline, or the chain-gang moving the First Down marker before the players barrel into it. But the most amazing things are the moments you might need an Instant Replay to catch: a QB grimacing at a receiver who drops the ball, the grass stuck in helmets, or players following the ball into their hands with their eyes--you can even see them spread their fingers to accept it. Of course graphics aren't the only draw. Just like its PSi counterparts, PS2 Madden is a very realistic brand of football that's made even moreso by the animations. For example, you can't just hit a receiver in the back for him to make a catch anymore, now you have to put it somewhere his hands can reach. The news isn't all good, however: whereas Madden PSi's gameplay might be a little too fast, this one is a little too slow. Players don't seem to move quick enough, even if you pound on the speed burst. It's not too bad, but Madden fans shouldn't expect this one to play as quick as you're used to. A small price to pay for such amazing progress.
9
It's a brand-new ball game. Pardon the cliche but it applies. The plays, sound effects and controls may be familiar but the soul of the game is completely new. The overwhelming theme? It's more a sim than ever before. It truly requires a knowledge of football strategy to be successful. In the PS version you can get away with a lot of slop: that won't happen here. A smooth framerate, killer animation and decent Al keep things very honest. I miss the exaggerated collisions, but that would look out of place with the realistic nature of this title. One complaint: It's mighty tough to break through the offense line. Otherwise, I've found my new obsession.
9
Undoubtedly one of the highest profile launch games for PS2, EA has done almost everything right with Madden. Jaw-dropping graphics and attention to subtleties never seen before in a football game close the gap between this simulation and the real thing more than ever before. The eye movements and facial expressions are astonishing, and the huge variety of catching and tackling animations make this game come alive. Fortunately, EA included just about all the controls and plays you're used to from previous Madden games. About the only minor gripe I have with M2001 PS2 is that gameplay has a slightly sluggish feel to it.
People say:
9.5
I recently read on the news wire that Pat Sum me rail announced his plans to retire after this season. It couldn't come at a better time, and hopefully Madden will follow. Ironically, the only thing holding back EA's impressive franchise seems to be the blub-bery broadcaster (and his pal) that dissipates the game's excitement. To EA Sports'credit, Madden NFL 2001 is such a good football game that this audible blemish doesn't pull the game down (and thankfully there's an option that allows you to turn the announcers off). Madden 2001 has everything a football fan could want, and more. EA's fast 3D engine has seemingly milked every bit of processing power the PS has in it to make the detailed players fly around the field. While that is easy to appreciate, the spotlight should also be shared by the impressive computer intelligence whose only weakness is apparent when it stumbles and bumbles trying to run the ball effectively (it does, however, pass quite efficiently.) If the game gets too complex, simply tune down the difficulty level and make it more manageable. The thing that really surprised me are the "Madden Cards," which is the best new feature I've seen in a football game in a while. Here you can earn, trade and bet cards that can be used to open codes or improve players. There's something for everyone in this game--the only reason not to buy it is to wait for the PS2 version.
9.0
If this were any other football game I'd say skip it 'cause it's not much different than its previous edition. But this Madden...need I say more? Buy it for the roster upgrades alone. On a tangible level 2001 feels smoother and more responsive overall. The running game is still friendly. Follow your blockers for 3-5 yards a pop, no problem. Passing is as good as it's ever been. They've included a few more plays as well. If I could change anything I'd add even more tackle animations and slow down the kick meter. Otherwise, it's just right. As a side-note, enjoy this one while you can because once you play Madden for the Ps2, you may not pick it up again.
9.5
What more can you say about a game that defines state of the art in football sims for this generation of consoles? While all the obligatory ingredients are there for a standard football sim (teams, players, playbooks, even coaches this year), these elements performing together in concert is what makes this game so great. From the opening series of plays the rock solid control and movement of players was palpable. Part of the appeal of playing a sports game is that if it's faithful enough to the sport it emulates, then it transcends the typical game experience and becomes an extension of the sport for the fan. Madden attains this ultimate status.
While the bulk of our pigskin attention will be focused on the PS2 edition of EA's Madden NFL 2001, it's important to tell you that our old trusty PlayStation is getting another update and it's looking darn good. The improvements in this year's version are widespread, ranging from speedier gameplay to the new "Madden Card" system, which is basically an improvement on last year's Madden Challenge. With it, you earn tokens by accomplishing on-field feats which can then be used to buy "Madden Cards," which unlock codes and other bonuses and can also be traded with friends. Think of it as PokeMadden. Other new features include team-tailored playbooks, a "Two-Minute Drill." This is really looking good, and you'll see it in August.
What's the deal?
When we think console football, we think of fat guys like John Madden. And while he isn't a pleasant sight, it sure looks like his PlayStation 2 game is. Electronic Arts, despite all of its resources, has been vexed when transitioning to a new platform-a fate they refuse to repeat ever again. "Everybody talks about platform transitions and first-generation titles," says Steven Chiang, executive producer on Madden 2001. "But Madden NFL 2001 doesn't look or play like a first-generation football title."
EA has had the benefit of having access to PlayStation2 development hardware for longer than most, and they've clearly taken advantage of it. In May, they debuted a fully playable version of the game that had graphics that quite simply blew everyone way. Chiang guards against Madden 2001's only improvements being chalked up to simple eye-candy. "It is more than just a beautiful-looking game-it's fun to play and it has amazing depth. The engine is optimized to run in a high-resolution (640 x 480) and at 60 frames-per-second (read: smooth.) There are a ton of animations, a new collision system, and improved A.I." Furthermore, some of that eye-candy brings about big gameplay changes. "We now have detailed throwing animations for the Quarterback, and while he's in this motion, he moves differently. Assuming the QB is right-handed, he can't roll left as fast, and the QB back pedals at a different rate than if he steps up," says Chaing, who then explains why we should care. "This changes the passing game because if the user throws the ball while back pedaling, the QB will throw off his back foot, resulting in a less-than-perfect pass." While casual football fans might not care, it's the sort of thing that die-hard gridiron junkies will treasure.
So why is it a must-get game?
Madden 2001 on the PlayStation is an absolutely amazing football game, and its brains and gameplay have basically been transplanted and improved on the PlayStation 2. This is definitely one of the most impressive PS2 games we've seen to date and it seems like nothing short of EA sliding off into the ocean could stop it from living up to expectations. Oh, wait--they are based in California.
Playstation 2 Screenshots
Nintendo 64/N64 Screenshots
GameBoy Color Screenshots
Similar Games
Viewing games 1 to 10