NFL Quarterback Club 96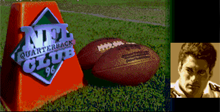 Click the "Install Game" button to initiate the free file download and get compact download launcher. Locate the executable file in your local folder and begin the launcher to install your desired game.
When Acclaim first hit the football gaming market, it enlisted the help of some big-name quarterbacks to help establish itself with gamers.
Now that NFL Quarterback Club has proven itself as a solid series, In '96, Acclaim has quietly shifted the emphasis from quarterbacks to overall gameplay--and the results show in this game.
Make no mistake: The game's stars are still its golden arms. The 800 or so plays include special "signature plays" named and custom-designed for each quarterback.
However, QB Club '96 has gained even more weight during the off-season, and none of it is fat.
A special Practice Mode lets gamers run plays as a team or pick a certain position to run plays from. It's an excellent way to get a feel for the game.
One of QB Club's most innovative features has been its Historic Simulation Mode that lets gamers relive and play some of the best moments in pro football history. The '96 version has 50 such nail-biting scenarios.
The player animations have been spruced up somewhat. New moves such as drag tackles, over-the-top dives and passing on the run add visual flavor to the game.
Also added are "hyper audible" that give gamers more than 50 plays to choose from at the line of scrimmage. The sheer number of plays may overwhelm beginners, but it's about time a football game gave players total control over play calling.
Programmers sought to jack up the game's realism factor by including more than 10 times as many stats as last year's version. Not only can players be substituted, but gamers can play any position on offense and defense.
QB Club '96 strengthens Acclaim's position as a major player in gridiron games.
MANUFACTURER - Acclaim
THEME - Sport
NUMBER OF PLAYERS - 1-5
Download NFL Quarterback Club 96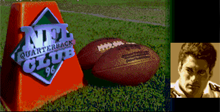 System requirements:
PC compatible
Operating systems: Windows 10/Windows 8/Windows 7/2000/Vista/WinXP
Game modes: Single game mode
Player controls:
Up, Down, Left, Right - Arrow keys
Start - Enter (Pause, Menu select, Skip intro, Inventory)
"A" Gamepad button - Ctrl (usually Jump or Change weapon)
"B" button - Space (Jump, Fire, Menu select)
"C" button - Left Shift (Item select)
Use the F12 key to toggle mouse capture / release when using the mouse as a controller.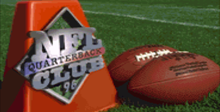 System requirements:
PC compatible
Operating systems: Windows 10/Windows 8/Windows 7/2000/Vista/WinXP
Pentium II (or equivalent) 266MHz (500MHz recommended), RAM: 64MB (128MB recommended), DirectX v8.0a or later must be installed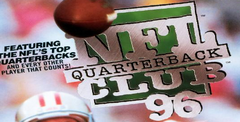 System requirements:
PC compatible
Operating systems: Windows 10/Windows 8/Windows 7/2000/Vista/WinXP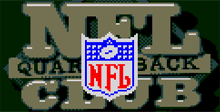 System requirements:
PC compatible
Operating systems: Windows 10/Windows 8/Windows 7/2000/Vista/WinXP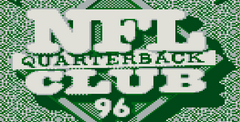 System requirements:
PC compatible
Operating systems: Windows 10/Windows 8/Windows 7/2000/Vista/WinXP
Game Reviews
Here's something you don't normally find in a football game. Play in a game and compete against other top QBs in the league. Animations in the game and the QB Challenge are quite exceptional. Top it off with cool sound effects and you get an excellent football game where you can play up to five players at one time. Challenging Al.
This game is three games in one. I realty enjoyed the crunch time feature and the QB Club competition isn't for the faint of heart. The difficulty setting is quite high, but it's fun after you get used to what you are supposed to do. In terms of the game play, it has a ways to go. The players are blocky and the receivers, despite the colored arrows, are hard to follow.
Are you ready for some more football? It's still crunch time, even if the NFL season is over for the year. You can still replay the big game using the Dallas Cowboys vs. the Pittsburgh Steelers, or any of the teams you wish had made it to the Super Bowl, with NFL Quarterback Club '96 for the PlayStation and the Saturn. The game has been out for the Genesis and the Super NES for some time.
However, Acclaim has taken some extra time with the 32-Bit versions of the game.
The game features members of the National Football League's passing elite, including all of your favorite NFL quarterbacks. The game has an NFL and an NFL Player's license.
It features an all-new passing interface that gives gamers an unlimited view of the field and more of a chance to see the open receivers or backs as a play develops.
Multiple camera angles allow you to watch an instant replay from virtually any angle. Other perspectives include an over-the-shoulder view with the shoulder cam and an auto-view that adjusts the camera from any position. If you use the blimp cam, you can see the entire field, including both end zones. This isn't an ideal camera to play from, but you get the picture. You can also adjust the camera to view any particular play from multiple vantage points.
Additionally, NFL Quarterback Club '96 has an advanced Al that makes the computer tougher to play against.
The Crunch Time simulator is back and this time is armed and dangerous, with 50 different game situations for you to test your playing skills against.
MANUFACTURER - Acclaim
THEME - Sport
NUMBER OF PLAYERS - 1-12
QB Club '96 is worse than Neil O'Donnell in the clutch.
The many strong options, like season play, simulation, and the ability to switch QBs between teams, are overshadowed by sloppy game design and a poor A.l. (see Saturn ProReview, April). Although one-player games lack quality gameplay (you can run the same play all game and win), two-player competition packs enough punch for the average fan.
With colorful, realistic player graphics, this QB Club's cleaner than the Saturn version. Irritating screams dominate the sound on die field.
Despite the decent features and graphics, QB Club lacks solid, addicting gameplay. It isn't in the same league as GameDay.
ProTips:
Jump for passes even if you don't think you can catch them. The refs often hail you out by calling pass interference.
Find your best LB or DE and blitz the QB relentlessly.
Coming later this year for the Sega Saturn and PlayStation, NFL Quarterback Club '96 will offer realistic football video game action with the use of Acclaim's advanced motion-capture technology. This will provide authentic movements of football players to give you the most realistic graphics and action that a video football game can have The game will consist of more than 800 offensive B and defensive plays--even signature plays from the Quarterback Club. A wider perspective allows you to view the field from different angles. There are many factors that will make this one of the best football games this year.
With NFL Quarterback Club, Acclaim tries unsuccessfully to squeeze NFL action into a Game Gear cart.
Quarterback Sacked
Offering Preseason, Play-Off and Season modes, this game puts all 28 NFL teams at your disposal. The gameplay isn't very entertaining, however. The play books are pretty limited - unfortunately, each team is alloted 20 running and passing plays, so pass-happy teams like the 'Niners don't have the added passing plays you'd like. Even worse, you're missing the Simulation mode, QB challenge, and the "build-your-own QB" feature that made the 16-bit games unique.
After the great opening cinematics, you'll be disappointed with the game's graphics. The perspective is good, but the character detail has been sacrificed to give you a larger field view.
The sound is even worse than the graphics. The major problem is the lack of game-related noises: There are no tackling sound effects! Other than the crowd noise, you get zero NFL sounds.
Quarterback Clubbed
With offensive spin moves and speed bursts, the simple, effective control is the best thing this game has to offer. When passing, however, the computer chooses your intended receiver.
Two difficulty modes give the experienced armchair QB more to sweat over, but too much is missing to put this game in the end zone. If you have to stretch the pro season onto the Game Gear, there's a better game on Madden's field.
ProTips:
When the computer team scores, select the Graveyard Blitz to block the extra point. The penalties have no effect, so don't worn about going offsides.
Secure a breakaway for a touchdown by rapidly pressing Button 2 after you make a reception.
As Acclaim's football franchise, NFL Quarterback Club '96 does a nice job of establishing field position on the SNES. This version essentially mirrors the Genesis game with a similarly offensive-minded A.I. but slightly slower player speed.
Total Offense
The Club has plenty of flash. It kicks off with all 30 NFL teams and a playbook packed with 400 plays, which you can flip. General managers can even create an entire 11-man team using specialized practice categories to build up specific position skills.
The all-the-way-in-one-play CPU, however, is a defensive coordinator's nightmare. The teams were programmed according to '95 stats, but you can easily lead the Patriots in an embarrassing rout of the Cowboys. For balanced competition, play a friend in the more evenly tuned head-to-head mode.
On the field, well-crafted controls open up an impressive variety of moves. Players can spin, straight-arm, dive for catches, and jump for interceptions. There's even a power mode that increases the ability to either break or make tackles.
You can also set three standard audibles or use the 50 preprogrammed Hyper Audibles. You can call Hypers on the fly, and if you get really good, you can play most of a game without opening a playbook!
Championship Seasons
You literally can't lose with this game. If you think winning is the only thing, the Club can make all your football fantasies come true.
ProTip: A press-catching running back can be an invaluable custom player.
You think Jerry Jones loaded up the Cowboys? Acclaim and Iguana Software dug deep for an all-out attack on Madden Football that certainly establishes Quarterback Club as one of the league's best. But no team is unbeatable, particularly in this game.
ProTip: New formations for Club -96 include even responds to the a run-stuffing 4-6 defensive alignment.
Solid Fundamentals
QB Club has the basics covered. All 30 NFL teams and their starting players are present. There are roughly 400 plays, which you can flip.
Also, up to five players can play, and QB Club's packed with stats right down to the number of running plays that were run left or right.
The Club's game- winning visuals really pump up the action. The classic behind-your-team look paints a topnotch, 50-yard downfield view that includes all 22 players. Add sharp sprites, and this game is a Genesis division leader. However, the gameplay animation is slower than Madden's.
Clear, distinct quarterback-signal barking and referee calls juice the audio. The crowd even responds to the home team.
Moves You Can Use
The controls are first string, even though ball carriers have just two moves and it's tough to tackle from behind. The Hyper Audibles in particular are an excellent control feature. You can set six regular audibles, but Hyper's built-in button sequences unleash 54 preset audibles on the fly.
The intelligently constructed Practice mode is one of the best "extras" in this football game. This radical and practical feature contains 19 drills for offense, defense, and special teams, which use actual gameplay views and controls.
With such an overwhelming wealth of assets, can QB Club's championship drive stall? It happens to the best. Like the '95 edition, the CPU's easily beaten even at the All-Pro skill level. It's a gas to go undefeated in the NFL by racking up college football scores; however, football purists may bail long before they decide to take the Panthers roaring to the Super Bowl.
For Members Only
Quarterback Club is an impressive, finely crafted game for the masses that's easily the class of the Intermediates league. For gonzo football gamers, though, the average CPU doesn't match Madden '96 tough A.I. Apply for Club membership accordingly.
Sega Genesis/Mega Drive Screenshots
SNES/Super Nintendo/Super Famicom Screenshots
Similar Games
Viewing games 1 to 7