NFL Quarterback Club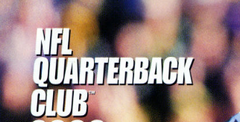 Click the "Install Game" button to initiate the free file download and get compact download launcher. Locate the executable file in your local folder and begin the launcher to install your desired game.
There are many cheap imitations, but there are very lew football games like the Club. It's a sure-fire way to steal boredom from avid sports gamers who enjoy fine football games.
This cart is loaded with 24-Megs of fun and features three games in one.
The player animations are huge and the controls are easy to master. The Iceman and I went head-to-head on this game. I picked the Cowboys and he picked the 49ers. As usual, the Cowboys put the boots to the 49ers during the regular season.
In game two, I chose the Bills and he took the Los Angeles Raiders. This time I got handed my lunch by the Iceman. He also beat me at the Quarterback Club segment of the game where all of the NFL's top quarterbacks get together to test their metal. He's good ... he's great ... he's the best... NOT, but he's a pretty fair football gamer.
You'll enjoy some of the many features the game offers. The game play is good and the scoreboard animations are coforful.
On both sides of the ball, there's a lot of variety in terms of play calling.
With the man in Motion Option on offense, the number of plays you can call is virtually unlimited. There are 216 plays to choose from on defense with the Fipping Option. Only a portion of those plays were actually available when we took to the gaming gridiron and put this game through its paces. We can hardly wait for the finished version!
QB CHALLENGE TESTS YOUR GAMING SKILL
Gamers can play in pre-season, regular season, multiple season, championship, Pro Bowl, Crunch Time Simulation, or in the Quarterback Challenge Mode.
The Crunch Time simulation brings up different game situation scenarios. Your team is down by 10 points with five minutes to play or down by six points with two minutes to play. The situations are challenging and add a dimension to the game that players haven't been introduced to before.
The Quarterback Challenge tests your gaming speed, reflexes, accuracy, and above all, your keen gaming eye as you hit moving targets for points or run through the obstacle course to try and get the quickest time.
You can also put your quarterback's arm to the test in the long-distance throwing portion, as you toss the ball using one of the NFL's top 20 quarterbacks.
Up to live players can play the game using the multi-tap adapter. Before starting the game, you can choose different types of weather conditions, such as fair, rain, snow, heat wave, and cold snap. Wind conditions change automatically in outdoor stadiums.
The players also react to the various weather conditions. During the cold snaps, it's harder for the receivers to catch the ball.
There are three levels of difficulty, like Rookie, Pro, and All Pro. Gamers can choose from four-, eight-, 20-, 40-, and 60-minute games.
There are no passing windows. Cofored arrows show you the extent of the coverage. Yellow means player is covered slightly. Red means double coverage--don't throw. Green light means bombs away--go deep into the opposing end zone for a quick six.
TEAM, SEASON, AND PLAYER STATISTICS KEPT FOR YOU
All of the new rule changes for this season, including kickoffs from the 30-yard-line and two point conversions, are in this game.
Statistics on the progress of your team, players, and season are all kept by the computer. One of the coolest aspects of this game comes from the advanced artificial intelligence that was programmed into the game. When one of the blockers makes an initial block, he goes down field and continues to block until the play is dead. On defense the same holds true with pursuit during a play. The game is very realistic and Madden lovers will want to check out Quarterback Club.
Download NFL Quarterback Club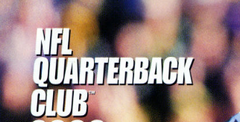 System requirements:
PC compatible
Operating systems: Windows 10/Windows 8/Windows 7/2000/Vista/WinXP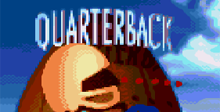 System requirements:
PC compatible
Operating systems: Windows 10/Windows 8/Windows 7/2000/Vista/WinXP
Game modes: Single game mode
Player controls:
Up, Down, Left, Right - Arrow keys
Start - Enter (Pause, Menu select, Skip intro, Inventory)
"A" Gamepad button - Ctrl (usually Jump or Change weapon)
"B" button - Space (Jump, Fire, Menu select)
"C" button - Left Shift (Item select)
Use the F12 key to toggle mouse capture / release when using the mouse as a controller.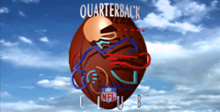 System requirements:
PC compatible
Operating systems: Windows 10/Windows 8/Windows 7/2000/Vista/WinXP
Pentium II (or equivalent) 266MHz (500MHz recommended), RAM: 64MB (128MB recommended), DirectX v8.0a or later must be installed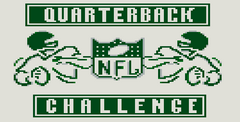 System requirements:
PC compatible
Operating systems: Windows 10/Windows 8/Windows 7/2000/Vista/WinXP
Game Reviews
The football season is long gone, but that doesn't mean you have to stop playing ball. NFL Quarterback Club enables you to replay the 1994 season, relive past glories, and hone your skills for next year's season.
This QB Can Play
As a versus football game, QB Club's NFL Action mode makes the playoffs. You get real NFL teams sans real players. QB Club uses the recent schedule, so you can rewrite history if your team had a losing season (hellooooo, Cincinnati!).
ProTips:
Experiment with the return team. You can break a few rules against this game.
The refs are blind. Try to knock receivers off the ball while it's in the air.
This game can trade passes and mix defenses with the Genesis big boys, Madden and NFL '95. The action's backed up by a hefty offensive and defensive playbook -- 430 plays if you flip'em. Also, players can jump or dive for passes and put on speed bursts for quick moves and tackles. You can also pick angles for punts and kickoffs, save audibles, and call no-huddle anytime.
The on-field graphics and sounds do a mediocre job. The sprites aren't pretty, and they don't move with NFL's flair, but they're quick enough. The sounds are strictly body-on-body effects and stadium noise -- no music, no announcer, no problem.
Other great features keep the game interesting. A step cam enables you to isolate replays on any player and watch the action frame by frame. For stats fans, a Drive Summary reviews the yardage and time of possession for touchdowns.
Fantasy Football
For drama, Simulation mode deposits you into the NFL pressure cooker. You guide teams to victory in 30 tight game situations. Twenty-six are based on real-life contests, including the Broncos' classic fourth-quarter comeback against the Oilers in '92. Fantasy fans get four imagination-stretching matchups like the Panthers versus the Jaguars in the 2010 Super Bowl.
Training-Camp Blues
QB Club has personality, too. In Quarterback Challenge, you play as 19 real-life pros or build your own QB. The Club includes stars like Aikman -- but where's Montana? You also get slick football- card digitized face shots of the pro stars with their signatures.
Mad bombers, beware. You can go long on the CPU, but mix your receivers, or the computer defenders kill your one-dimensional offense.
Five players can play in four events: Accuracy, Distance, Speed and Mobility, and Read and Recognition. The passing drills (Accuracy and R&R) are great fun from the excellent behind-the-quarterback view. Speed and Mobility features neither, and Distance is merely macho button pressing.
New Look Offense
This game's QB Challenge and Simulation mode bring imaginative extras to traditional video football. If you want variety on your video football team, join the Club.
Use audibles as your team's bread-and-butter plays. On offense, try a pass and a run. On defense, use a killer blitz or tight medium-pass coverage.
If you're in the open field, zigzagging helps you elude pursuit. Press Button C for a quick speed burst just before you're tackled.
People say:
5
I'll admit this edition of Quarterback Club is much improved, but in light of the devastating competition, it only has a small chance of surviving the holiday season. And now that Madden PS2 and NFL 2K1 are established as both great-looking and great-playing games, the stakes are even higher. QB Club 2001 can't fall back on its looks anymore. Still, if you're a fan of the series you're going to like the improvements. To start with, the passing game doesn't require you to press a button to catch anymore. That was a major hassle and a stupid idea to begin with. Running the ball, while still sketchy, is much easier as well--I found myself enjoying that portion of the game this time. And last but not least, the crazier Al glitches have been cleared up. Defenders aren't running away from the ball as much, or doing completely brainless things. Now the bad stuff. The control configuration is totally illogical. The triggers are used to switch players and the "B" button is the dive tackle--it's really awkward. After years of playing Madden and GameDay with the "switch-and-dive" buttons right next to each other, it's darn near-impossible to change. Last complaint: The camera shouldn't pull out so far after the snap. It disrupts your concentration by making you strain to find your receivers. Oh, one more thing, the play-by-play commentary could be more exciting. While the improvements are nice, it's too little too late.
5
There's no way on Earth I can recommend anyone bothering with this when NFL 2K1 is here, complete with online play. QBC has become more irrelevant as the years have gone by, and even though this one is slightly better than last year's, I can't imagine any reason someone would want to buy it. It's not a bad game, it's just very mediocre. There are few high points: The play by play is cool and some aspects of the game are realistic, but that doesn't make up for the choppy gameplay and shoddy controls. The graphics aren't bad, but they have a sterile feel to them. QBC just isn't exciting to watch or play, and NFL 2K1 makes its flaws even more obvious.
2
It's almost comical that Acclaim decided to continue this series on Dreamcast. Yeah, maybe the big "A" can get away with pushing this junk on N64 owners, but DC fans have already experienced the brilliance of NFL 2K and expect more of the same from 2K1. Needless to say, the Club, along with cover boy Brett Favre, is in need of a mercy killing. Just touching on a few drawbacks: poor menu interfaces, a lack of customizable controls, shoddy Al, goofy animations and no real innovation whatsoever (wait, I did see a player slip and lose his footing in the snow!). QBC2001 is better than QBC2000, but that's like saying the flu is better than pneumonia.
What can be more sinfully evil than a wacky miniature golf game--when you add in the vicious elements of croquet. You can tee up and smack your opponent's ball out of bounds (OB) by just touching it with your own ball in the same manner as croquet. (A really fun way to ruin friendships, relationships, and family!) Two thumbs up for Masaya's ingenuity.
Publisher: Acclaim
Developer: Iguana Entertainment
Just a few months ago we put the Super NES and Genesis versions of NFL Quarterback Club under the Game Players' microscope (reviewed in GP Sports, 8#2). Despite the many delays in development, the final product proved to be definitely worth the wait. The trend continues as Acclaim moves the impressive NFL Quarterback Club to Sega's 32X.
While the 32X version lacks the Quarterback Challenge mode found in the 16-bit cartridges, that is the only area in which the souped-up model lags behind its predecessors. Incredibly smooth animations (and I mean that) make the game a delight to look at, while obliging controls make it just as much fun to play. Added bits of realism - both on the field and in the playbook - give this game a few advantages over the front runners on the 16-bit platforms. Still, despite the graphics and solid game play, Quarterback Club doesn't measure up to the top-ranked Super NES Madden NFL '95, although it comes as close as any of the recent pigskin releases.
Besides Exhibition, Season, Playoff, and Pro Bowl play modes, there is also a Simulations feature. As in the 16-bit versions, you get to strap your helmet on and test your mettle in 30 reality-based scenarios of varying difficulty. The 19 featured QBs are the only players whose names are acknowledged in the game, but accurate player numbers are included for each team and there are 28 NFL squads to choose from. And four battery back-up slots are available to save your progress once you begin the tough road through a season or the playoffs.
If you're a Sega fan who was disappointed that the Genesis version of Quarterback Club didn't quite measure up to its Super NES counterpart, take heart. Although the 32X version lacks the unique Quarterback Challenge feature, it does an excellent job of combining smooth graphics and solid control to yield a great gridiron title.
Another fun gridiron cart for Game Gear comes out of Acclaim's offices. NFL Quarterback Club brings together the league's best QBs to make a simple yet enjoyable football game. Unlike the Genesis and Super NES versions there is no quarterback challenge, just helmet-to-helmet football action.
Unlike Madden, and most football sims, the field scrolls horizontally instead of vertically. While this cuts down on graphic flicker along the line of scrimmage, it often results in the disappearance of the quarterback, running back, and any defensive safeties that happen to be positioned along the same horizontal plane. A unique feature of Quarterback Club is the choice to use XS and Os or regular player sprites.
As in Madden, exhibition, seasonal, and playoff modes are offered. There are six general play groupings on offense and defense, each including four plays. Passing is the quickest way to move the ball, but the flicker and small sprites place a limit on how tight your defense can be. Speed bursts and diving tackles help out though.
NFL Quarterback Club for Game Gear is not a football simulation like its older brothers on SNES and Genesis. Instead it's an arcade style football action game that is wide open offensively, but still fairly fun to play. Check it out!
Graphics: 8
Gameplay: 7
Innovation: 6
Music & Sound FX: 6
Replay Value: 7
Machine: SNES, Genesis;
Manufacturer: Acclaim; Park Place
Acclaim has enlisted the programming genius of Park Race, best known for games such as John Madden Football and NhlHL Hockey, to develop NFL Quarterback Club.
This sports simulation lets you play exhibition games, playoffs, or even the Super Bowl as any of the 28 NFL teams. There are 128 different offensive and defensive play possibilities - all you have to do is call in one of ten top quarterbacks.
Quarterbacks:
Troy Aikman
Randall Cunningham
John Elway
Boomer Esiason
Jim Kelly
Bernie Kosar
Warren Moon
Mark Rypien
Phil Simms
Steve Young.
You can even design your own quarterback, deciding his accuracy, speed, mobility, and passing distance.
Acclaim, besides making some great licensed games, is trying to get into the sports market. Quarterback Club's an interesting new football game that has many cool features. Now you can match up your quarterbacks and see their skills. You also get the perspective of being the quarterback as well.
The Super NES and the Genesis are both pretty good. This game's an interesting twist on the now common theme. Are you good enough to join the QB Club?
NFL Quarterback Club mixes nicely executed razzle-dazzle with solid, basic video football to build a serious playoff contender. The Club's flash includes five- person game play, 19 NFL quarterbacks, 28 NFL teams, and the ability to build a custom QB.
Join the Club
QB Club offers diverse action that's neatly organized into three entertaining modes: the Quarterback Challenge. NFL Play, and Simulation.
Quarterback Challenge is a skills contest consisting of four events -- Accuracy, Distance, Read & Recognition, and Speed & Mobility. You can build a custom QB here, or you can pick one of 19 NFL quarterbacks, including Montana and Elway. The great football-card head shots of the pros and their signatures are a graphical highlight.
ProTips:
Every team has several signature plays, but the computer's defense is prepared to sniff 'em out. Use them sparingly.
Always take sweeps as far outside as you can.
Find a favorite passing play and perfect it. If you're a good quarterback, passing can be deadly against the computer.
For passing purists, the first three drills are a gas. They use a slick behind-the-quarterback view to test your passing skills. Speed & Mobility is Club's one weak feature, since you're on-screen sprite displays neither quality.
NFL Action
NFL Play serves up the well-crafted football in this game. In Preseason, Regular Season. Playoffs, or Pro Bowl game modes, you guide the on-field action via a sharp, Madden-like view that looks out from behind your 11- man squad. You can even start your custom-built quarterback for one of the teams!
The easy-to-use playbook is meaty, even if it's not quite up to either Madden NFL '95 or Sega Sports' NFL '95 specs (those games give you as many as 215 offensive, defensive, and special-teams plays). You can flip plays in QB Club, though.
Try the Wedge for effective kick-off returns.
The All-Pro controls enable players to pull an impressive variety of moves. You'll spin, juke, hurdle, accelerate, dive, and jump for catches or interceptions. However, the game-play visuals get an off-sides penalty for the typically dizzying screen flip on interception returns.
Simulation is a nifty mode that should thrill hardcore fans, even as it puts on the big-time pressure. You play as quarterback in 30 tight game-breaking situations: 26 are from real NFL games spanning 1957 to 1993, and four are pure fiction.
To beat the Quarterback Challenge, you must master Accuracy and Read & Recognition. Concentrate your practice time on those two skills.
Quarterback Scores
With training camp-style drills, preseason games, fantasy matchups, and regular-season action, this solid game should satisfy any armchair quarterback. Join the Quarterback Club.
Sega Genesis/Mega Drive Screenshots
SNES/Super Nintendo/Super Famicom Screenshots
See Also
Viewing games 1 to 11