Madden NFL 95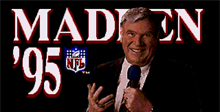 Click the "Install Game" button to initiate the free file download and get compact download launcher. Locate the executable file in your local folder and begin the launcher to install your desired game.
a game by
Electronic Arts, Visual Concepts, and High Score Productions
Genre:
Sports
Platforms:
Genesis, SNES, GameGear
Editor Rating:

7.1

/

10

, based on

11

reviews
User Rating:

8.0

/

10

-

2

votes
Rate this game:
See also:
Sport Games, Sports Management Games, Football Video Games, NFL Games, Madden Games, John Madden Games
Time to hurt somebody in my favorite sport of all time! That's right--football.
Put your helmets on and check your shoulder pads at the door! We're going to get into some heavy hitting with EA Sports, a gaming dynasty in their own right, much like the Dallas Cowboys and the San Francisco 49ers.
John Madden Football '95 from Electronic Arts rules. The game was totally redone after last year's version.
Everything from the artwork to the play calling was reworked. Among the changes is the 48-man expanded roster.
You can bring in your back-ups and change your personnel depending on the situations this year. The passing windows can be retained through an option. Play an entire season with the computer, keeping statistics on each team and individual players' accomplishments. This year John Madden himself designed a host of new defenses and had input on the way they were placed in the game. The defenses are tougher, and included in this version are classic NFL defensive alignments from the NFL's best teams.
On offense each team has its own specific play calling module that the computer accesses. On third and short Buffalo will call a different play than the Dallas Cowboys. The actual style and play calling trends of each team are built In. This year the computer is much tougher.
The two-point conversion, along with kick-offs from the 30-yard line with lower kicking tees are in this year's version.
If a receiver goes for a touchdown and no one is near him, he will stop at the goal line, turn around, and fall backward into the endzone doing "The Plunge."
MANUFACTURER - ELECTRONIC ARTS
NUMBER OF PLAYERS - 1 to 4
Download Madden NFL 95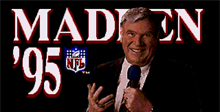 System requirements:
PC compatible
Operating systems: Windows 10/Windows 8/Windows 7/2000/Vista/WinXP
Game modes: Single game mode
Player controls:
Up, Down, Left, Right - Arrow keys
Start - Enter (Pause, Menu select, Skip intro, Inventory)
"A" Gamepad button - Ctrl (usually Jump or Change weapon)
"B" button - Space (Jump, Fire, Menu select)
"C" button - Left Shift (Item select)
Use the F12 key to toggle mouse capture / release when using the mouse as a controller.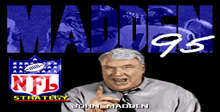 System requirements:
PC compatible
Operating systems: Windows 10/Windows 8/Windows 7/2000/Vista/WinXP
Pentium II (or equivalent) 266MHz (500MHz recommended), RAM: 64MB (128MB recommended), DirectX v8.0a or later must be installed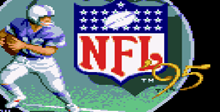 System requirements:
PC compatible
Operating systems: Windows 10/Windows 8/Windows 7/2000/Vista/WinXP
Game Reviews
The two biggest complaints about the Madden games usually focus on the limited plays and the weak computer competition. EA Sports solves both problems in Madden NFL '95 for the Genesis, earning it a place among the best football simulations ever.
Madden Madness
The game play is standard Madden, but new options abound. Right away, you'll notice twice as many plays on both offense and defense. Another good feature is the injury factor -- players can sustain 70 different injuries that might cause them to miss games. The only flaw on the options list is the loss of the all-time great teams like the '72 Dolphins.
ProTip: Use your defensive backs to bump receivers out of position and force an incomplete pass.
EA Sports has also upgraded the computer's A.I., and it's no longer a cream puff. For instance, on offense you face more computer-controlled blitzes than ever. Additionally, unlike its SNES counterpart, Madden '95 on the Genesis doesn't always generate high-scoring games. The Genesis players are a little slower, and it's harder to complete passes than it is on the SNES.
Madden's World
The graphics in the Madden series have continued to improve. The players are larger than ever and now you get a clearer view of the field because the on-screen passing windows are optional.
The sound effects remain the same: strong. Madden barks out his usual enthusiastic "Maddenisms," and the players' grunts and groans add realism.
When kicking off, aim to the far right or left to get the best kick coverage.
If you notice the computer calling a defensive audible, quickly snap the ball while the defense is shifting formations.
The controls are up to the high standards of previous versions. The only problem is with super-fast players like Jerry Rice who somehow get caught from behind by big Reggie White!
Still, Madden NFL '95 has everything it takes to get to the Super Bowl -- it's a championship game.
The Madden cart series for the Genesis has long been considered a sporting sensation. But not even Ultra Slimfast could squeeze a topnotch Madden cart into the Game Gear.
Pigskin Portable
The authoritative announcer makes his Game Gear debut in Madden NFL '95, bringing with him many 16-bit options, including Exhibition, Playoff, and Full-Season modes. You get the usual overhead view, passing windows, audibles, all 28 NFL teams, and an All-Madden squad. Each team has an inventory of plays nearly as large as the 16-bit version's.
What keeps this Madden from scoring big is the graphics. The small players and small play diagrams will definitely make you squint. While size is a big problem, the graphics do show some pleasing details.
The sound is clean, and some of the "Maddenisms" remain with a surprising amount of digitized speech. However, the sound effects are sparse in comparison to the 16-bit carts; the tackling noises are weak, but the ref's whistle is the real deal.
Headed for The Playoffs
Thanks to the good controls, the gameplay is just as fast as it is in the Genesis version. You can execute speed bursts and spin moves on offense and raise your arms to block passes on defense.
As a one-player game, Madden '95 can't give you the thrill of two-player football. Although it's the best football game available for the Game Gear, only real football freaks who want gridiron portability will get their money's worth here.
ProTips:
On sweeps, really pump the speed burst when turning the corner to pick up extra yards.
When playing a strong passing team, you can throw into coverage with a greater chance of making the completion.
When you're just learning the game, select a strong team for yourself and a weaker team for your opponent.
Manufacturer: Electronic Arts
Machine: Genesis
This is the Genesis version of a great football game. The only advantage this version has is that the stats screen has the player's names, not just numbers.
Manufacturer: Electronic Arts
Machine: Genesis
This is the Genesis version of a great football game. The only advantage this version has is that the stats screen has the player's names, not just numbers.
Manufacturer: Electronic Arts
Machine: Genesis
This is the Genesis version of a great football game. The only advantage this version has is that the stats screen has the player's names, not just numbers.
Here's a game that adds new meaning to the football phrase, "in the pocket". Madden NFL '95 for Game Gear lets you take a faithful SNES or Genesis Madden experience along for the ride. Of course, the game is limited by the Game Gear's capabilities - there's quite a bit of screen flicker and the players are fairly small.
As far as controls go, passing is relatively easy to accomplish, but the two buttons on a Game Gear force you to cycle through receivers rather than throwing the pass to the player corresponding to a specific button. The running game is a different story, since small sprite size and an aggressive defense often combine to drop you for negative yardage. Dives, hurdles, spins, and speed bursts help out with the ground game, but even with these additional moves it's tough to beat a defender.
Don't kid yourself. Madden NFL '95 for Game Gear doesn't live up to its namesake on Genesis or SNES, but it is very solid, enjoyable, portable pigskin entertainment.
Graphics: 7
Gameplay: 8
Innovation: 6
Music & Sound FX: 8
Replay Value: 7
Manufacturer: Electronic Arts
Machine: SNES
An updated play book and improved player animation, plus the removal of passing windows make this a winner! Each team has a full 48 man roster and there's an All-Madden team included.
Machine: SNES, Genesis.
Manufacturer: by High Score. publisher Electronic Arts.
After locking myself in a room for two weeks with only the SNES and Genesis versions of Madden NFL '95, I came to two conclusions: first, the Snes version is slightly better than the Genesis, and second, extreme hunger leads to wild hallucinations.
But seriously, after playing both Maddens it's apparent that the Genesis version just doesn't quite match up. It contains all the great new additions made for the '95 edition - windowless passing, over 100 player injuries, and a new Madden-designed defense - but there are certain SNES features that are definitely missing in the Genesis product.
For example, the sudden death mode, in which the first team to score wins, is absent from the Genesis version but present on the SNES. The SNES Madden also offers sharper, better-animated graphics and crisper sound effects, besides providing for five player simultaneous play instead of the Genesis' four player option. The Genesis version also lacks a hangtime meter which appears during punts on the SNES Madden. The Genesis version does, however, include almost every player name on the team rosters whereas only the numbers of players are listed on SNES version.
While SNES owners get a few extras when they buy Madden NFL '95, Genesis owners shouldn't despair. Apart from the slightly less impressive graphics and sound there is little else about the Genesis version that has a negative effect on the excitement level.
With Madden NFL '95 for the SNES, EA Sports continues its annual tradition of effectively revamping its best-selling sports title, John Madden Football. Already considered the benchmark of football video games. Madden NFL '95 kicks the game up to another level with more in- depth features for a truer NFL experience.
Something Old and Something New
The mechanics of Madden NFL '95 are exactly the same as those in previous versions, so Madden fans know what to expect. For rookies, the Madden basics are very user friendly and easy to pick up. One to live players compete in a variety of game settings from exhibitions to the actual '94 season through the Super Bowl.
ProTips:
If you think the offense is going to try a run, pull your nose tackle to favor the defense on the left or right. Other defensive players usually plug up a hole if the back runs up the middle.
Beginners should keep the Pass Windows feature on until they pick up the game's nuances.
Play action is viewed from a behind-the-quarterback perspective with a forward-scrolling view of the playing field. A large palette of options enables you to customize the game exactly to your specifications.
Good improvements make this the best Madden yet. In the past, you could switch only quarterbacks -- now you can substitute players at any position at any time. More than 100 different player injuries can occur, so thoughtful substitution is crucial to your season.
Turning off the Pass Windows feature enables the quarterback to judge how far the receivers have run their routes.
Although all teams share the same large repertoire of plays, each individual team's offense and defense are now programmed to play with the same tendencies as their real-life counterparts. So expect Arizona's Cardinals to blitz and Buffalo's Bills to use a no-huddle offense. New NFL rules, such as the two-point conversion, are also included. Finally, you can now choose from eight different end-zone celebrations!
Madden's World
Veteran players may notice some slight graphical improvements. New details and animations tighten up on-screen movements, and a wider view of the playing field enhances the game play. The sounds are about as strong as usual and feature the expected exuberant "Maddenisms."
Kicking off to either sideline instead of down the middle cuts off the running lanes.
Just when you think it can't get any better, EA Sports adds more features to make Madden more exciting than ever. But is it worth buying if you already own a previous Madden game? If you're a die-hard football fanatic, then the new features make Madden "95 worth owning. If you're not a die-hard fan, then consider it a must-rental. Either way, you've got to play this game!
If you're in a blowout situation, pull your important starters from the game to safeguard them from season-ending injuries.
When choosing your three audible plays, try to cover all situations, such as a pass, run, and goal- line stand.
Awright, rookies, welcome to the start of another season of kickin', tacklin', and runnin'. No, it's not Spring Break in Florida, we're talkin' football. Here are some of the gut-gougin' gridiron games you'll soon be takin' into overtime. 'Til they arrive, drop and gimme 50 push-ups.
Sega Sports hopes NFL '95 will be the best Genesis football game of all time -- it's certainly going to be one of the most interesting. It comes with a new view that zooms in and out as the QB launches a pass. You can also control the receivers from the line of scrimmage, trade players, team up for four-player action, and analyze players in up to 13 different categories. This game also uses real NFL teams and actual players, the way this coach likes it.
Sega Genesis/Mega Drive Screenshots
SNES/Super Nintendo/Super Famicom Screenshots
Similar Games
Viewing games 1 to 13