Pro Pilot '99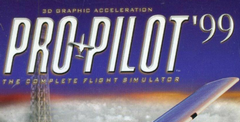 Click the "Install Game" button to initiate the file download and get compact download launcher. Locate the executable file in your local folder and begin the launcher to install your desired game.
a game by
Sierra
Platform:
PC
Editor Rating:

7

/

10

, based on

1

review
User Rating:

9.0

/

10

-

2

votes
Rate this game:
See also:
Flying Games
Overview
Just about a year ago, Sierra On-Line's Dynamix division created Pro Pilot, a title which promised to dethrone Microsoft's Flight Simulator from being the king of the civilian flight sims. However, they just didn't quite get it right. Flawed by poor terrain graphics and many quirks, some of which were later fixed through a series of patches, the original Pro Pilot showed some promise but never really got off the ground. This second effort in the lucrative civilian flight simulator market features many improvements that should make this simulation fly high in 1999.
Gameplay, Controls, Interface
Pro Pilot '99 allows you to fly the Cessna Skyhawk 172P and the newer 172R models; the Beechcraft Bonanza V35, a low wing high performance single prop engine aircraft; the Beechcraft Baron B58, a twin prop engine aircraft; the Beechcraft King Air B200, a high-performance twin prop engine aircraft; and the Cessna CitationJet 525, a luxury commercial jet aircraft. The use of a flight planning wizard makes it easy to plan your flight by choosing your departure and destination airport, the aircraft and weather. There is a copilot feature you can select to handle the radio communications, set all the NAV radios, and offer advice on your flight. Pro Pilot '99 features more than 4300 airports, many of which have taxiways and control towers. All types of navigational aides are modeled, including a Global Positioning System (GPS), Non Directional Beacons (NDB), and Instrument Landing System (ILS), to name a few. To add some challenge, there is a Systems Reliability setting that allows you to set the chances of a random failure to one or more of the aircraft's major systems. Time of day or night, multiple wind and cloud layers, and visibility in fog can all either be randomly generated or preset by the player.
The flight models are extremely accurate, but not perfect. This is most apparent when pushing the different aircraft to their limits: there is no damage model. You can lower your gear and flaps regardless of your airspeed without having to worry about them ripping off. You can also land extremely hard without causing any type of damage. Also, flying through buildings and other manmade structures is possible without even a scratch. There is a mission where you are challenged to fly under the Eiffel Tower in Paris, but there is not much challenge since there is no way to crash into it!
Graphics
It would be a sin not to mention anything about the clouds. The clouds in Pro Pilot '99 have to be seen to be believed! That is, ONLY if you have a 3Dfx card. Owners of a TNT or G200 or any other non-3Dfx graphics accelerator will be disappointed to know that only 3Dfx's Glide API is supported in hardware mode. With that disclaimer out of the way, let me get back to the clouds! As a matter of fact, all the atmospheric effects are gorgeous. 35 major metropolitan areas are modeled in actual photo-realistic terrain and all of the USA and Europe are accurately modeled with more than 38 million elevation points. All of this translates into a very real and believable graphical environment. The only downside is that the terrain graphics are sometimes a little too dull and gray.
Audio
In my opinion, the best feature in this simulation is the realistic Air Traffic Control (ATC) function. When it comes to ATC communication, Pro Pilot '99 stands alone at the top in authenticity. For example, a typical flight begins on the taxiway just off the active runway. First you will hear a detailed weather report. You will need to listen up because you must set the barometric pressure on your altimeter so it will be accurate. It would not surprise me if Sierra got actual air traffic controllers to compose the voices you will hear in this simulation. Here is an example of what you would hear before takeoff:
Your copilot: 'Ground, Citation 5-2-5 Charlie-Juliet, request taxi for takeoff.'?
Tower: 'Citation 5-2-5 Charlie-Juliet, taxi to runway 3-4-right, hold short of the active.'
Your copilot: 'Taxi to runway 3-4-right hold short, Citation 5-2-5 Charlie-Juliet.'
Your copilot: ?Tower, Citation 5-2-5 Charlie-Juliet, holding short of 3-4-right.'
Tower: 'Citation 5-2-5 Charlie-Juliet, taxi into position and hold on runway 3-4-right.'?
Your copilot: 'Position hold, runway 3-4-right, Citation 5-2-5 Charlie-Juliet.'?
Tower: 'Citation 5-2-5 Charlie-Juliet, your clear for takeoff on runway 3-4-right.'?
Your copilot: 'Cleared for takeoff, runway 3-4-right, Citation 5-2-5 Charlie-Juliet.'
System Requirements
Minimum: Windows 95/98, Pentium 133 MHz, 4X CD-ROM drive, 100 MB hard drive space, 32 MB RAM, SVGA 640x480 @ 256 colors, DirectSound-compatible soundcard, mouse
Preferred: Windows 95/98, Pentium II 233 MHz, 8X CD-ROM drive, 550 MB hard drive space, 64 MB RAM, 3Dfx Glide compatible 3D accelerator card, rudder pedals, and a yoke or joystick
Documentation
Learning to fly is actually quite simple, thanks to the many aids included in Pro Pilot '99. The pop-up operator's handbook will take you step by step through everything from the engine start sequence and pre-takeoff checks to landing and shutdown procedures. Included in the documentation is a handy 25-page Quick Reference booklet showing keyboard commands, dashboard layouts, and every type of situational checklist you can think of. There is a 64-page Getting Started guide and a very well-done 270-page Flight Companion book thoroughly explaining everything from NAV radios to differences between Class A through Class E airports. Also included on the Europe CD-ROM are 31 training videos that will go over the controls, gauges, NAV radios, proper turns, etc.
Bottom Line
Pro Pilot '99 was developed in cooperation with the National Association of Flight Instructors (NAFI). This is about as close as you can get to actually flying a real aircraft. If you are a beginner pilot or thinking about flying as a hobby or profession, this simulation is a must-have and will help you become more familiar with the aircraft systems and air traffic control etiquette. Although there are still some very minor flaws, I have no problem overlooking them and recommending this civilian simulation because Pro Pilot '99 excels so well in so many other areas.
Download Pro Pilot '99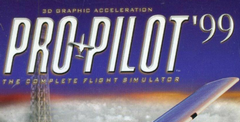 System requirements:
PC compatible
Operating systems: Windows 10/Windows 8/Windows 7/2000/Vista/WinXP