Puyo Puyo 2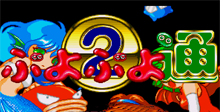 Puyo Puyo 2 (Also known as Puyo Puyo Tsu) is the sequel to Puyo Puyo, made in 1994 by Compile. Due to its highly acclaimed success, it became the most predominant game of the series. Though with many of its rules being experimental, the ability of Sousai and Rensa Sibari became a top hit immediately, thus creating longer matches for better gameplay. It became the most widely known multiplatform game in Japan.
Puyo Puyo 2 is one of the best Tetris games that inspired numerous clones on its own. The game play remains the same as the first game: colored jelly blobs fall from the sky in pairs, and your aim is to connect four blobs of the same color together to make them explode, making any blob above them to fall down.
The name of Puyo Puyo Tsu comes from an English pun, as Tsu, when spoken aloud, sounds similar to Two. Just like the prequel, Puyos fall from the top of the screen in pairs, can be moved left and right, and can be rotated clockwise and anti-clockwise by 90°. Different rules however played a factor within the game.
Sega Genesis/Mega Drive Screenshots